Olympic silver medallist and Geberit ambassador Victoria Thornley tells us why preparation is key to success and how a holistic approach to self-care fuels her wellbeing…
PROMOTIONAL
Tell us a bit about you… where did it all begin?
"I'm Victoria Thornley, Olympic silver medallist. I started rowing through a talent ID search in 2007. I had never sat in a boat before, but the chance to be coached by world-class coaches, with the goal of representing Team GB at the Olympics, was an opportunity I couldn't pass up.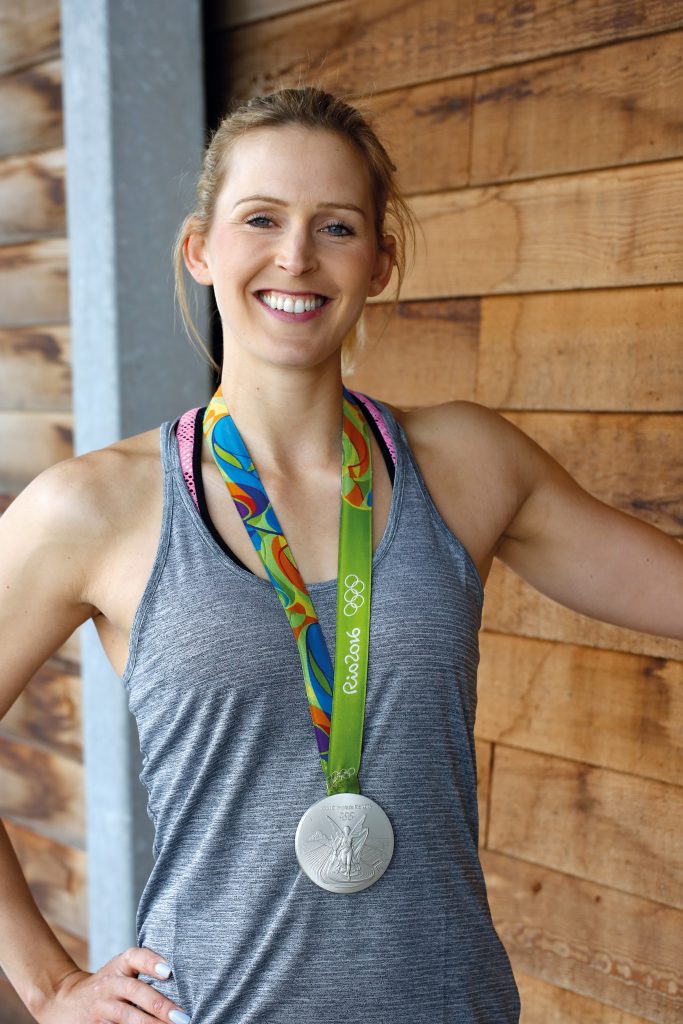 "Luckily, I fell in love with the sport and over the past 13 years have been wholly focused on delivering the elusive perfect stoke, 240 times down a 2km lake.
"It is an addictive sport, one that requires immense power and endurance, paired with technical precision if you
are to be the best in the world. What drives me is to be the best version of myself in anything I do; in rowing, that is squeezing out every bit of my mental and physical strength to be the best athlete
I can be."
How would other people describe you?
"I think people would describe me as disciplined, driven and loyal. I am always seeking to be the best at what I do every day. As a friend, I'm fearlessly loyal; I have a good, close group of friends and that means a lot to me."
What does it mean to you to be prepared; for the day; for the next race?
"Preparation is key in so much of what I do day-to-day – obviously the preparation for my training and racing, and what comes with that is the training that I do daily, but also the recovery side of things. So it's really important that I eat well, sleep well and I'm healthy in every aspect, in order to achieve the marginal gains that I need to be the best version of myself on the water."
What is your approach to health, fitness and daily wellbeing? What does that journey of self-care look like to you?
"I see wellbeing as four main pillars: movement, nutrition, rest/sleep and emotional/social. Luckily, as an athlete, movement is part of my everyday life and something I could not live without. Even on rest days I will always get outside for a walk or gentle cycle.
"Good nutrition is not only fundamental to my recovery and performance, but also my general mental and physical wellbeing. When I eat well, I feel good. I have more energy, recover quicker and have a clearer mind.
"Rest/sleep is one of the most underrated pillars of wellbeing. Sleep is free, and good-quality sleep is integral to us all if we want to perform at our best in anything we do. The training that I do, and the adaptation to that training, happens in the recovery phase and when I'm resting. I try to limit screen time; instead, relaxation means reading a book or taking the odd nap in the day. The priority for me is getting a good sleep, sleep routine and 8-10 hours a night.
"Finally, social interactions and connections to friends and family is what gives me energy. It is something I missed intensely through the pandemic, and it has shown me how important emotional connections are to our overall happiness."
How important is your bathroom routine?
"The bathroom is the first place I go in the morning to wake up. It's really important for me to have a nice experience when I first wake up, as often through my training I'm very tired, so it can be quite hard to get out of bed. But once I get into the bathroom, that's where I start to prepare for my training day, so it's really important to feel clean and ready to start the day."
Would you choose your bathroom as a place to relax and switch off?
"I definitely use my bathroom as a place of relaxation, plus it is where I start and finish my day. A well-designed and relaxing bathroom space helps invigorate me in the morning and unwind in the evening. One of my favourite self-care routines is to have a warm bath filled with aromatherapy oils, surrounded by candles and reading a book."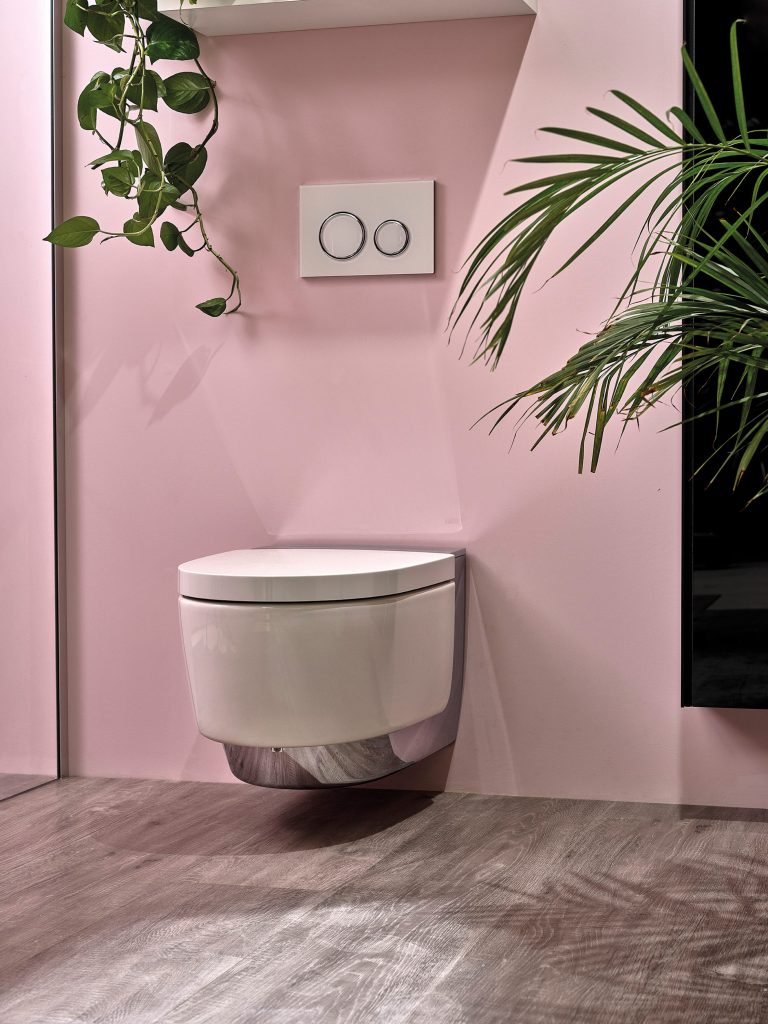 What are your top key considerations when deciding on a new bathroom?
Space
"Bathrooms are often the smallest but busiest rooms in a house. It certainly is in mine, so maximising the use of the space available is key. Not only do you want your bathroom to look beautiful, it also needs to work really hard too, so the practicalities and the design need to work harmoniously."
Technology
"Technology is a huge part of a good bathroom for me. In the boat, I'm all about making those marginal gains every day, and technology plays a key part in helping me to achieve this. This is the same in my bathroom. Technological advancements in the bathroom, whether they improve hygiene or just make life easier, are important to consider when thinking about planning a new space."
Lighting
"Lighting helps set the mood, so I always take time to carefully consider lighting choices when planning a new bathroom. I need a space that's light and bright, helping me wake up first thing before training. But equally, in the evening when I want to kick back and have a relaxing soak in the bath, a softer and more subdued light is perfect."
Ambience
"I love redesigning a space and choosing the colours, tiles and textures – this is one of the most enjoyable parts of the design process and helps finish off the whole room. I'm also a big fan of bringing the outdoors in by incorporating house plants in the bathroom, as they help create a feeling of serenity, with the added bonus of purifying the air."
What is your favourite Geberit product and why?
"My favourite Geberit product is the AquaClean shower toilet, particularly the wall-hung version, which we will be installing in our own bathroom very soon. We're installing our AquaClean with a Geberit Monolith, which is hugely flexible, enabling us to fit a shower toilet into your bathroom without disturbing the existing wall. It also comes in different colours so you can match it to the style and theme of your bathroom, which I love."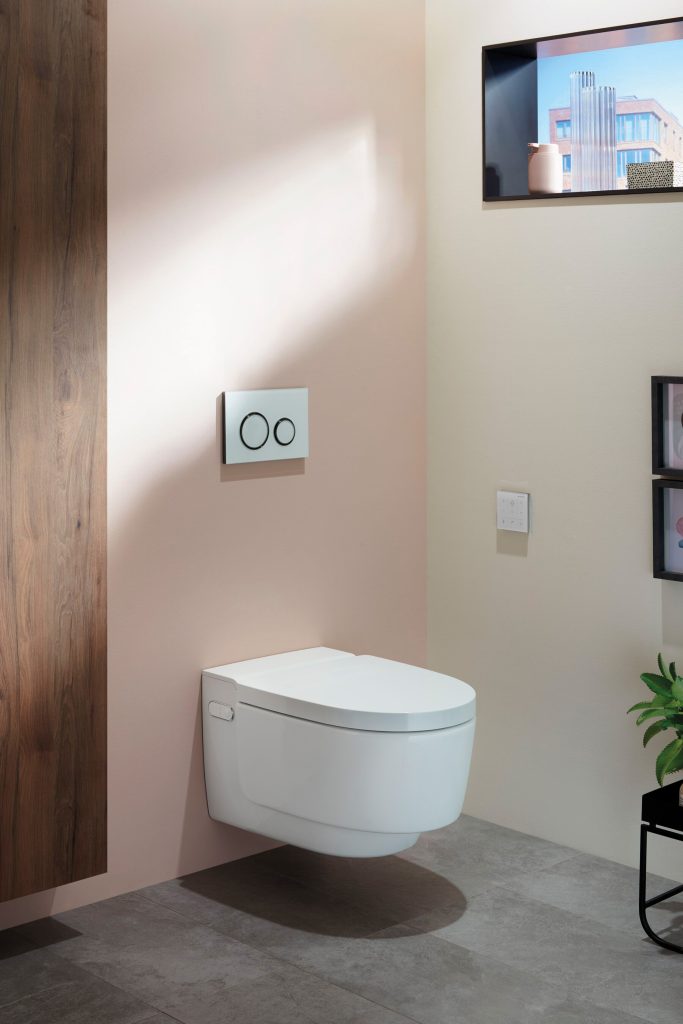 "My favourite feature of the AquaClean has to be the heated seat. As I spend a lot of time training in the winter when it's really cold and icy outside, it's very welcoming to come in after a cold-water session to use the toilet with a heated seat!
"Sleep is a big part of my training because it helps me recover, but inevitably at night, I do get up to use the toilet. The orientation light of the Geberit AquaClean shower toilet helps guide me to the toilet safely without having to put on a bright light – this means I don't wake up too much in the process and I can get back to sleep much easier afterwards.
"The Geberit AquaClean toilet remote is also a great addition, as it not only helps to simplify my bathroom routine, but it's also super-easy to use. An added bonus is if I'm on the move and away from home, which I often am, I can apply my personal settings to other AquaCleans."
To find out more about Geberit shower toilets, visit Geberit-aquaclean.co.uk