For Julie Ford, an East Sussex-based PE teacher and grandmother, age really is but a number. The 69-year-old – who launched her own weighted resistance band in 2018 – says she feels fitter than ever and is looking forward to welcoming in a new decade soon
Her own life experiences – including a brush with cancer seven years ago – have led her to really embrace the importance of exercise and she's keen to encourage other women to recognise the benefits of regular movement. She's a huge advocate of the mental, physical and social effects of exercise – especially during the years of the menopause and beyond.
Here she explains why exercise has become so important to her and shares some key advice for others…
An early love of fitness
Julie's love of fitness started at a young age. "I first became interested in fitness at the age of 11," she tells us. "I had an inspirational PE teacher and father, who loved walking and playing sport, such as football and tennis."
Following the advice of her PE teacher, at 18 Julie went from her home in Cardiff to Eastbourne to the Chelsea School of Human Movement PE training college for three years.
"It was here I found my passion and love for teaching," she says. "So much so, that 48 years on I am still doing it."
As well as teaching youngsters aged 13-18 part-time, Julie now also regularly leads exercise classes for all age groups, including those in retirement villages and takes part in events such as the Eastbourne Walking Festival.

Moving outside
A big shift in Julie's approach to fitness came in 2016 when she was diagnosed with cancer.
"I have always embraced life and felt invincible, so when I was diagnosed with stage 2 breast cancer after a routine mammogram, my world was rocked," she says. "I was so fit, healthy, didn't smoke or drink and had no history of it in my family. All I can say is I was so glad I went for the free three-yearly NHS check up!"
After an operation and radiotherapy session, Julie says she was desperate to get back to the gym, but soon realised that what she actually wanted and needed was to be outside in the fresh air.
"Four months after my op, I rushed back to the gym very excited, but on my first visit I sat there and thought: "I don't want to be here. I want to be out in the free, fresh air walking."
While walking helped tremendously, Julie was conscious that this wasn't supporting her upper body strength – and so she created her own set of resistance bands that could be used while walking. And so, Instepp was born.
Inventing Instepp
Originally, Julie tried walking with hand-held weights – but jokes that afterwards she felt like an orangutan with stretched arms. She then started experimenting with attaching resistance bands inside her shoes and eventually created a product she was pleased with.
Instepp is essentially a weighted resistance band that allows you to work your whole upper body while performing exercise traditionally associated with your lower body – think walking, squats, lunges, dancing and so on. It provides 2.3kg of resistance – which Julie says is the ideal amount to activate, tone and strengthen your muscles as well as improve joint mobility, and has a unique black neoprene Instepp foot pad which fits comfortably inside your shoe.
She says that since launching Instepp, she has helped countless men and women drive forward with a new exercise routine that helps them feel better and boost their confidence and fitness and she's proud of the difference that her product has helped make to people's lives.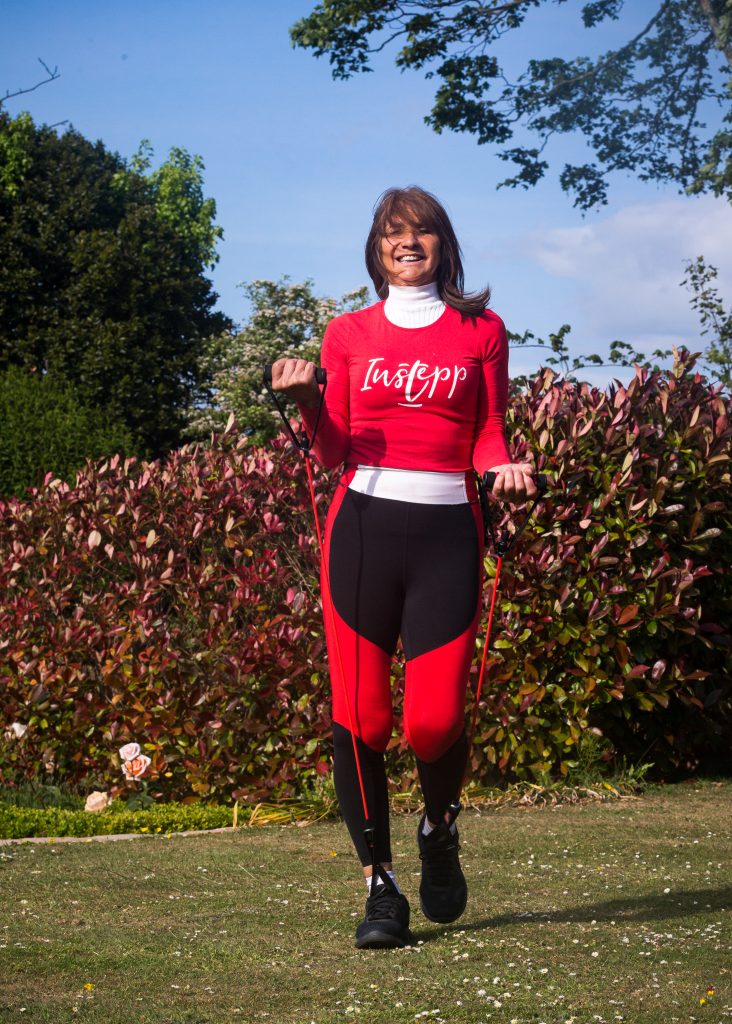 Julie's top tips
So, what other advice does she have for other older women who want to feel good inside and out?
"I cannot emphasise how important moving is," she says. "Just do little and often every day. It doesn't have to be running marathons or taking part in triathlons or climbing Mount Everest. Keeping strong and flexible is very important, and this will help with balance too."
For her, the key is to keep it simple and sustainable.
Here are some of her top tips:
Add snippets of exercise into your routine: As Julie says, it's not always about doing big chunks of exercise – just a little bit of extra movement can make a big difference. "Even just getting up and down out of your chair whilst watching TV when the adverts come on can be a great leg and stomach workout. Walking up and down the stairs more than you need to is good too."
Get walking: For Julie, one of the best things you can do is walk. "This is so good for both your physical and mental health, and can improve your social wellbeing too. It's like the golden ticket of exercise, and very good for older women in particular. It helps with weight control, cardio and general fitness levels, as well as combatting osteoporosis and many other symptoms associated with menopause." She adds that it's particularly good when you add a touch of resistance in here.
Choose an activity you like to do: Making fitness fun is a key way to ensure you're going to stick to a new routine. "It has to be fun or enjoyable for you," she says. "Ask a friend to go for a walk with you so you get to socialise and exercise at the same time, or just dance in the kitchen to your favourite tunes!" Julie recommends joining a community or group, too, and says even just walking with a friend can bolster your health and wellbeing enormously because the social aspect is really important.

Start slowly and build up: Julie says it's not always useful to go all guns blazing into a new exercise routine, as you can find it unsustainable and give up early. "Instead, look at the whole process of becoming a healthier you and the rest will follow," she advises.
Be kind to yourself: This is really important according to Julie. "Do not beat yourself up if you have a lapse," she says. "You are human and not an elite athlete!"