The season for sipping cold cocktails on a beach is upon us and, if you're jetting off to sunnier climes, you're no doubt on the hunt for a flattering swimsuit or two-piece that gives your confidence a boost.
Of course, you shouldn't feel obligated to balance your proportions, minimize aspects of your figure, or conceal areas of your body, but – real talk time – we know just how daunting slipping into a swimsuit can be. You no doubt want to look and feel your absolute best, no matter what kind of bikini or swimsuit you choose to wear. So, if you're looking for a little inspo, how can you find a swimwear style that suits you this summer? Two swimwear experts share their tips…
Know your size
"It sounds obvious," says Susana Lorena, swimwear stylist and founder of Maison SL, a luxury lingerie and swimwear store, "but make sure you buy the correct size. You'd be surprised how many women buy swimsuits that are way too big." When trying on, Susana says the key is to make sure your swimsuit or bikini feels like a second skin. "You want it to fit snugly with no spare fabric hanging loose," she explains.
Next? Find a shape that flatters your body. There's a swimwear style to suit everybody and attempting to change your size and shape in the run-up to summer is simply not necessary. Instead, Susana advises opting for a style that complements your shape, highlights your assets, and deemphasizes the areas you're not so keen on.
Look at the length
Beth Kates, owner of ethical swimwear brand Liberty And Love Boutique says when choosing a flattering swimwear style, considering the length should be your first port of call. "There are two things that can affect the fit of your swimsuit. One is the cut at the top of the swimsuit, the other is the cut of the leg," she explains.
"If you've got short legs, then you might want to aim for a high cut swimsuit because it elongates the legs and gives an illusion of a longer leg," Beth says. "If you have a long body and you've got short legs, that's definitely the style to go for."
If on the other hand, you've got a short body and long legs, perhaps opt for a lower cut swimsuit, Beth advises. "This also suits somebody who is a bit more pearshaped, because it balances the leg-to-hip ratio and proportion."
Find your fabric
The best fabric for you is truly the one you feel most comfortable in. Many swimsuits and bikinis are made with nylon, and in recent years, compression panels have become popular for added tummy control. Crochet is in for summer 2022, but bear in mind it won't be a supportive – or practical – look for everyone. When choosing a fabric, ask yourself: how does this feel against my skin? Does it itch? Is it comfy? How might it feel when wet? Suss out these answers first before you head to the checkout.
Tummy tips
For most of the year, our tummies barely see the light of day, so it can be a daunting task getting them out on the beach come summer. If you're self-conscious about your tummy, Beth says a double-lined swimsuit is the way to go as they can hold you in. "The traditional body-form swimsuits are great but very difficult to get on and off when they are wet. Double-lined swimwear, on the other hand, has similar effects, but is very easy to get on and off and dries quickly."
A belted swimsuit style is also a good choice, as it draws the eye to the narrowest part of your waist. You might also feel more comfortable in a mid or high-rise bikini bottom. If you have a lean, athletic shape, choosing bottoms with a little frill around the hips can add volume in this area and give the illusion of curves.
Considering colour and trends
Pink is always popular, but as Susana tells us, it can be a tricky colour for some skin tones to pull off. Buying your swimwear from a shop that understands skin tones and knows how to match you to your perfect colour is a great shout, but if in doubt, blues, greens and coral tend to be universally flattering, according to Susana. Relaxed styles are in this season – think square necklines and sporty looks – Susana reveals. Halternecks and tank-style bikinis will also feature heavily, while ring details, cutouts and belted bikinis are all back in too. Of course, you don't have to pay too much attention to the trends. You can simply choose the look you like best.
Wear it with confidence
Every body is a bikini body and there's a style out there to suit everyone, whether it's a triangle bikini that shows off your fun and flirty side or a square neck swimsuit perfect for swimming in the sea. Whatever you choose to wear, remember this: you're on holiday, so be yourself and have fun.
What's best for your bust?
Bigger boobs
If you're big busted, then support is the name of the game. "Look for a swimsuit or bikini top with quite wide straps," says Beth. "Not only can these be a little more supportive, they can also even out your proportions," she explains. Susana echoes this advice. "Make sure you pick a style that either has a hidden wire or a fuller triangle shape," she says. "The wire will provide you with the support and with the fuller triangle, you will still get a nice décolleté but without any spillage."
Smaller boobs
Up top, women with smaller breasts have a little more choice available. "Smaller busts can pretty much fit into any style from triangles and tanks to strapless but if you want to add volume, anything with a frill, padding or ruching will add to your décolleté," says Susana. Beth believes that for smaller busts, a halterneck is an excellent choice. Why? "A halterneck draws your eye into the chest area and makes your breasts look bigger. It will also push your breasts closer together, boosting the cleavage area," she explains.
Looks we love…
Floral halterneck tankini top (£24.99) and bottoms (£14.99, both mandco.com)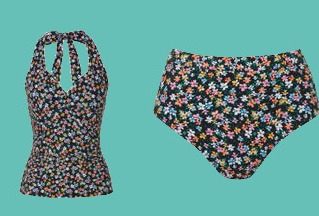 Fully lined with tummy control to support your shape.
Electra bikini in white (£140, naiabeach.com)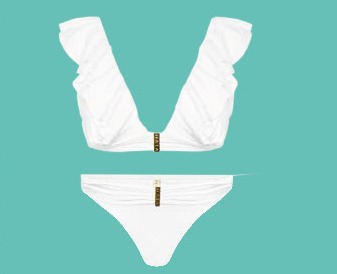 With lightly padded, removable cups and fuller coverage, flattering bottoms.
Ribbed ring detail plunge bikini top (£15) and ribbed high waisted high leg bikini bottoms (£15, marksandspencer.com)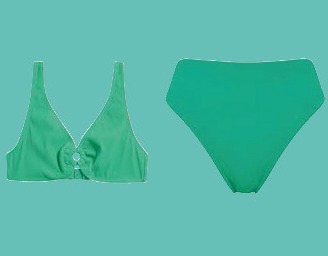 Comfortable, stretchy fabric and high-leg bottoms to give the illusion of longer legs.