Sponsored
Here's the thing about the menopause: when women reach it (around age 51, on average), we hear all about the symptoms, namely hot flushes, night sweats and increased anxiety, but many struggle with how to actually deal with what's to come.
Treatments and supplements to help manage the menopause are also in abundance, so how do you know what's right for this stage in your life?
Luckily for you, Promensil is the only menopause red clover supplement range backed by over 20 years of scientific research, with proven effectiveness on helping menopausal women and giving you piece of mind when it comes to getting the right solution for you.
What's more, to celebrate World Menopause Day on 18th October 2020, Promensil is offering you the chance to receive 30% off any Promensil products.
Simply enter your exclusive code: WELL30 at checkout www.promensil.co.uk.
Terms and conditions
Offer valued for UK residents aged 18 years and over. Offer ends 31/12/2020 and cannot be used in conjunction with any other offer. Subject to availability.
What Is The Menopause?
As you enter the menopause, you may experience a rollercoaster of bodily and psychological changes, which are caused by shifting hormones as your body enters the next natural cycle in the female reproductive journey.
Symptoms that are commonly associated with the menopause, such as hot flushes, night sweats, anxiety and insomnia can be prevalent, not to mention unbearable!
What Are The Treatment Options?
Many women will be prescribed hormone replacement therapy (HRT), unaware that there are alternative natural routes to investigate and explore.
A survey* carried out on over 500 women found that 95 percent of women felt it's important to have a choice between HRT and natural remedies with 65 percent preferring a natural treatment.
A Plant-Based Alternative
Phytoestrogens are compounds that occur naturally in plants and mimic the body's own natural oestrogens.
Studies have shown that they can reduce hot flushes significantly, and may also slow down the bone loss that can occur post menopause.
There are many herbal formulas that claim to ease menopausal symptoms naturally, but Promensil – a standardised source of red clover isoflavones (plant oestrogens) – is trusted by the experts in science.
Promensil are experts in adopting a natural approach to the menopause and offer a scientifically researched range without the need for prescriptions, patches, or synthetic hormones.
Try a natural approach with Promensil supplements that engrains a plant-based philosophy at the core.
The Benefits
Standardised isoflavones
Promensil choses to use only Red Clover Isoflavones that are consistent in their levels of phytoestrogens.
These work to help balance female hormones naturally through mimicking the action of oestrogen in the body which, in turn, help support women during the menopause.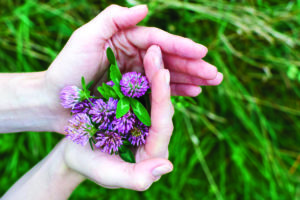 High strength
Unlike other Red Clover supplements, Promensil uses high-strength optimum levels of Red Clover isoflavones, proven to be more effective than other lower doses, enabling higher bioavailability.
Guaranteed plant purity
Promensil is backed by over 20 years of scientific research and uses only a standardised patented extraction process to guarantee purity and quantity of Red Clover isoflavones.
No hormones
Many other menopause management support options and prescriptions are synthetic. Promensil's plant-based supplements offer a natural alternative to managing your menopause. 
Longevity
Promensil supplement range has been developed to target specific stages of the menopause so you can be supported from the onset of the menopause and throughout. They do not cause weight gain.
Vegan and vegetarian
Vegan and vegetarian Promensil's best-selling Double Strength and Original formulations (30/60s) are suitable for Vegans and Vegetarians and our Post-Menopause formulation (30s) is suitable for Vegetarians. Find out more about each of our products below. 
Which Product is Right For Me? 
When you're starting to experience heightened menopause symptoms or are in the early stages of the menopause or perimenopause, chose Promensil Double Strength.
It contains 80mg of standardised red clover isoflavones to give women extra dietary support when menopause symptoms first manifest and can be at their worst. 
 When you wish to manage your menopause symptoms, go for Promensil Original, as it contains 40mg of standardised red clover isoflavones to maintain support throughout the menopause as symptoms gradually decrease.
After the Menopause, try the Promensil Post Menopause. It contains 40mg of standardised red clover isoflavones, as well as added vitamin D and calcium to support bone health.
Promensil Post Menopause can be taken for as long as needed. 
But when you have a hot flush and want instant relief? Chose Promensil Cooling Spray (75ml), as its purposely formulated using rapid evaporation technology to instantly reduce hot flushes and night sweats.
This clinically approved pump-action cooling spray draws heat away from the skin, quickly and effectively reducing skin temperature and redness. During a hot flush or night sweat, simply lightly spray the chest and neck area. Allow spray to evaporate and cool. Re-apply as needed.
Promensil wishes every woman a Happy World Menopause Day. If you require more information, advice, and guidance on the website, visit the Promensil menopause health hub.
*Menopause survey conducted by PharmaCare 2013