For over 25 years, Efamol has conducted numerous clinical trials into the role of DHA and brain function. Efamol was a pioneer in discovering the importance of DHA for brain health1, especially in children.
Our brains are mostly made up of fat, with DHA being the most abundant omega 3 fatty acid, making up to 50 percent of the fatty acids in some brain cells. It forms the outer structure of our cells and has been found to play a unique role in normal brain development2 and function1. Along with the structural role DHA plays in the brain, it is also involved in cell signalling, which is how your brain cells communicate with each other.
Efamol's range is developed for brain health at every age…
Pregnancy & early years
DHA is beneficial from the foetal stage. As the brain starts to develop2, it accumulates in a baby's brain. During pregnancy, and for the duration of breastfeeding, a mother's diet and body stores provide the foetus and baby with DHA for normal brain development. Mothers need to obtain enough DHA to support their needs and those of the developing child2.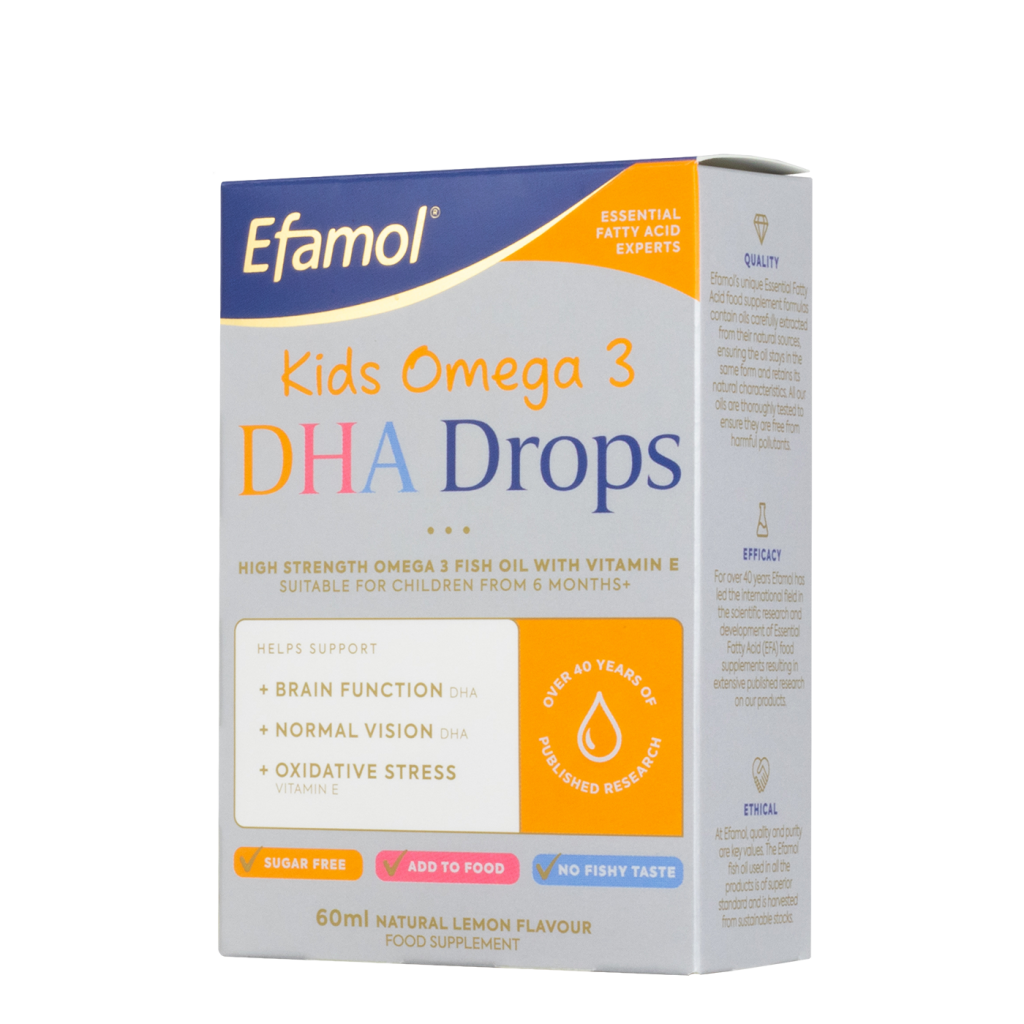 High-strength omega 3:
Suitable for babies from 6 months and young children
A great choice if you are pregnant or breastfeeding, or if you find it hard to digest capsules
Easy to mix or hide into foods with its natural lemon flavour
1ml daily intake contains 400mg of DHA, which helps to support normal brain function and vision1
Childhood
Brain DHA levels continue to increase throughout childhood and adolescence, developing faster than any other stage in life. New connections between the brain and nerve cells are made in response to new experiences and environments. This constant change of brain networks helps with the development of visual, attentional and motor skills, cognition and language.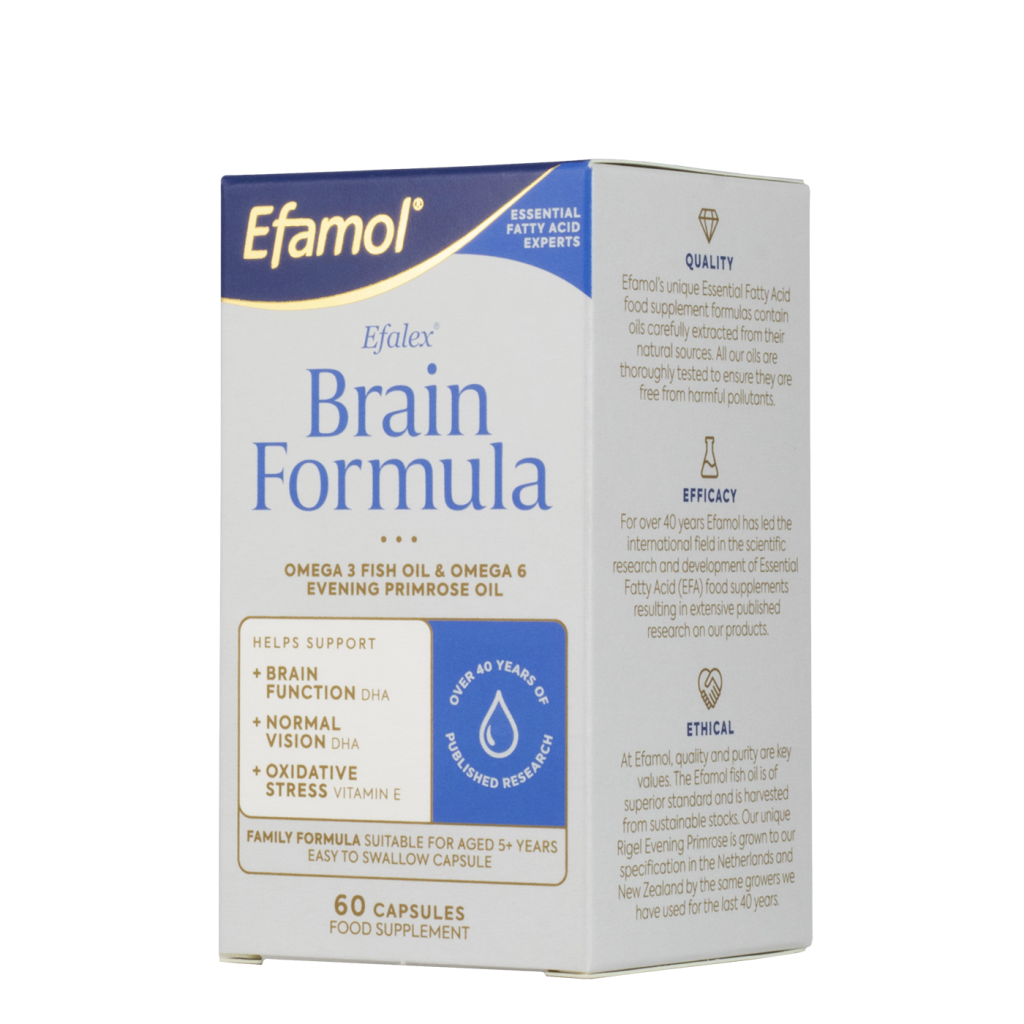 Omega 3 Fish Oil & Omega 6 Evening Primrose Oil:
Suitable for children aged over five, these capsules are easy to swallow
Suitable for the whole family
High-strength DHA to support normal brain function and vision1
Contains AA, the second most abundant fat in the brain
Adults
Brain development continues into early adulthood so DHA continues to be needed. The brain breaks down small amounts of DHA daily, so a good dietary intake of DHA remains important across the whole lifespan, particularly for its roles in both vision and brain function. Combined with EPA, it plays an important role in the function of the heart3.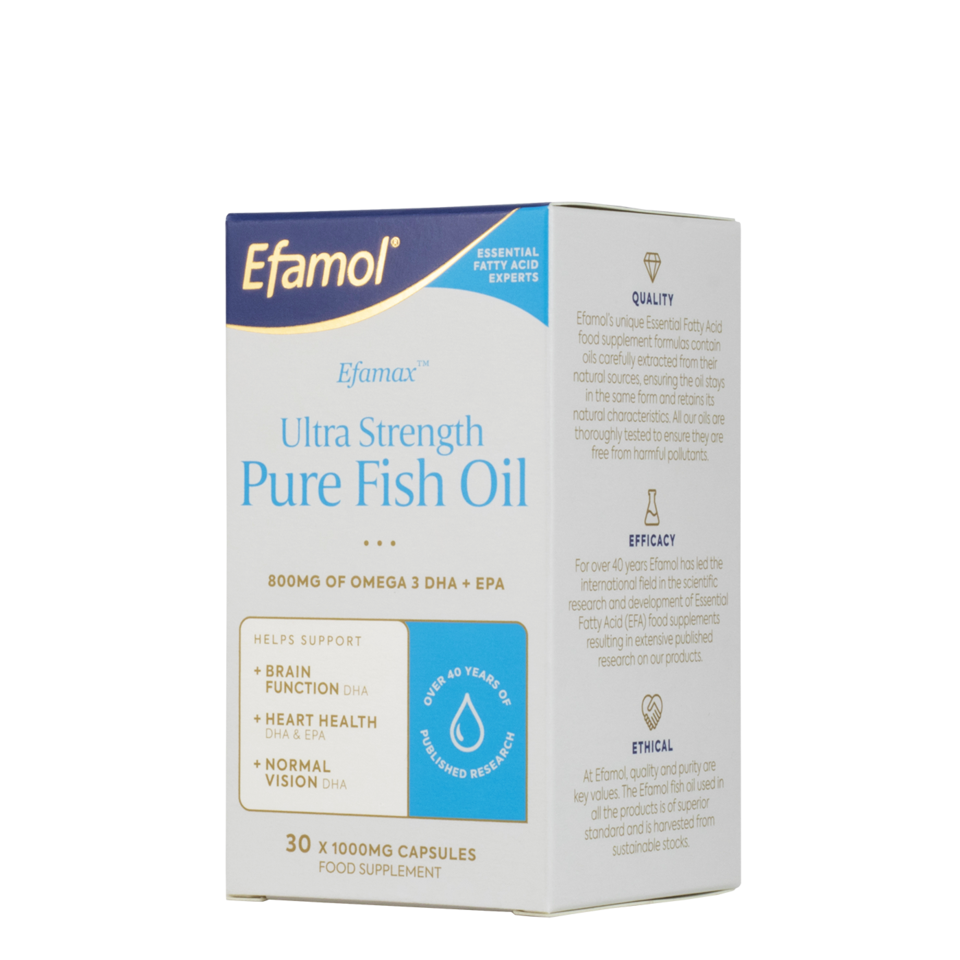 800mg of omega 3 DHA + EPA:
This ultra-strength formula is one of the strongest on the UK market, containing 800mg of DHA + EPA
Suitable for use during pregnancy
DHA supports normal brain function and vision1
DHA + EPA support normal function of the heart3
Older adults
As we age, a few things happen to our brain chemistry, its size and structure. Our brains begin to shrink after the age of 40 at a rate of around five percent every 10 years and possibly even quicker after the age of 70. Studies suggest that an adequate amount of DHA is important for the health of the adult brain and contributes to brain function as we age.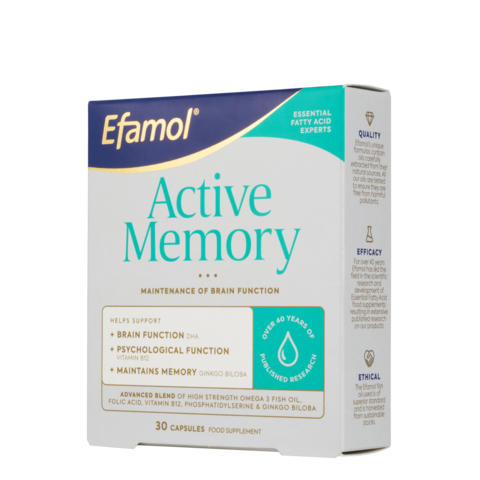 For maintenance of brain function:
Developed for the maintenance of brain function in adults
High in DHA, which supports normal brain function1
Contains vitamin B12 and folic acid to support normal psychological function
Addition of ginkgo biloba helps maintain memory with age decline
Get 25% off all Efamol® Omega 3 Products until 19th October 2021. Exclusions apply. Subject to availability.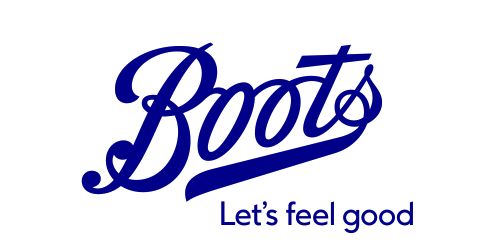 Food supplements are intended to supplement the diet and should not be used as a substitute for a balanced diet and a healthy lifestyle. 1. 250mg of Docosahexaenoic Acid (DHA) daily contributes to the maintenance of normal brain function and normal vision. 2. Maternal intake of DHA contributes to the normal brain development of the foetus and breastfed infants. The beneficial effect is obtained with a daily intake of 200mg of DHA in addition to the recommended daily intake of 250mg DHA and Eicosapentaenoic Acid (EPA). 3. 250mg of DHA and EPA daily helps support the normal function of the heart.