There's no denying the speed at which the vegan diet has taken off.
Earlier this year, supermarket giant Tesco has committed to stepping up its efforts to offer customers more plant-based options by setting a 300 percent target for sales on alternatives to meat.
More recently, new research from SWNS Digital has revealed that 32 million UK adults have changed their eating habits during lockdown, with an eight of those opting for plant-based alternatives.
Plant-based eating not only provides health benefits, it's also good for the environment too.
For instance, if we all choose plant-based options, even just a few times a week, it can have a huge impact on our planet.
Below, Charlotte Bierens, Head of Nutrition at Jimmy Joy, a nutritionally complete, plant-based meal provider, takes a look at some of the things you can do to transition towards a more plant-based diet.
Start With Small Changes
Start your transition by eating one plant-based meal a day. This will be easier to stick to rather than making large, unrealistic changes overnight.
For example, you could still eat most cereals for a plant-based breakfast, you would just need to change your diet with non-dairy milk.
A slower transition with smaller changes will be better for your body and make it easier for you to become more accustomed rather than making larger, more drastic changes.
Change Your Mindset
Try not to have the mindset of, "I can't eat meat" and instead think of all the wonderful things you can eat, and how beneficial these are for your health and the planet.
Educating yourself around the topic of plant-based foods is important. You would be surprised at how many alternative, yet delicious options are out there. In the long-term these replacements will be a lot healthier and your body will thank you for it!
Plan Your Meals
Adjusting to something new and introducing yourself to a different way of eating can present its challenges. The key to successfully combatting this is meal planning and putting a structure in place.
If you prepare for your weekly meals in advance, you can plan your shopping accordingly, and are more likely to stick to your plant-based diet rather than succumbing to the temptation of breaking it!
Swap Dairy Milk For Almond Or Oat Alternatives
We recommend you trying this as one of your initial changes. Although this may be one of your biggest adjustments (especially if you're a tea drinker), there are some delicious alternatives which are more environmentally-friendly than dairy milk.
Almond milk is rich in healthy nutrients, coconut milk is fantastic when it comes to cooking, and other options, such as oat milk, cashew milk, hazelnut milk and soy milk are available too.
Swap Meat For A Plant-Based Option
This will probably take time to adjust to but once accustomed to plant-based meats, you'll never look back! Your body will reap the benefits of making this lifestyle change and not only will you realise just how much healthier these alternatives are, but just how delicious some of these plant-based meats can be.
The Impossible Burger is a meal we would strongly recommend – it's designed to look, taste and bleed like a meat burger would, except it's completely vegan.
Aside from that, Beyond Meat, tofu and tempeh are other forms of plant-based foods you should consider trying.
Need some inspiration to get started? Luckily for you, the experts at Jimmy Joy have a delicious breakfast, dinner and dessert recipe for you to try this weekend.
What's more, they're packed with protein to help with muscle repair and will keep you fuller for longer!
Fluffy Pancakes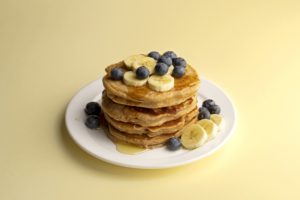 Ingredients
Method
In a bowl, mix oat flour, Vanilla Plenny Shake powder, baking powder, and cinnamon until blended.
Add egg whites and Greek yogurt to the bowl and mix until you reach a batter-like consistency.
Melt coconut oil in a skillet over medium-high heat. Wipe down to prevent the pancakes from sticking.
Pour some batter into a pan and cook pancakes until bubbles form all around the top of the pancake. Flip and cook for a few more minutes, or until cooked through.
Top off your pancake stack with something like sliced banana, blueberry, Nutella, maple syrup, chocolate, strawberry, or chocolate chips. Enjoy!
Red Onion and Chickpea Burgers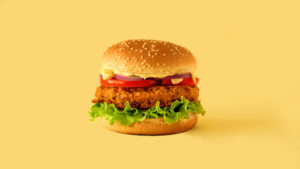 Ingredients
For 4 or 5 Jimmy Joy burgers
Canned chickpeas (400 grams)
25g of Plenny Shake Active v3.0
1 red onion
Juice of half a lemon
1 clove of garlic
1 tsp chili powder
1 tsp cumin seeds
1 tsp paprika powder
Pepper and salt
Buns of your choice
Toppings:
Siege the burgers with toppings of your choice such as tomatoes, lettuce, onions and sauce.
Method
Drain the chickpeas and rinse them. Coarse the chickpeas in a food processor (so not completely smooth).
Chop the onion and garlic.
Mix the 25g of Plenny shake, onion, garlic, herbs and lemon juice into the ground chickpeas.
Make burgers from the mixture and put them in the fridge for fifteen minutes, so that they become a little stronger.
Heat a frying pan with oil and fry the burgers in about 10 minutes until golden brown.
Prepare your bun with your toppings of choice.
Blueberry Muffins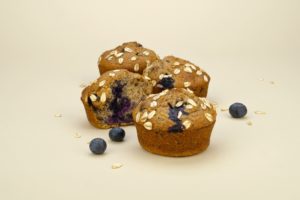 Ingredients
100g Whole Grain Spelt Flour
65g Jimmy Joy Vanilla Plenny Shake
1 big overripe banana
2 tablespoons of sweetener of choice, such as maple syrup)
1 handful of frozen or fresh blueberries
150ml of almond milk
1 teaspoon baking powder
1 tablespoon of plain oats for decoration
Method
Mash banana in a bowl.
Add almond milk and whisk together.
Add Vanilla Plenny Shake, flour, syrup, and baking powder.
Stir until fully mixed. The dough should be quite thick.
Add the berries and stir gently.
Divide into a muffin tin. You can make about 9 muffins.
Sprinkle oats on top and bake at 180 degrees Celsius for approx. 25 minutes.
Let it cool before serving.
Jimmy Joy provides nutritionally complete, plant-based meals that are good for you and the planet.