The nights are drawing in and the temperature is dropping and this means only one thing… it's time for warming, hearty dinners that will nourish your body and soul. And luckily, we have the perfect recipe for you. Here, the team at wellness app KIC share their simple creamy butternut squash pasta, which – believe us – will soon become your go-to pasta dish. We love it!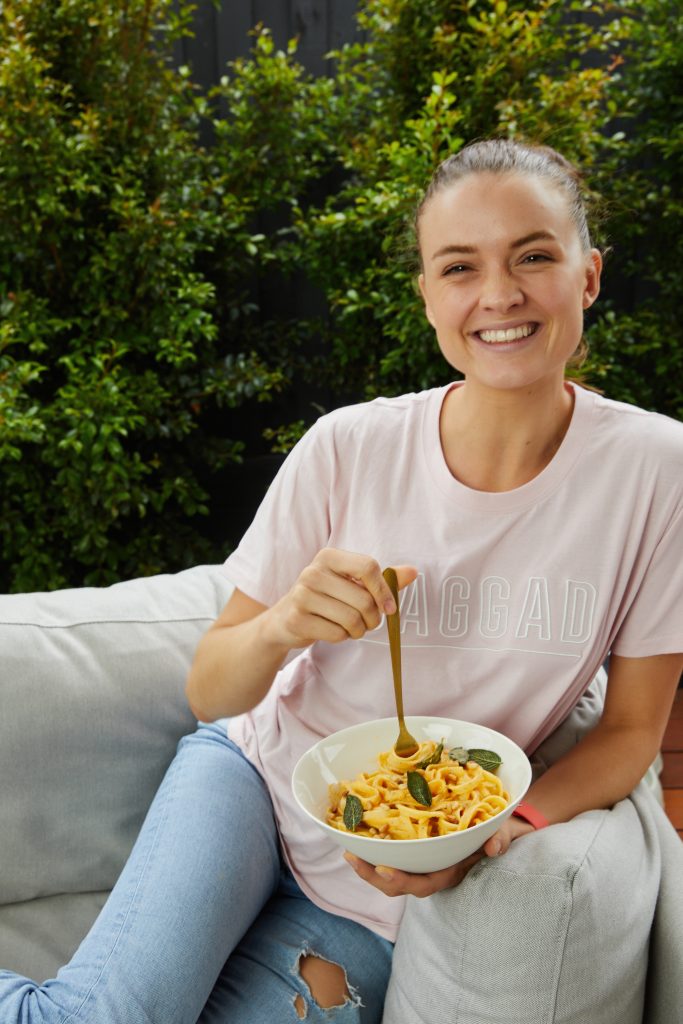 You will need:
Serves 8
1000g butternut squash
1 brown onion
6 garlic cloves
80ml extra virgin olive oil
20 sage leaves
500g fettucine
357ml vegetable stock
200ml sour cream
¼ tsp nutmeg
2 tbsp pine nuts
6 tbsp parmesan
How to make this creamy butternut squash pasta dish:
Time to prepare: 30 mins
Step 1
Preheat the oven to 200 degrees. Toss the squash, diced onion and crushed garlic in olive oil, and season with salt and pepper. Place on parchment lined baking tray and roast for about 20-25 minutes until cooked through.
Step 2
While the squash is roasting, heat the 3 tbsp of olive oil in a frying pan over medium-high heat. Carefully fry the sage leaves in batches (careful, as they often spit and pop when fried), drain on paper towels, and reserve for garnish.
Step 3
Bring a large pot of salted water to the boil and cook the fettuccine until al dente. Drain the pasta, and keep warm, reserving ½ cup of the pasta cooking water.
Step 4
Puree the squash mixture in a blender with the stock, sour cream, and nutmeg. Taste the sauce, and season with a bit more salt and pepper as desired.
Step 5
To serve, toss the just drained fettuccine through the warm squash sauce, adding the reserved pasta water as required to achieve a creamy lush sauce. Twirl the pasta into warmed bowls. Top with fried sage leaves, pine nuts and freshly grated parmesan.