Want to keep your time in the kitchen minimal this Christmas? Prep these easy recipes the day before your festivities, so you can sit back and relax
Mince pies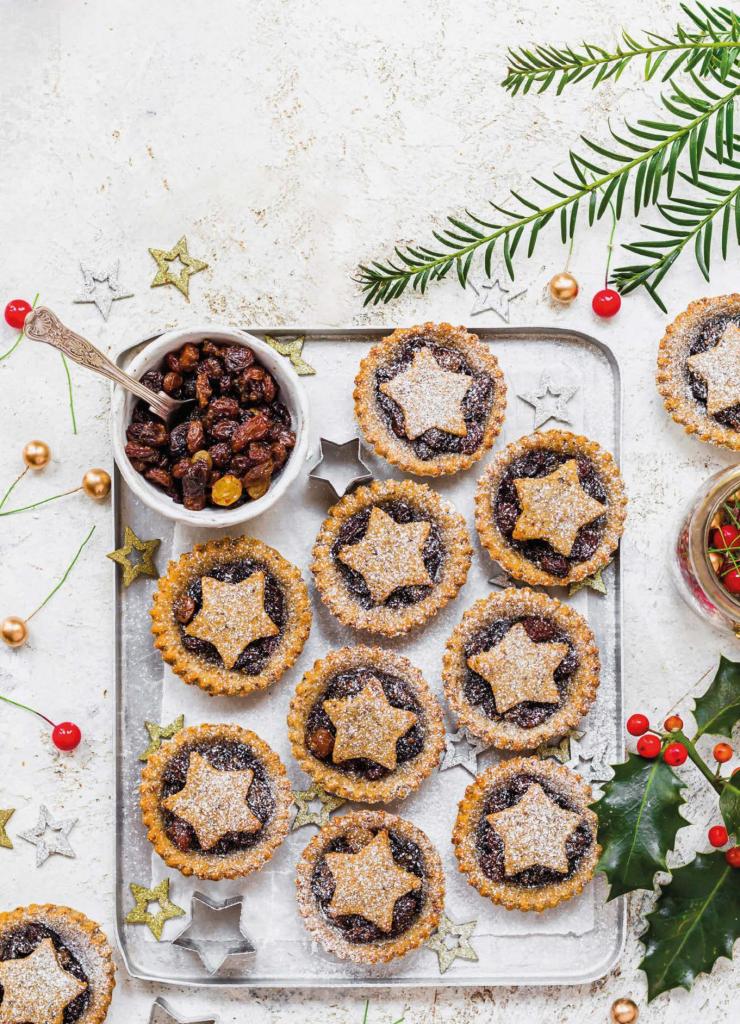 Makes 12-15
Ready in 30 minutes
For the pastry:
2 tbsp ground chia or flaxseeds
4 tbsp water
100g oats
50g ground almonds
60g spelt/ buckwheat/plain flour
A pinch of salt
2 tbsp melted coconut oil or vegan butter/margarine (plus extra for greasing)
3 tbsp plant-based milk
For the filling:
200g mixed dried fruits, chopped small if needed
1 tsp vanilla essence
1 tsp cinnamon
½ tsp mixed spice
1 tsp coffee or espresso powder
75ml water
10g ground almonds
Add the mixed dried fruits, vanilla, cinnamon, mixed spice, coffee/espresso and water to a saucepan and bring to a boil. Simmer over a gentle heat with a lid on for 10 minutes until plump and juicy. Stir in the ground almonds. Leave to one side.
Preheat your oven to 160C/325F/ Gas 3 and grease 12-15 small cupcake holes with coconut oil or vegan butter or margarine.
Stir together the ground chia or flaxseeds and water and leave to one side to form a gel. Blitz the oats to a fine flour and add to a bowl with the ground almonds, flour and salt. Stir in the melted coconut oil or vegan butter/margarine, milk and chia seed gel. Bring to a dough.
Tip the dough onto a lightly floured surface and roll out to ½ cm thick. Cut out 12 bases and 12 star or regular tops, you may need to re-roll the scraps of pastry and continue to make up to 15 pies.
Gently place each round base into the greased cupcake holes, fill with 1 heaped teaspoon of mincemeat and press on the star top. Brush the tops lightly with melted coconut oil/vegan butter and bake for 18-20 minutes, until golden brown and crisping on top.
Allow to cool and lift gently out of the tins. Serve dusted with icing sugar.
Top festive tip:
Double the ingredients and keep a batch of these frozen in the freezer for any unexpected guests.
The Great British Porridge Co. Visit thegreatbritishporridgeco. co.uk to find out more about their Caffe Latte Oats and other recipes. Recipe Created and Devised by Amy Lanza, @nourishing.amy.
Festive tomato lentil stuffed squash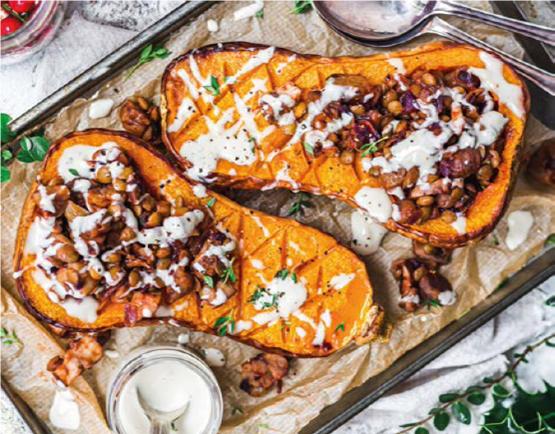 Serves: 4
Ready in 60 minutes
2 medium butternut squash, halved
1 red onion, diced small
2 garlic cloves, crushed
200g mushrooms, chopped small
200g roasted chestnuts, chopped small
A few springs fresh thyme (or 1 tsp dried thyme)
1 tin of green lentils (drained weight 240g)
100g Real Good ketchup
Salt and pepper
Olive oil
For the garlicky tahini:
5 tbsp tahini
2 lemon juice
3-4 tbsp water
1 small garlic clove, crushed
Preheat the oven to 190C/375F/Gas Mark 5 and place the butternut squash halves on a baking tray, cut side up. Score the topside with a criss-cross pattern and rub all over with some olive oil and salt. Roast for 40-60 minutes until really tender and crisping.
Once out of the oven, scoop out the seeds and discard them. 3Meanwhile, heat some olive oil in a large frying pan and add the red onion, garlic, and mushrooms. Cook over a medium-high heat for 10 minutes until soft. Now pick off the fresh thyme leaves and add to the pan with some salt and pepper.
Stir in the chopped chestnuts, drained lentils and ketchup. Allow to warm through for 10 minutes over a gentle heat. Add a splash of water if needed.
As it cooks, make the garlicky tahini by stirring together all the ingredients until smooth, adding more water as needed for a pourable consistency. Season with salt and pepper.
To serve, stuff the butternut squash cavities with the lentil mixture and top with the garlicky tahini.
Top festive tip:
Cook the butternut squash the day before and refrigerate till you need to fill them. Recipe from Real Good Ketchup.
Recipe Created and Devised by Amy Lanza, @nourishing.amy
Walnut and chestnut sausage rolls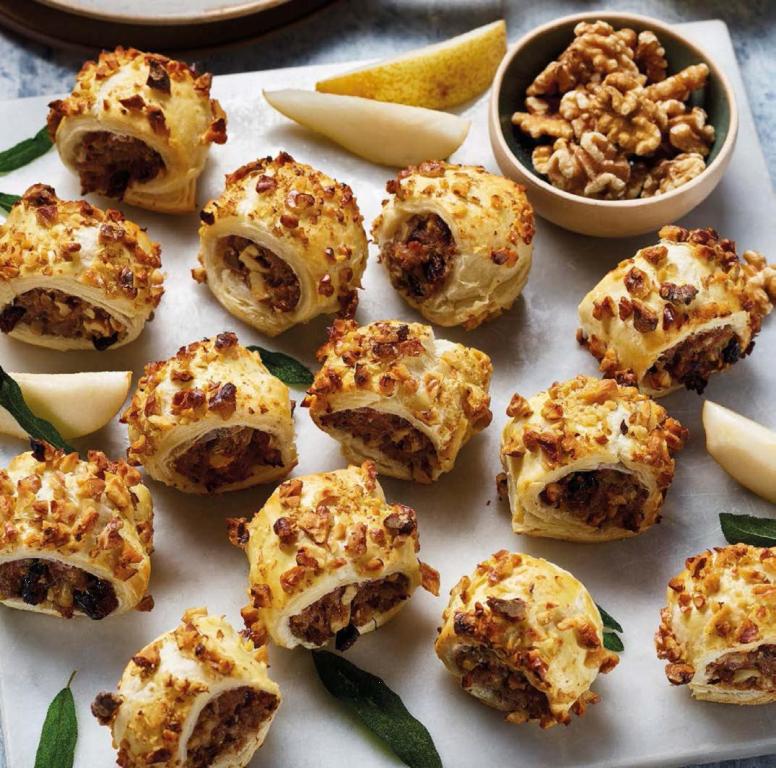 Makes 24
Ready in 20-25 minutes
1 tbsp oil
1 onion, finely chopped
450g sausagemeat
50g dried cranberries
100g walnut pieces, roughly chopped
100g whole chestnuts, chopped
6 sage leaves, chopped
50g fresh breadcrumbs
500g pack puff pastry 1 medium egg, beaten
Preheat the oven to 200C/400F/ Gas 6.
Heat the oil in a small frying pan and fry the onion for 3-4 minutes until golden, allow to cool slightly then mix into the sausage meat with the cranberries, 75g roughly chopped walnuts, chestnuts, sage and breadcrumbs, season well.
Divide the pastry into three and roll each into a 34x15cm rectangle.
Place a third of the filling in a sausage shape along the long length of each pastry. Brush one of the edges of the pastry with egg and roll up to seal in the filling. Brush the rolls all over with the egg. Finely chop the remaining walnuts and roll the logs in to evenly coat.
Cut each roll into eight sausage rolls and place on two large baking trays. Bake for 20-25 minutes or until golden and cooked through. Serve on a platter scattered with sage leaves.
Top festive tip:
Freeze these before you bake them and then just defrost and put in the oven when you need them.
California Walnuts. Find more recipe inspiration at, californiawalnuts.co.uk.
Pomegranate and walnut brussel sprouts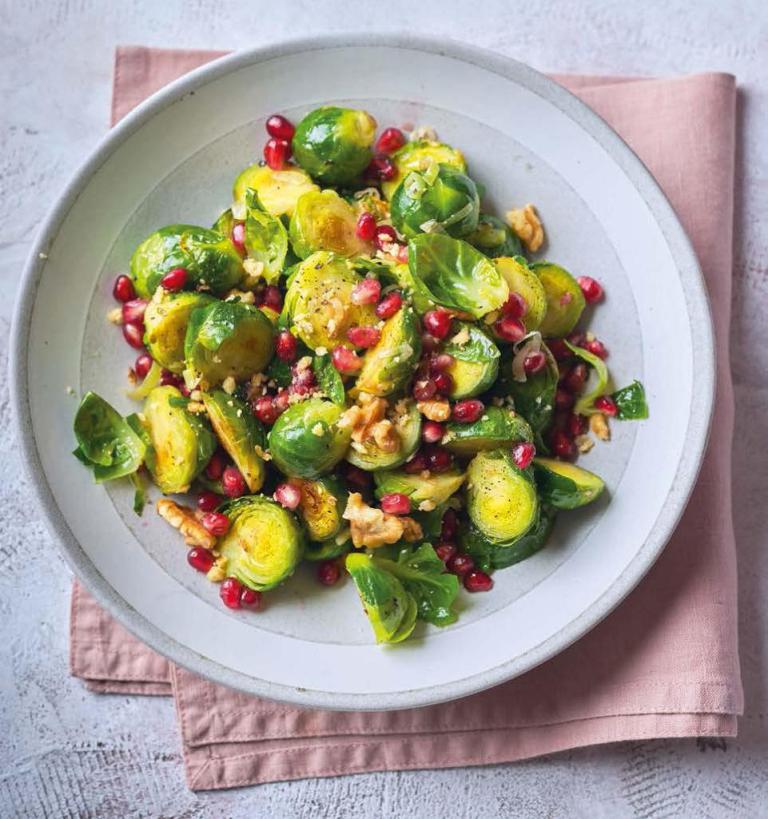 Serves 4 (as a side)
Ready in 20 minutes
700g Brussels sprouts, trimmed and halved
2 tbsp olive oil
50g walnut halves, roughly chopped
3 tbsp pomegranate molasses
80g pomegranate seeds
Bring a large pan of salted water to the boil. Add the Brussels sprouts and cook for 2 minutes. Drain well.
Heat the olive oil in a large frying pan and add the garlic; cook for just 30 seconds. Tip in the Brussels sprouts and toss well with the garlic and cook for about 6-8 minutes until turning golden.
Add the walnut halves, pomegranate molasses and toss everything together, cooking for a further 5 minutes. Remove from the heat and stir through the pomegranate seeds and season well to taste. Serve scattered with a few extra chopped walnut halves.
Top festive tip:
Prep your sprouts ahead of time before you need them, a few hours or even a day before the feast.
Recipe from Poppin' Poms. Visit poppinpoms.com to find more pomegranate recipes.