There's nothing more comforting than a good cuppa to recharge and refresh. But, as more of us cut down on caffeine as we prioritise our health and wellness, finding a great tasting decaf tea can be a challenge. That's why the experts at Ahmad Tea have launched a new decaffeinated collection, which offers all the full-bodied flavour of a signature Ahmad Tea brew, without the caffeine.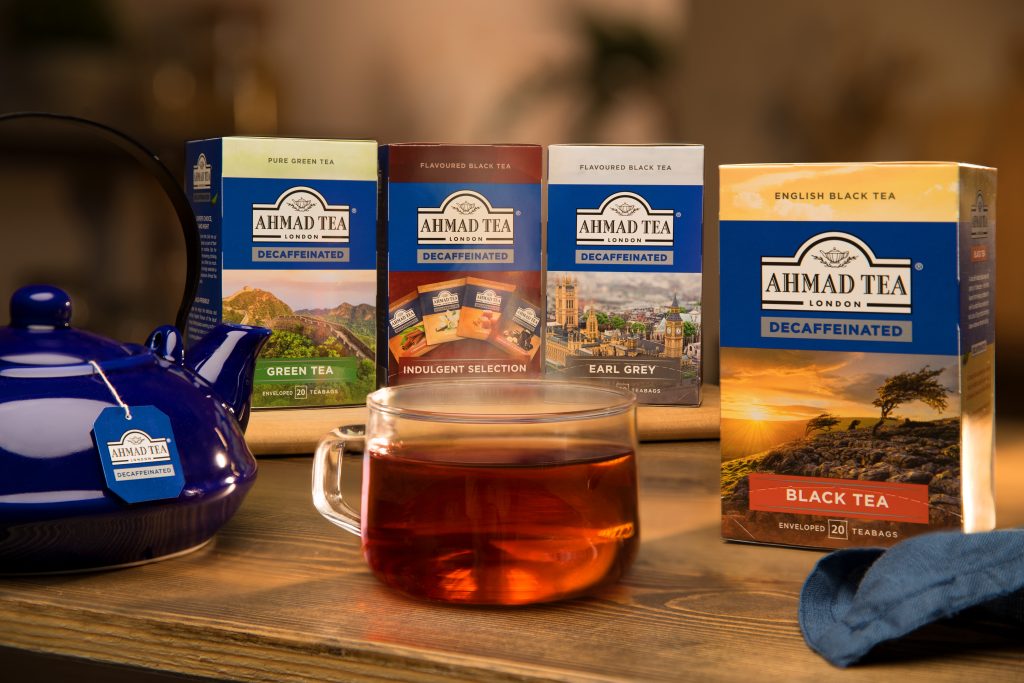 Blended for wellness
When it comes to creating the perfect decaf blend, few people know more than Dominic Marriott, master tea taster at Ahmad Tea: "With health and wellness booming, decaffeinated tea is set to surge in popularity. But, when it comes to taste, all too often, decaf teas don't stand up to scrutiny," Dominic says.
"Our new Decaffeinated Tea Collection is exciting as we're offering tea lovers a depth of flavour that really does deliver – from our bold Black Tea to our Indulgent Dessert-Inspired Selection, the new collection offers the same signature flavours that people expect from a cup of Ahmad Tea, without the caffeine," he says.
Elevating decaf tea to a new level
Featuring four full-flavoured decaffeinated varieties – Pure Black Tea, Pure Green Tea, Earl Grey and the sweet and warming Indulgent Selection – Ahmad Tea's Decaf Collection has been carefully curated so tea lovers can enjoy a great tasting brew at any time of the day.
"At Ahmad Tea, we have some of the world's best tea tasters on our team who sample up to 500 cups each day to ensure the blends are perfectly balanced and the taste is consistent," Dominic says. "Our new Decaffeinated Collection is testament to this – from the light and delicate Green Tea to the elegant Earl Grey, decaf tea is elevated to a new level."
The new Decaffeinated Tea Collection from Ahmad Tea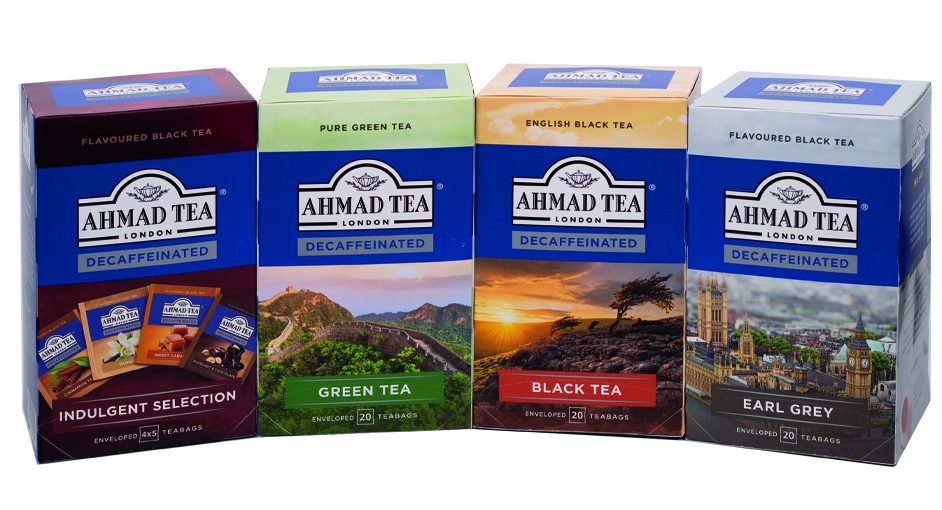 Decaffeinated Pure Black Tea: The finest leaves from Kenya combine for a well-rounded flavour and a rich red colour, resulting in a comforting, characterful brew that can be enjoyed any time of the day.
Decaffeinated Pure Green Tea: Light and delicate, this blend has all the true flavour of high quality traditional Chinese tea leaves. An aromatic, peaceful blend that is perfect for relaxing after a busy day.
Decaffeinated Earl Grey: A subtle blend of the finest decaffeinated teas, scented with the elegant fragrance of bergamot. A sophisticated tea that can be served on its own, with a dash of milk, or a squeeze of lemon.
Decaffeinated Indulgent Selection: The divinely rich flavours of sweet cinnamon, warming vanilla, smooth caramel, and creamy chocolate and hazelnut combine with the finest decaffeinated blends to create a selection of four mouth-watering indulgent dessert inspired teas. Five of each blend per box make the perfect after dinner treat.
The new Decaffeinated Tea Collection from Ahmad Tea is available to buy from May 2022. RRP £2.99 for a box of 20 teabags. uk.ahmadtea.com
20% OFF FOR HEALTH & WELLBEING READERS!
Ahmad Tea is offering Health & Wellbeing readers an exclusive 20 percent off the new Decaffeinated Collection. Simply go to uk.ahmadtea.com and quote the code DECAFH&W20 at the checkout.
Valid from 18th May – 18th June 2022. Offer subject to availability.