Wondering how to keep up your healthy new habits as lockdown rules begin to ease?
Former cover star Joe Wicks, aka The Body Coach has shared his top tips on keeping a healthy mind and body, plus some tasty recipes from Gousto!
"It's an uncertain time for everyone at the moment, so it can be really difficult to put your mental and physical wellbeing first.
"My top tips for you this summer are all about making long-term lifestyle changes.
"There are loads of amazing activities people have been getting involved in during the lockdown with more people cooking and walking than ever before, and there's no reason why this should change.
"If you're someone who's struggled to find a healthy balance during this time, I hope these tips will get you going!
"Give them a go and they'll transform how healthy you are and how you feel physically and mentally."
Make the most of your home
You don't need a gym or lots of equipment to get fit and healthy.
Lots of people have been getting creative and finding space at home for exercise. I've always believed in the power of home workouts because it's so much easier to maintain a daily routine when you're exercising on your own terms.
I'm a big fan of HIIT training and you can do it anywhere; at home, in the garden or even in the park.
Make exercise fun
Exercise should be fun, not something you dread. We've all found new ways to workout during lockdown and most don't need equipment, or even much time.
Put some fun into your routine: do a HIIT workout in the front room, walk a new route, offer to walk a neighbour's dog or go for a run with someone from your household.
It doesn't matter what exercise you do, find something you enjoy and you'll find it much easier to stick to.
Get some fresh air
I love getting outside and going for a long walk in the summer. We're all finding a new appreciation for getting outside, so try to keep that going as we get back to normal.
Get out into the garden or find a local, quiet space to do your workout. If you're not feeling a heavy workout every day, a light walk and some fresh air will still make you feel great.
Find a balance
Cutting any food group or depriving yourself of the foods that you love is not sustainable. If you make balanced food choices most of the time and stay active, you absolutely shouldn't feel guilty about treating yourself to an indulgent meal or a delicious dessert.
Make the time
So many people are super busy at the moment, juggling home working, childcare, home schooling and other responsibilities.
Other people are finding they have more time on their hands than ever before. As our routines change all over again, it's important to make time to look after yourself. Quick daily workouts and easy home cooking are a great place to start.
No matter what pressures you're feeling during this time, be healthy on your terms. Find exercises that get you up in the morning, food that you're excited to eat and make goals that work around your lifestyle.
Cheesy Pizza-Topped Chicken with Mixed Salad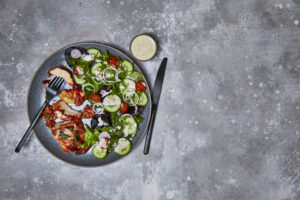 "You'll get that cheesy tomato pizza goodness by topping British chicken breast with rich tomato sauce and melty mozzarella. Serve it with a creamy dressed side salad!"
Ingredients (Serves 2)
1 shallot
1/2 cucumber
1 mozzarella ball (125g)
125g cherry tomatoes
50g baby leaf salad
1 tsp dried oregano
5g basil
15ml white wine vinegar
32g tomato paste
30ml mayonnaise
2 British chicken breast fillets
Method
Preheat the oven to 220°C/ 200°C (fan)/ 425°F/ Gas 7. Add the chicken breasts to a baking tray (use tin foil to avoid mess!)
Peel and finely chop (or grate) the garlic. Combine the tomato paste, chopped garlic and a pinch of the dried oregano with 1 tbsp [2 tbsp] water and a pinch of salt – this is your pizza sauce.
Drain and pat the mozzarella dry with kitchen paper. Tear the drained mozzarella into rough, bite-sized pieces Tear the basil leaves roughly.
Spread the pizza sauce over the chicken breasts. Top with the torn mozzarella. Sprinkle over the torn basil leaves
Put the tray in the oven for 15-20 min or until the chicken is cooked through (no pink meat!) and the mozzarella is melted and golden.
Whilst the chicken is cooking, chop the cherry tomatoes in half. Slice the cucumber finely, and peel and slice the shallot[s] as finely as you can. Then add the chopped cherry tomatoes, sliced cucumber and sliced shallot to a large bowl with the baby leaf salad and give it a gentle mix up – this is your mixed salad.
Combine the mayonnaise, white wine vinegar and remaining dried oregano with 1 tbsp olive oil and a pinch of salt and pepper – this is your creamy dressing.
Serve the cheesy pizza-topped chicken with the mixed salad to the side. Drizzle the creamy dressing all over the salad. Winner!
Miso Tofu with Stir-Fried Ginger Greens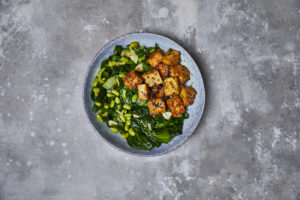 "I've packed heaps of flavour into protein-packed tofu with this super easy miso mirin glaze that's full of umami. For lean, low-carb satisfaction, serve it with ginger and garlic stir-fried greens."
Ingredients
1 garlic clove
15g fresh root ginger
8g soy sauce
2 tbsp white miso paste
200g pak choi
150g spring greens
280g plain tofu
15ml mirin
5g black sesame seed
80g blanched edamame beans
Method
Boil half a kettle. Drain the tofu and pat it dry with kitchen paper, then cut the tofu into cubes.
Rip the leaves off the spring greens, discard the tough stalks, then layer the leaves over each other, roll them up and slice into thin strips.
Cut the pak choi in half, separating the white bases and green tops. Then cut the white bases into bite-sized pieces.
Put the edamame beans in a bowl and cover with boiled water.
Add the miso paste and mirin to a small bowl with 1 tbsp vegetable oil and mix until smooth – this is your miso glaze.
Peel and finely slice (don't chop!) the garlic and peel and finely chop the ginger into batons.
Heat a large, wide-based pan (preferably non-stick) with 1 tbsp vegetable oil over a high heat. Once hot, add the tofu cubes and cook for 5-6 min or until browned all over and starting to crisp
Meanwhile, heat a separate wide-based pan (preferably non-stick) with 1 tbsp vegetable oil over a medium-high heat. Once hot, add the shredded spring greens and pak choi bases and cook for 2-3 min or until starting to wilt.
Drain, then add the edamame beans, pak choi tops and chopped ginger and garlic to the greens and cook for a further 2-3 min or until fragrant and everything is tender with a bite.
Add the soy sauce and give everything a good mix up – these are your stir-fried ginger greens.
Once the tofu is golden, add the miso glaze and cook for 2-3 min or until the sauce has coated the tofu and starting to caramelise.
Sprinkle over the black sesame seeds and serve the miso tofu with the stir-fried ginger greens to the side. Get in!
Looking for ways to get your parents moving? This chair workout from The Body Coach is specifically designed for seniors.