We're all looking for easy ways to help support our gut health, and there's nothing simpler (or more delicious) than doing so with food, which in turn may benefit our overall wellbeing. However, with so much information out there on what to eat for gut health, it can be difficult to know what's best to eat and cook and where to find gut-friendly recipes.
To help, Dr Joan Ransley is sharing six new gut-friendly recipes, which are ideal for everyday enjoyment, from breakfast and lunch, to weekend dinner parties.  
"Looking after your gut doesn't have to be tricky," says Dr Joan. "Many foods that are an integral part of a gut-healthy diet, such as oats, beans, vegetables, and nuts, are likely to be in your cupboard or fridge already. It's these ingredients that can form the base for nutritious meals, which don't only taste great, but can also assist your everyday wellbeing and improve your gut health."
From tofu scramble to sweet potato and orange soup, these gut-friendly recipes are suitable for everyone who's looking to eat for better gut health.
Tofu Scramble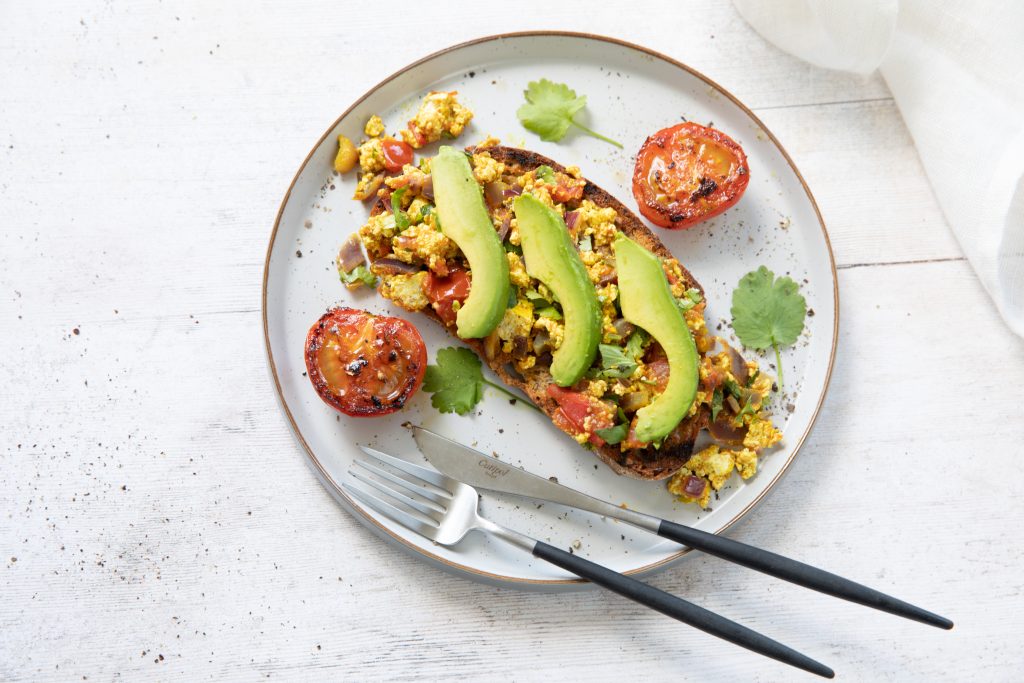 Preparation time: 10 minutes
Cooking time: 20 minutes
Serves: 4
Ingredients:
1 red onion, finely chopped
2 medium tomatoes, chopped
1 tbsp fresh coriander, finely chopped
1/2 tsp ground turmeric
pinch mild curry powder
1 tbsp extra virgin olive oil
400g firm tofu, drained and mashed with a fork
4 slices light rye sourdough bread, lightly toasted
2 ripe avocados, cut in half, stone removed and sliced
Method:
Place the chopped red onion, tomatoes, and coriander into a bowl, reserving a little of the chopped coriander to serve. Add the turmeric and curry powder and mix well.
Warm the olive oil in a frying pan and swirl to ensure the base is coated. Add the onion, tomatoes, coriander and spices to the pan and let the mixture sizzle for two minutes, stirring regularly until soft.
Add the drained and mashed tofu to the pan and cook on a low heat for five minutes until the tofu is heated through. Serve the scrambled tofu on a slice of warm sourdough toast, topped with slices of avocado and a few chopped coriander leaves.
Sweet Potato and Orange Soup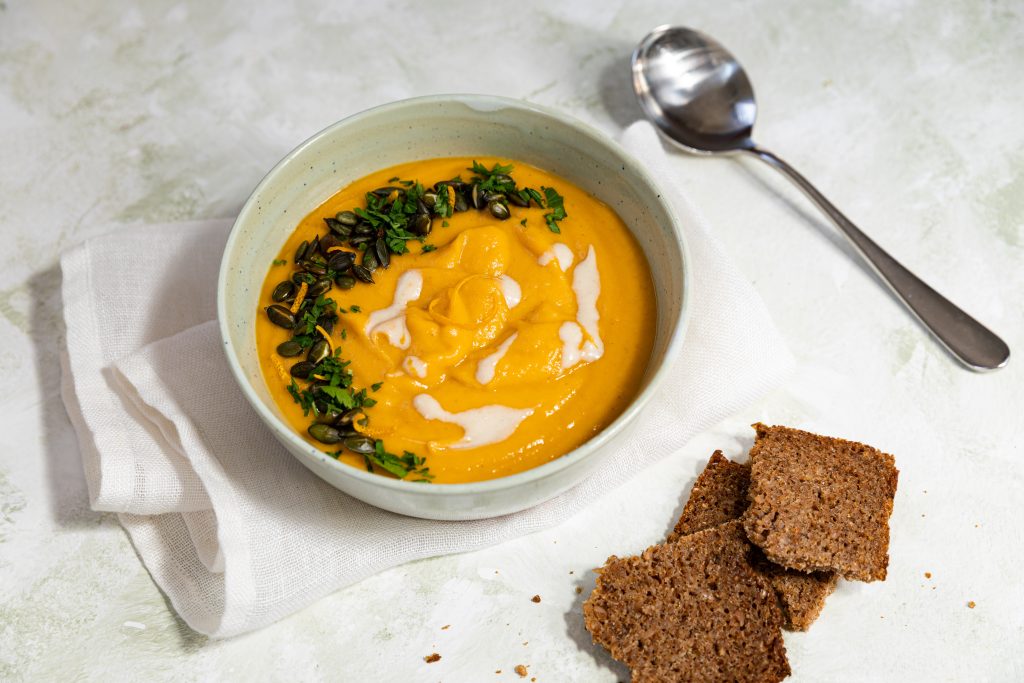 Preparation time: 10 minutes
Cooking time: 20 minutes
Serves: 4
Ingredients:
15ml extra virgin olive oil
1 onion, chopped
1 stick celery, chopped
600g sweet potato, scrubbed, peeled and roughly chopped
½ tsp ground coriander
700ml vegetable stock
juice from ½ orange
50g red lentils, rinsed in cold water
250ml semi skimmed milk
To serve:
1 tbsp tahini
1 tbsp pumpkin seeds, dry roasted in a pan
zest from ½ orange
1 tsp chopped parsley
Method:
Warm the olive oil in a large pan and add the chopped onion and celery. Cook gently for three minutes until they are soft. Add the chopped sweet potato and stir around the pan until it is coated with a little oil. Now, add the ground coriander and cook for a minute stirring the vegetables in the saucepan to prevent them burning. Add the vegetable stock and orange juice followed by the red lentils. Bring the soup up to the boil and simmer for 15 minutes until the red lentils are beginning to soften and breakdown. Take the pan off the heat and allow to cool slightly. Add 220 ml milk to the soup reserving 30ml to mix with the tahini. Liquidise the soup in batches. 
Add enough milk to the tahini to make it pouring consistency. 
Serve the soup in bowls scattered with a swirl of tahini, toasted pumpkin seeds, chopped parsley and the zest from the orange.
Chicken with Fennel, Olives, Capers and Thyme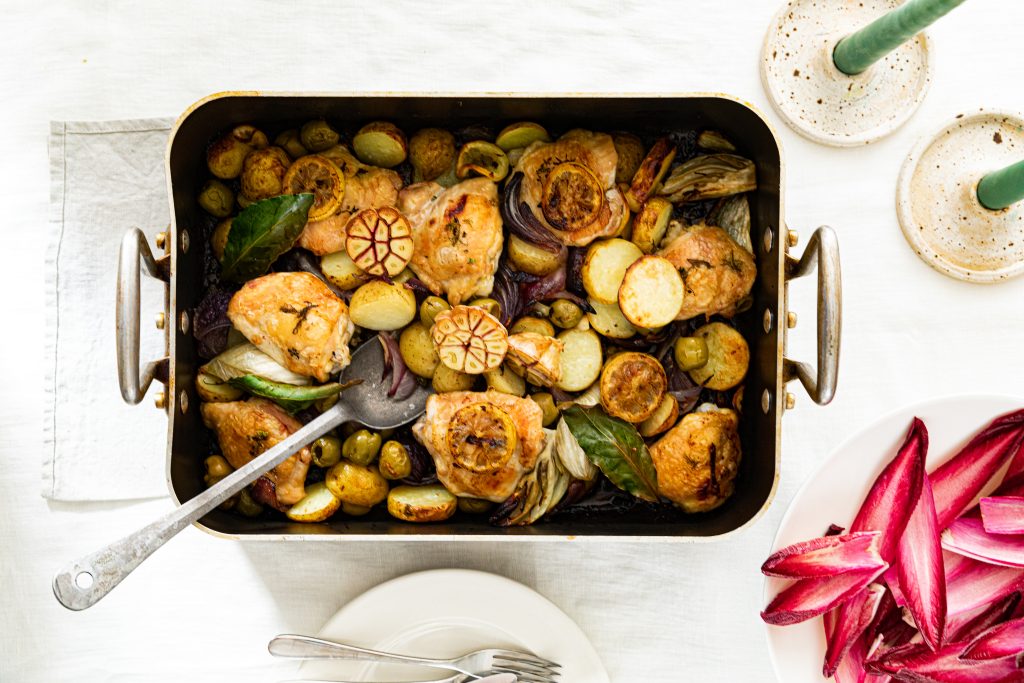 Preparation: 15 minutes
Cooking time: 30-40 minutes
Serves: 4
Ingredients:
400g small potatoes, scrubbed and sliced thickly
2 red onions, peeled and cut into wedges
1 bulb of fennel, cut into wedges
2 unwaxed lemons
2 tbsp capers, rinsed and dried
150g large, green, queen olives
8 skin on, bone in, chicken thighs, excess skin and fat trimmed
5 thyme sprigs
2 bay leaves
3 small heads of garlic, cut in half around the middle
3 tbsp extra virgin olive oil
Method:
Preheat the oven to 200°C Fan/gas 6. Place the sliced potatoes in a roasting tin, followed by the wedges of red onion and fennel.
Finely grate the zest of one lemon over the vegetables. Squeeze the juice of half of the lemon into the roasting tin and scatter the capers and olives over the vegetables.
Place the trimmed, chicken thighs skin side up on top of the vegetables. Slice the second lemon and tuck the lemon slices, thyme and bay leaves under the chicken and the vegetables. Place the cut garlic in with the chicken and vegetables.
Drizzle the olive oil over the contents of the roasting tin and turn everything over with your hands. Make sure the chicken pieces are skin side up on top of the vegetables and there are no lemon slices sticking out as they will burn quickly in the oven.
Roast in the oven for 30 – 40 minutes until the vegetables are cooked through and the skin of the chicken is crisp and golden. Make sure the chicken is cooked well by stabbing with a skewer and checking the juices run clear.
Serve this dish straight from the roasting tin to plates or transfer everything to a large, warmed serving dish to serve at the table.
Green Salad with Edamame Beans and Fresh Ginger and Lime Dressing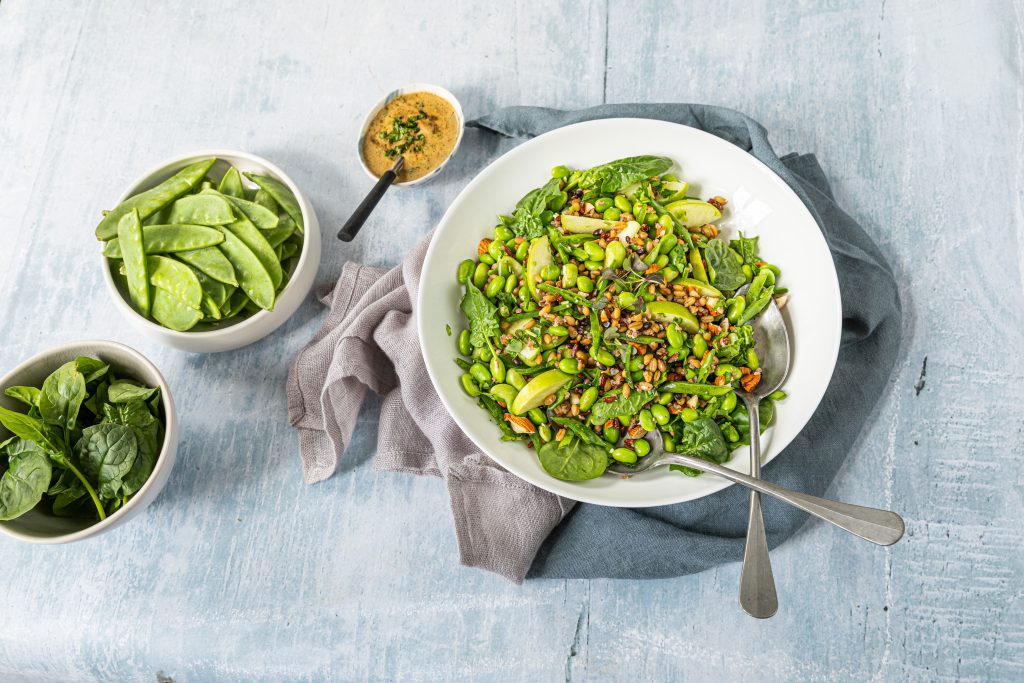 Preparation time: 20 minutes
Cooking time: N/A
Serves: 4
Ingredients:
250g frozen edamame (soya) beans, defrosted
130g precooked mixed wholegrains e.g. wheatberries, red rice, freekeh, barley and quinoa
50g mangetout, thinly sliced
40g almonds chopped
1 small green apple, sliced
1 tbsp fresh lemon juice
20g baby spinach leaves
160g hot smoked salmon (optional)
Dressing:
1 tbsp red wine vinegar
2 tbsp fresh lime juice
35ml olive oil
1 tbsp soy sauce
35g fresh ginger, peeled and finely grated
1 tbsp light brown sugar
1 tbsp of coriander leaves finely chopped
Method:
To make the dressing: place the vinegar, lime juice, olive oil, soy sauce and grated ginger and sugar into a jar with a lid and shake well. Finally add the chopped coriander and give the jar another quick shake and set aside.
To assemble the salad: Place the cooked wholegrains in a large bowl and scatter over the defrosted edamame beans, followed by the thinly sliced mangetout and chopped almonds.
Core and slice the apple and place in a small bowl with the lemon juice. Remove the apple pieces form the lemon juice and add to the salad. Finally add the baby spinach leaves.
Spoon over the dressing and mix well. Serve the salad either on its own or with smoked salmon.
For further information and gut-friendly recipes, please visit www.loveyourgut.com or Facebook @loveyourgut.
Looking for more gut-friendly recipes and ideas? Try these brilliant week-night ideas which are ideal for bolstering gut health.