Allow us to hit you with some knowledge: your gut loves a diet of diversity. In fact, it thrives on it.
Greater diversity in the gut means a greater diversity of 'abilities' amongst our gut microbes, including gut bacteria. This in turn can have a positive impact on mood, weight and overall health and wellbeing.,
The old adage of five-a-day has been ingrained in nutrition guidelines for decades, but now, experts are calling time on that number and giving it a double figures make-over. Yep, chowing down 30 different plant-based sources a week is where the new, evidence-based advice lies.
While eating 30 different plant foods a week can sound intimidating, it doesn't have to be! Reaching thirty a week can be as easy as adding an extra portion of veg to evening meals, snacking on seeds and nuts, or simply topping your morning porridge with fruit! 
To prove how easy it is, Yakult has developed four new delicious, simple recipes, packed with nutritious ingredients to help you reach your thirty a week and, in turn, to boost your gut diversity. Plus, Yakult has even done the hard part and calculated how many plant points each recipe has to offer so you can start boosting your gut diversity, today!
Beetroot Humous Buddha Bowl
Beetroot gets its glorious colour from a polyphenol called betalain. Betalains have been shown to have antioxidant and anti-inflammatory properties, and help promote the growth of beneficial bacteria.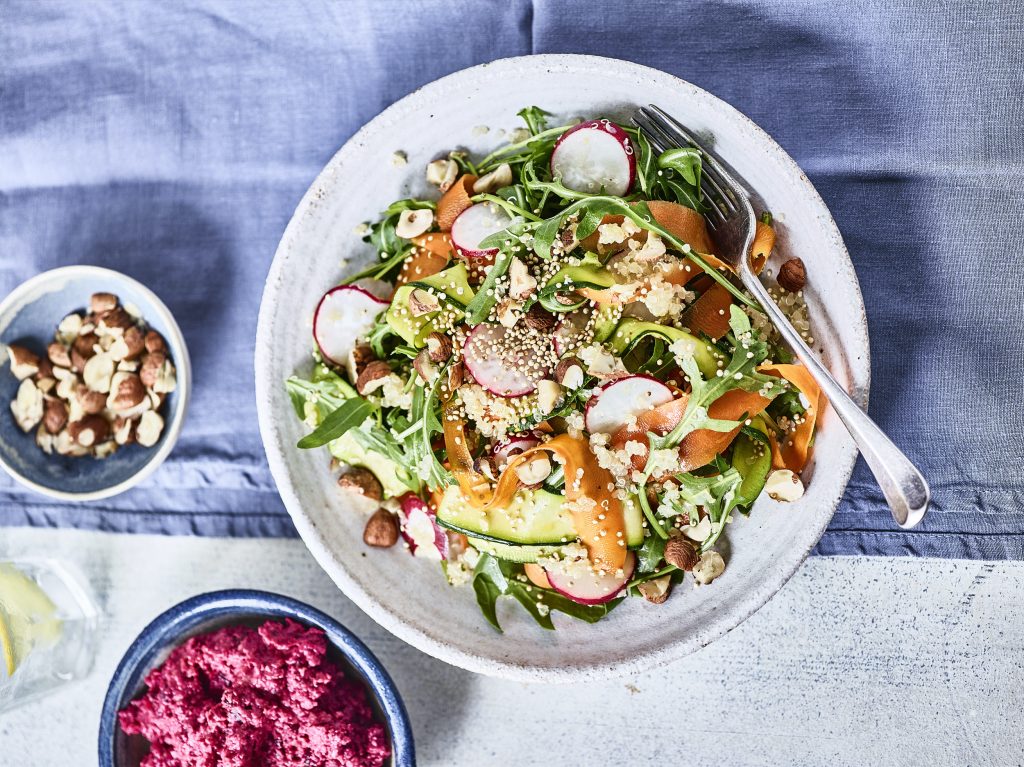 Ready in: 30 minutes.
Serves: 4
1 raw beetroot, washed and cut into 8 wedges 
2 tbsp olive oil, plus extra for brushing
½ tsp ground cumin
75g quinoa, plus 1 tbsp set aside
2 small courgettes 
2 carrots 
400g can chickpeas, drained and rinsed
1 ½ lemons, juiced
1 clove garlic
50g tahini
80g radishes, thinly sliced
100g rocket
50g hazelnuts, roughly chopped
Preheat oven to 180oC, gas mark 4.
Place the beetroot on a baking tray, brush with a little olive oil and season with ¼ tsp cumin. Roast for 20 minutes and allow to cool.
Meanwhile, cook the quinoa (per instructions on pack) for 20 minutes until tender and drain well.
Slice courgettes and carrots into ribbons using a vegetable peeler, place in a roasting tray, toss in 1 tbsp oil and season with remaining cumin and cook for 10 minutes or until tender, allow to cool.
To make the humous, add the cooled beetroot, chickpeas, juice of one lemon, garlic, tahini and remaining olive oil to a food processor and blend until smooth.
Heat a large frying pan over a high heat, add the 1 tbsp quinoa seeds fry for 1-2 minutes.
Combine courgette and carrot ribbons with radishes, rocket and cooked quinoa in a large serving bowl, sprinkle with fried quinoa, hazelnuts and remaining lemon juice. Serve with the humous on the side.
9.5 plant points.
Chicken and Vegetable Traybake
Sweet potato, carrot and red pepper are all high in carotenoids – a form of vitamin A that gives these vegetables their red and orange pigments. These colours can help nourish our gut, immune and eye health!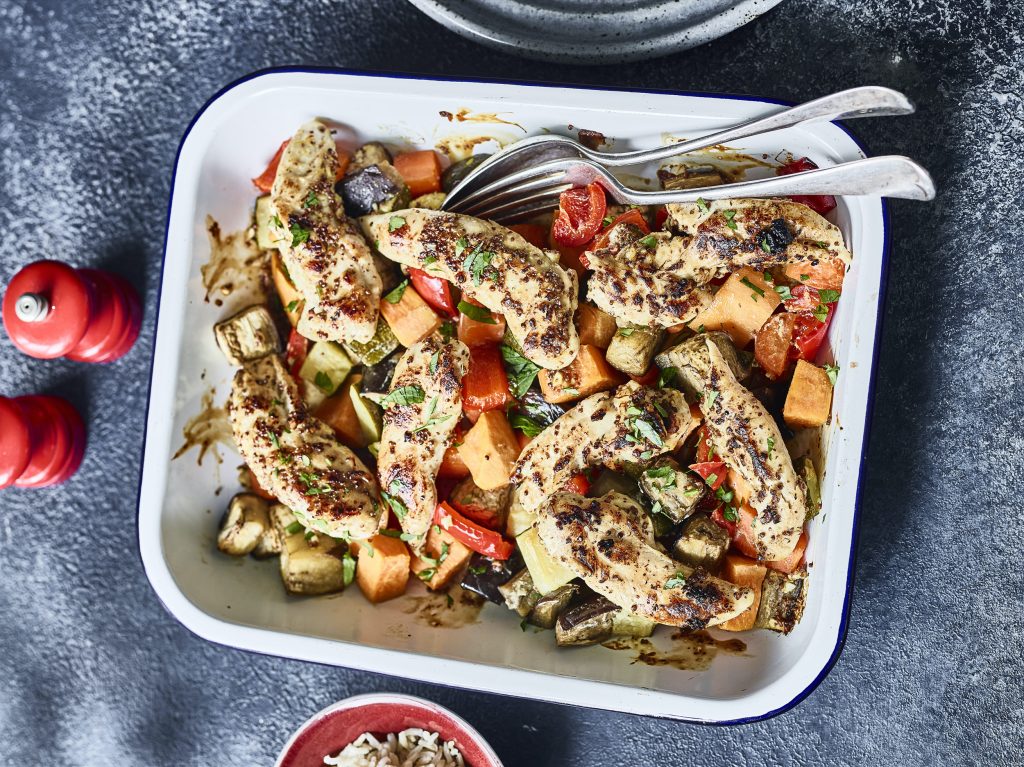 Ready in: 45 minutes
Serves: 4
1 each of the following: sweet potato, carrot, aubergine, courgette and red pepper
1 red onion
½ tbsp olive oil
2 cloves garlic, crushed 
1 ½ tbsp wholegrain mustard 
1 tsp white wine vinegar
1 tsp soy sauce
1 tbsp honey
400g chicken mini fillets
300g brown rice, cooked
Preheat oven to 180oC, gas mark 4.
Dice all vegetables to approx. 2-3cm. Place on a large roasting tray and toss with the olive oil, season. Bake for 25 minutes.
Whisk garlic, mustard, vinegar, soy and honey together and combine in a bowl with the chicken fillets.
Add the chicken on top of the vegetables along with the excess juices. Return to oven for a further 20 minutes until chicken is cooked through and vegetables are golden.
Serve with the cooked rice.
8.5 plant points.
Mushroom and Bean Burgers
These veggie-filled burgers are packed with 14g fibre, from 9 different plants. This means we're getting many different types of fibre, to feed healthy bacteria in our gut. Including different sources of fibre can increase diversity of your gut microbiota, improve constipation, enhance immune function and reduce inflammation in the gut.
To help keep a healthy home for your gut microbes, choose vitamin D-enriched mushrooms (check the label!), or you can even pop them out in the sunlight for 15 minutes to increase their vitamin D content before you eat them! , Vitamin D plays an important role in normal immune function, but there is also some evidence to show that deficiency may cause damage and inflammation to our gut lining.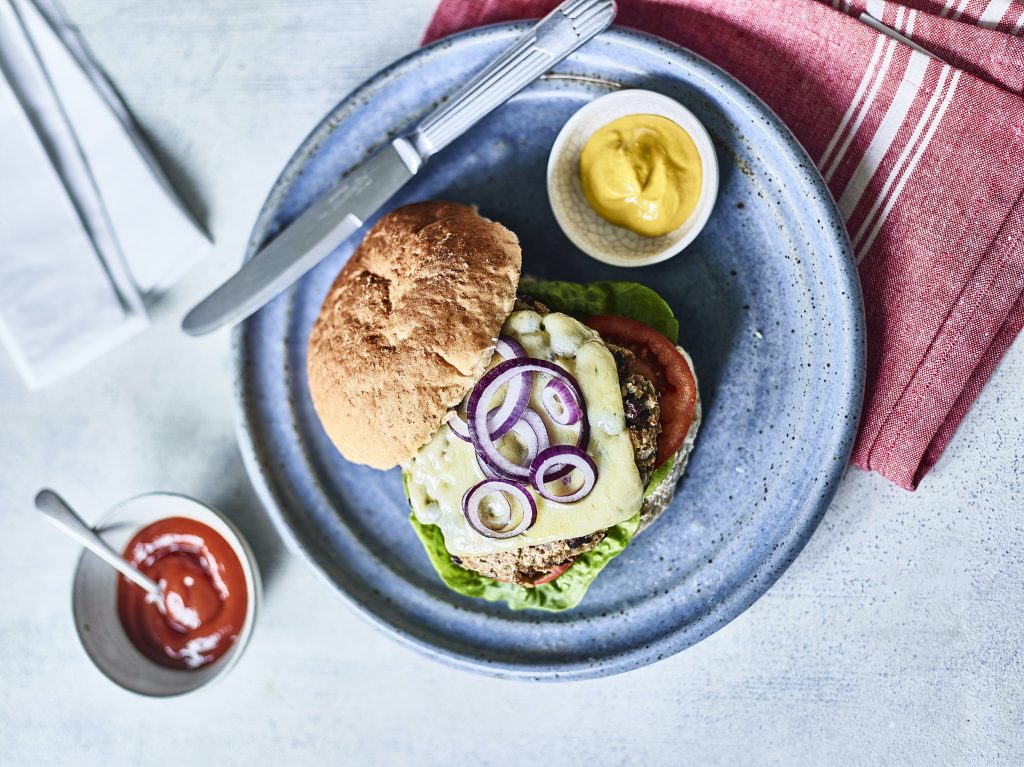 Ready in: 35 minutes
Serves: 4
425g can black beans, drained and rinsed
50g oats
250g mushrooms
½ onion, roughly chopped 
2 cloves garlic
1 tsp olive oil
100g wholemeal breadcrumbs
1 tbsp Worcestershire sauce
1 medium egg, beaten
4 Cheddar cheese slices 
4 wholemeal burger buns, halved 
1 head Cos lettuce 
1 large tomato, thinly sliced 
½ small red onion, thinly sliced 
Condiments to serve
Preheat oven to 180oC, gas mark 4. 
Spread out the black beans on a baking tray and bake for 10 minutes.
Blend oats in food processor until a fine flour. Transfer to a large mixing bowl and set aside.
Pulse mushrooms, onion and garlic in a food processor until finely chopped. Heat the oil in a large frying pan and sauté the mushroom mixture for 3 minutes until soft. Stir through beans.
Stir into the mixing bowl with the oat flour and add the breadcrumbs, Worcestershire sauce and egg and mix well. Divide into 4 and mould into burger shapes. Place on a baking tray lined with baking parchment and bake for 15 minutes, turn over and continue to bake for another 10 minutes. Add a slice of cheese to each burger and bake for a further 2-3 minutes until cheese has melted.
Fill the buns with lettuce, tomato and onion and top with the burger. Add condiments as you fancy!
9.25 plant points.
Garlic Prawn Pasta with Grilled Tenderstem Broccoli
Garlic and wholegrain wheat are both high in inulin-type fructans. These are dietary fibres and a type of prebiotic These prebiotics have been shown to help strengthen our gut wall and can improve bowel function.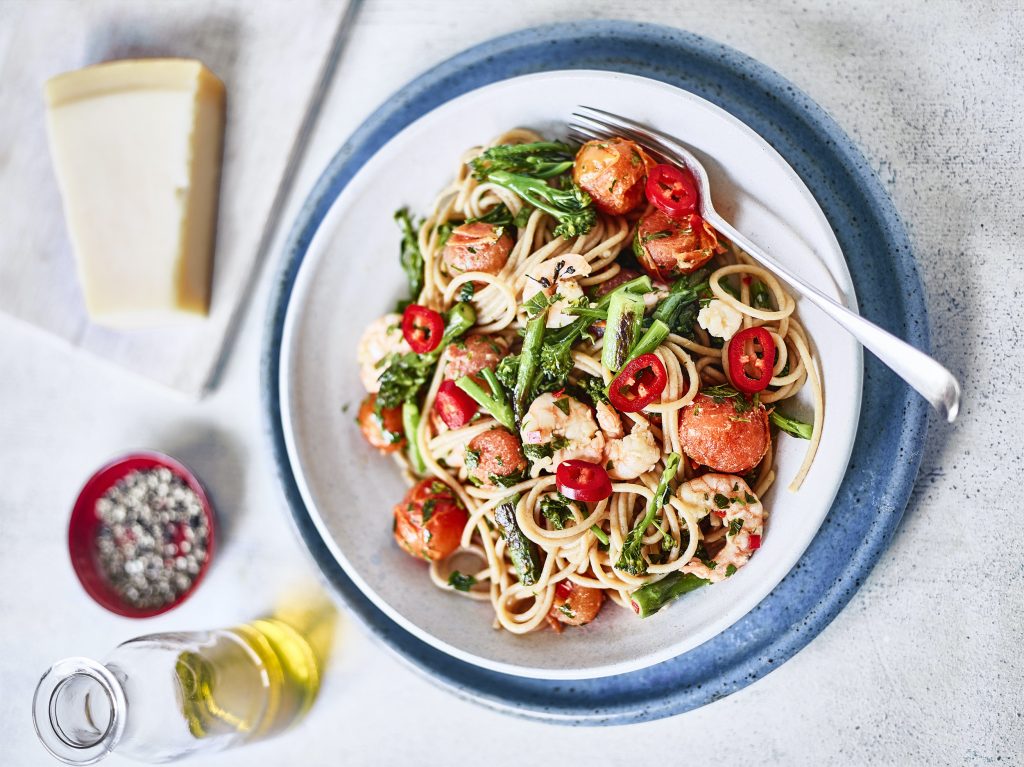 Ready in: 25 minutes
Serves: 4
 2 ½ tbsp olive oil
3 cloves garlic, crushed
1 fresh red chilli, finely chopped
500g cherry tomatoes 
150g tenderstem broccoli 
230g bunch asparagus, trimmed 
250g wholewheat spaghetti 
300g raw king prawns 
50g parsley, chopped
Rocket to serve
Heat 2 tbsp oil in a saucepan and fry the garlic and chilli until softened, season.
Add cherry tomatoes whole and cook down gently until tomatoes have burst and juices start to reduce down, stirring occasionally.
Meanwhile, thinly slice broccoli lengthways. Heat a large frying pan with remaining oil, pan-fry the broccoli and asparagus in 2 batches until slightly charred, cut into 2cm pieces and set aside. 
Cook spaghetti in boiling water for 10 minutes, drain well, reserving a cupful of the cooking water.
Add prawns to the tomato sauce and cook for about 3-4 minutes until cooked through. Stir the spaghetti, parsley, asparagus and broccoli through the sauce with a little pasta water to loosen slightly.
Top with rocket to serve.
7.5 plant points.