It's officially Pimms in the park season, but before you head to the supermarket for all the picnic essentials (hello, scotch eggs and creamy hummus), London National City Park Ranger Lauren Cook has some tips on how to enjoy yourself, while being kinder to the planet.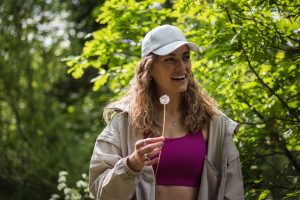 Avoid Using Disposable Barbecues
"With hot weather prevalent in the UK this summer and little rainfall, the ground in parks will be extremely dry, and so disposable barbecues can pose a real safety risk to grassland, which can become scorched and ignite quickly, posing a threat to people and wildlife. Avoid using disposable barbecues whilst picnicking this summer as they can also cause wildfires in busy areas and parks, similar to what we saw this week on the outskirts of London. Save the barbecues for at home and bring a picnic to the park instead."
Take Your Litter Home
"Save on litter and protect the environment by skipping the plastic utensils. Simply pack some forks, spoons and knives from your own kitchen drawer or you can buy reusable eco-friendly tableware from any local supermarket. Pack food in sealable, reusable containers instead of plastic bags as well as bringing reusable or recyclable dishes in lieu of paper plates and reusable straws instead of plastic drinking straws. Littering is a huge problem each summer and is also detrimental to wildlife."
Stay Protected with SPF
"People often forget to top up on sunscreen every 2 hours to ensure you're fully protected. The sun is strongest between 11am – 3pm so you need to take extra precautions during this time – try and stay under a shaded spot in a park during this time. " 
Make the Most of Local Green Spaces
"As part of Merrell's Going Out Out campaign which I'm currently working on, we're encouraging others to connect with their local green spaces and parks. Try choosing a green space nearby instead of one far away and opt to walk to your chosen picnic spot. This will help to reduce your carbon footprint and fuel consumption. If you need to travel to find the perfect picnic spot, try to use public transport rather than a car or personal vehicle. Choosing to stay close to home not only is better for the environment but is an opportunity to explore your local area and find new routes. Walking or cycling to and from your picnic is also a great way to exercise."
Don't Disturb the Wildlife
"There's strong evidence which supports that being out in nature improves your physical and mental health. Biodiversity is all part of that – biodiversity is everything that lives, and it's all connected, and we're part of it. So, we all need to work to protect the wildlife in order to be able to enjoy our green spaces. Merrell's Going Out Out campaign highlights this, as I'm encouraging others, particularly young people to preserve their local green spaces though my role as a London National City Park Ranger."
Molecular Ecology PhD student and a London National Park City Ranger Lauren Cook, whose work in harnessing the outdoors to help and inspire others has been highlighted by Merrell's Going Out Out campaign. Lauren is forging a path to increase inclusivity and participation in outdoor activities, inspiring more women and younger generations to engage in outdoor activities and have a deeper respect for nature and the natural environment.
To find out more about Lauren's work in harnessing the outdoors to inspire others, head to merrell.com/UK.