These tasty recipes will help you get the power of 3 (omega-3!) into your everyday meals
A handful of California Walnuts a day (30g) can help maintain normal blood cholesterol levels and help reduce the risk of cardiovascular disease. Including them in dishes and at mealtimes is a simple and tasty way to reap their unique benefits.
As the only tree nut to contain a significant amount of the plant-based omega-3,(ALA) alpha-linolenic acid (2.7g per 30g serving) and 1.4g of fibre, California Walnuts are a great food for your heart as part of a healthy balanced diet and lifestyle. Their mild and creamy flavour means they can be used to add extra taste and texture to a variety of dishes – check out our favourites below!
From Vegetable & California Walnut Ragu to Baked Peppers with Rice, Chicken & California Walnuts, each recipe has received the 'heart-healthy' seal of approval from award-winning dietitian Sian Porter. California Walnuts also have that seal of approval from the heart health charity, HEART UK.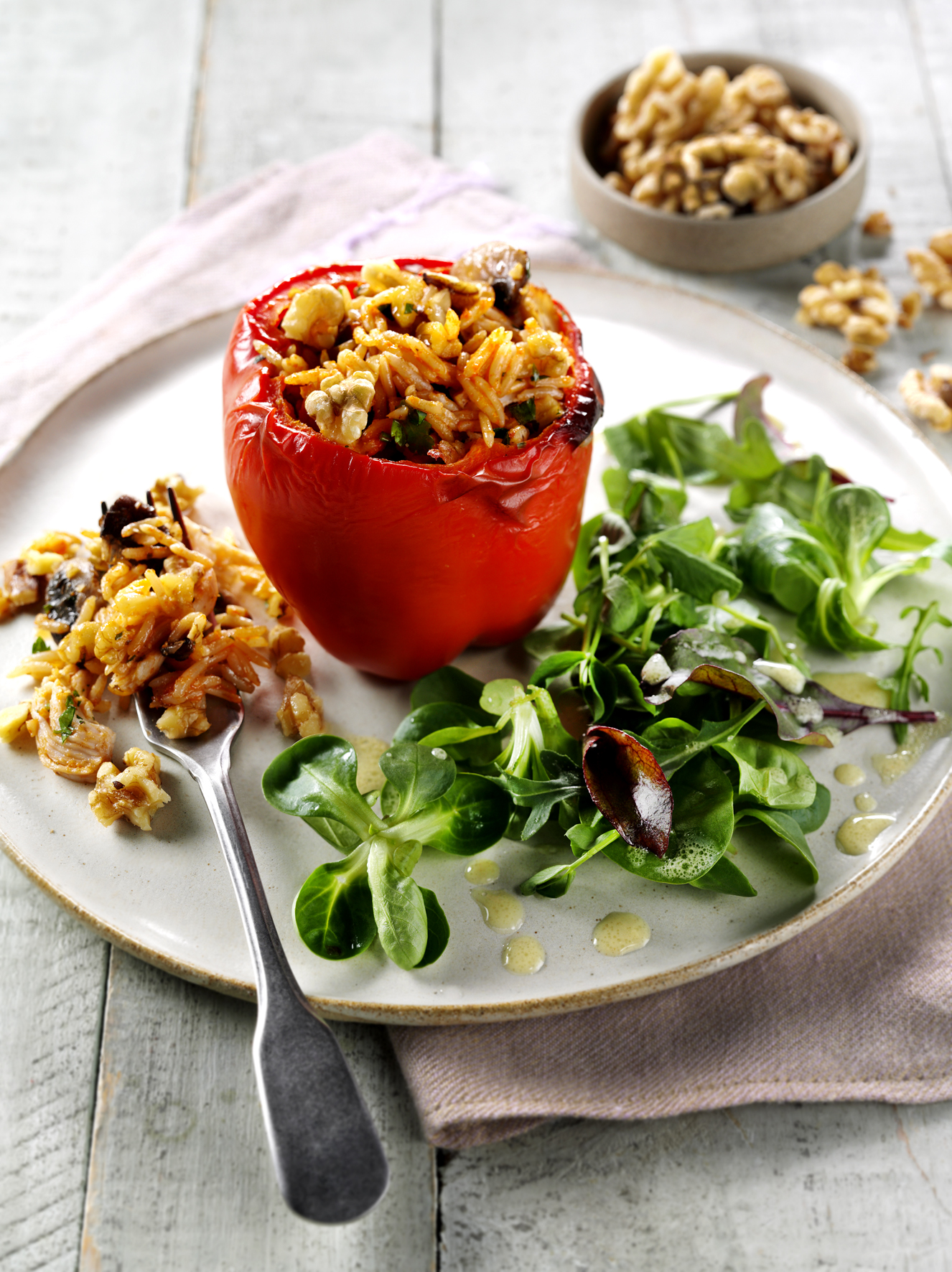 Baked Peppers with Rice, Chicken & California Walnuts
Serves 4
From the sweet flavours of the roasted red pepper contrasted with tender pieces of shredded chicken and mushrooms, this recipe is perfect for a weekend lunch or a quick mid-week dinner. You can also use the rice stuffing in other vegetables, such as a large onion or aubergine.
Ingredients
1 tbsp olive oil
150g chestnut mushrooms, sliced
250g pouch sun-dried tomato basmati rice
50g California Walnut pieces, roughly chopped
200g roast chicken, shredded
½ x 25g pack parsley, chopped
4 red peppers
Method
Preheat the oven to 200°C, gas mark 6.
Heat the oil in a frying pan and fry the mushrooms for 3-4 minutes.
Add the rice, California Walnuts and chicken and fry for 2-3 minutes until heated through.
Season to taste, stir in the parsley and 2-3 tbsp water.
Cut the tops off the peppers and remove seeds.
Trim the bases if needed so they stand upright and place them in a small roasting tin with 3 tbsp water in the base.
Spoon rice mixture into the pepper shells and bake for 30 minutes or until the peppers are just softened. Serve with a fresh leafy salad.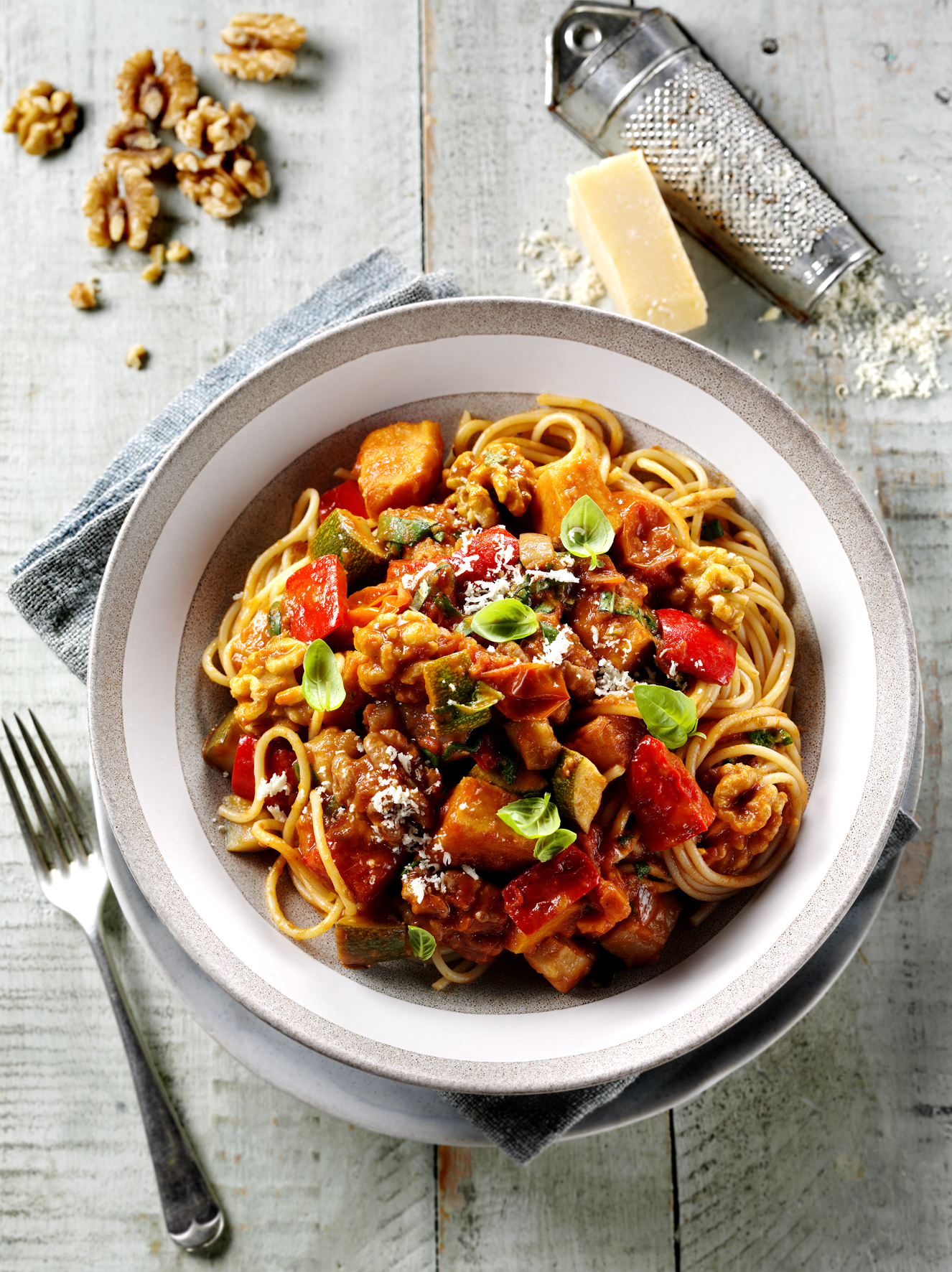 Vegetable & California Walnut Ragu
Serves 4
This tasty Vegetable & California Walnut Ragu is a one-pot wonder that is full of delicious vegetables including peppers, tomatoes, courgettes and sweet potato. Pair it with any pasta or rice of your choice. 
Ingredients
1 tbsp unsaturated oil such as rapeseed or olive oil
400g sweet potatoes, peeled and diced
1 onion, chopped
1 red pepper, diced
100ml red wine
50g sun-dried tomato paste
250g cherry tomatoes halved
400g can chopped tomatoes
100g California Walnut halves
250ml reduced-salt vegetable stock
1 courgette, diced
25g basil, shredded
To serve: Cooked spaghetti
Method
Heat the oil in a large saucepan and fry the sweet potatoes, onion and pepper for 5 minutes.
Add the wine and reduce by half.
Stir in the remaining ingredients except for courgette and basil and bring to the boil, cover and cook for 15 minutes.
Remove the lid and add the courgette, simmer for 20 minutes until the sauce has reduced.
Season to taste and stir in the basil. Serve with cooked spaghetti.
For more recipes ideas visit californiawalnuts.co.uk and follow #ShareThePowerof3 on social.
Cold Storage = Fresh Taste Walnuts
Whether in-shell or ready-to-eat kernels, walnuts should be kept in a cool place like the fridge and not the cupboard. For longer storage, place them in the freezer for up to 12 months and simply thaw when needed. California Walnuts are available from all major retailers. Simply look for 'USA' or 'California' on the label.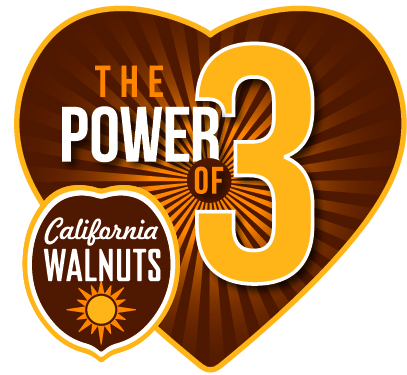 1 https://efsa.onlinelibrary.wiley.com/doi/abs/10.2903/j.efsa.2011.2074
2 https://www.ncbi.nlm.nih.gov/pmc/articles/PMC5762129/
3 Food Standards Agency (2002), McCance & Widdowson's The Composition of Foods, Seventh summary edition. Cambridge: Royal Society of Chemistry