It's no secret that cleaning chemicals can be toxic. You'll often come across a special safety cap on the bottle or corrosive or warning symbol on the back of pack, most of which is often overlooked because we just want something to do the job.
We may think if we keep these chemicals safely away from our children, wash our hands after use or pop some gloves on to clean, we're not causing ourselves that much of an issue. After all, you'll end up with gleaming surfaces across the home, giving the illusion that all the nasties, dirt, grime and more have been washed away leaving nothing dirty behind. But in reality, we couldn't be any more wrong.
Conventional cleaning agents leave an abundance of harsh indoor air pollutants hovering around, which can be awful for our respiratory health. At the same time, issues such as contact dermatitis can occur long after contact with a surface we've touched earlier in the day, reducing our ability to pinpoint what could be causing us problems or reactions.
Here to help, ethical household cleaning brand Ecozone has shared with us its top tips and tricks to help you be safer and more conscious about what you're using at home.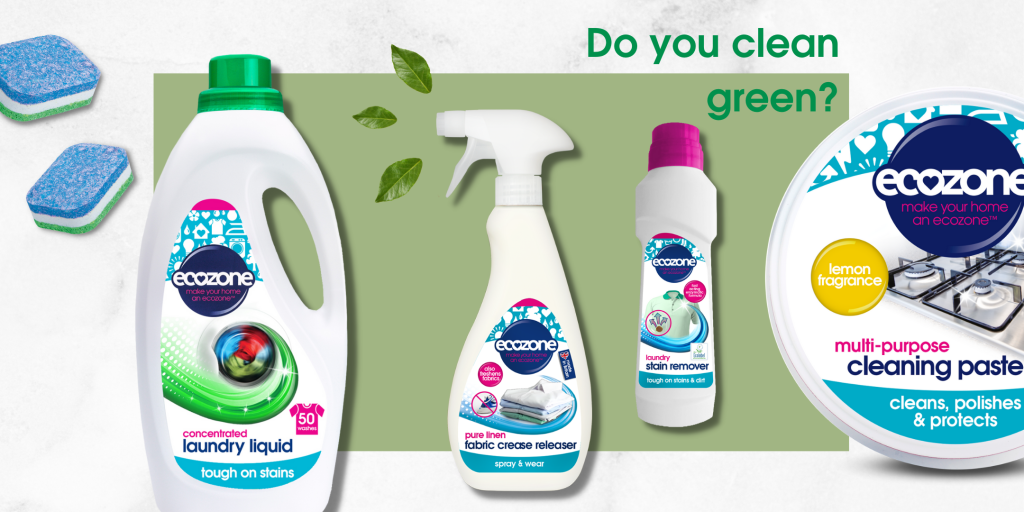 Six eco-friendly ways to clean your home and protect your family's health
1. Always use gloves
No matter what products you're using always use some sort of glove, as this will lower your chance of getting any product on your skin that's easily absorbed into your blood stream.
2. Open all windows when cleaning
Rain or shine, be sure to open the windows when you clean. That way you're getting fresh air circulating helping remove pollutants out of the air as much as possible. Put simply, if you can smell it, you're likely inhaling it into your lungs. If you're giving a quick clean around the kitchen or bathroom, even pop the extractor on if you have one. This will help to suck moisture and particles out of the air.
3. Reduce the number of products you use
Contrary to the reality for many of us, you don't actually need 101 cleaning products under your kitchen sink. Be realistic and think about what is a necessity and what is a common problem you need to keep on top of. That way you're reducing your exposure through multiple unnecessary items and sticking to what is needed and works.
4. Go fragrance free
Many people and pets actually have issues with fragrance causing headaches, hives and other horrible allergic reactions. Ecozone has a range of fragrance-free essentials and is working on more.
5. Opt for more eco-conscious products in general
We know it can be hard to be perfect and eliminate absolutely everything that's known as harsh and toxic, but make the switches first on cleaning products that you have the most contact with on a daily basis – multi-surface cleaner, laundry detergent, fabric conditioner and bathroom cleaners. Start with the products you're most likely to use regularly.
6. Always read the label
Not only are chemicals not so good for us personally at home (despite their ability to clean), they are a real problem when it comes to animal welfare, the environment and our oceans. Look for as many ethical endorsements as possible such as cruelty-free, vegan, aquatic life safe etc. This really helps to reduce the impact products have on other species and their eco-systems and environments.
For more helpful information and to shop Ecozone's range of ethical household products, visit the website.