The days are getting shorter and the nights are getting longer. It can only mean one thing: autumn is here. Slowly but surely, the thick woollen socks and mittens are being taken out of the closet. Despite layering up, many of us will still suffer from cold hands and feet.
If you're someone who really feels the cold, we hear you. Of course, this can be caused by several factors. Naturally, the lower temperatures, lack of sunshine and icy winds have a big part to play. That said, some people have freezing hands when it's 15°C and others when it's 3°C.
If you suffer from cold hands and feet or feelings of numbness, it can be uncomfortable and often painful. But there are ways you can alleviate this and feel warm during the colder months. Here, the team at HeatPerformance looks at what may be causing you to feel the cold, and look at some helpful solutions.
Common causes of cold hands and feet
Vitamin B12
One of the best-known causes of cold hands and/or feet is, of course, diet. A vitamin B12 deficiency can make you feel very tired and cold. This vitamin deficiency is usually caused by insufficient intake of animal products such as meat, fish and dairy products.
Iron deficiency
Another possible 'food' cause is an iron deficiency. As with vitamin B12, you will be tired and feel cold, but you may also suffer from hair loss. Fortunately, a doctor can diagnose this very quickly. To prevent an iron deficiency, you should eat plenty of seeds and veggies.
Exercise
A lack of exercise could also be a culprit, as one of the most important ways to counteract your cold feet is by staying active. Exercise increases circulation, and ensures that even your fingers and toes have enough blood flowing to them. Moreover, exercising is healthy and makes you fitter and more energetic – it's a win-win!
Raynaud's disease
In Raynaud's syndrome, the arteries in your fingers and toes are contracted, resulting in poor blood flow. As a result, the blood does not reach your extremities, resulting in numbness and discoloration. That said, this is a much less common cause of cold hands and feet.
Other diseases
Besides Raynaud's disease, there are other illnesses that may cause you to feel the cold more. In people with diabetes, the blood vessels can be damaged. This makes it harder for the blood to move around the body. Poor circulation does not make for warm feet and cold fingers.
Another cause could be the slow functioning of your thyroid gland. A shortage of thyroid hormones can cause you to become overtired and suffer from cold fingers and toes. Moreover, this causes your red blood cells to focus more on your primary organs.
How to combat cold hands and feet
The most important thing to prevent cold hands and feet is movement. By moving around, your blood circulation will be stimulated, and you won't feel the cold as much.
Another way to prevent cold hands and feet is to eat healthily. Pay close attention to your food intake to ensure that you get enough vitamins and iron, among other things.
Wear the right clothing
Wearing clothing that's made specifically for colder weather will certainly help keep you warm. But if you need extra warmth and comfort, heated socks and heated gloves are a great option. Through advanced technology and a lot of innovation, HeatPerformance has managed to make the heaters so small that they fit easily into socks and gloves.
Heated socks
How nice is it to have heated feet within thirty seconds at the push of a button? With these heated socks, that's exactly what you'll get! These electrically heated socks contain thin heat conductors that you cannot see or feel while wearing them.
What's more, they're available in different shapes, with three different heat settings. For skiing, there is a special heated ski/snowboard sock, while for autumn, there are very thin socks that easily fit into your normal shoes.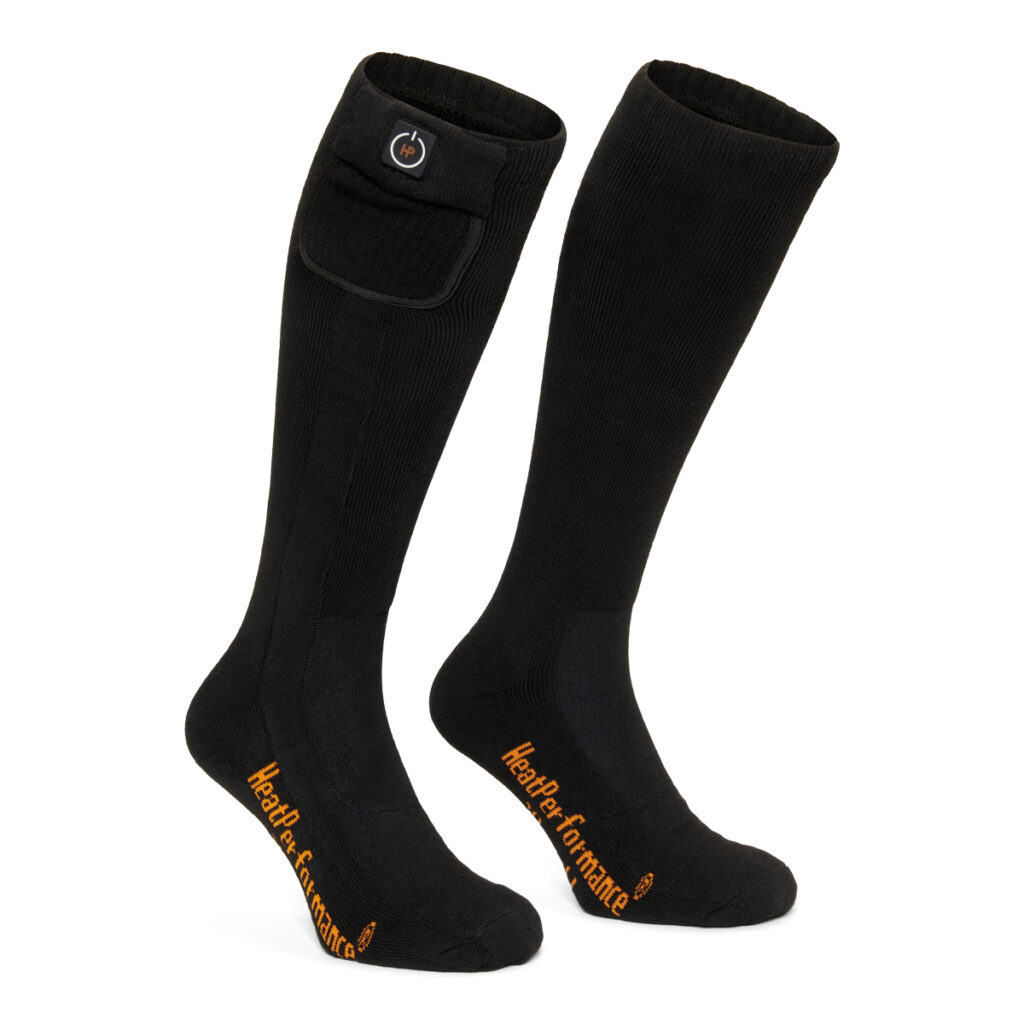 So how do these heated socks work? The batteries are processed on the ankle of the sock. If you wear tight trousers and don't want the small battery to be visible, you can add an extension cable so that you can carry the batteries in your trouser pocket.
Another way to warm up your feet is by adding heated insoles into your shoes. These are also designed in a really thin shape, so that they fit in every shoe.
Heated gloves
Heated gloves are ideal in winter weather, whether you're out for a walk, enjoying a wet day on the bike or are just popping out to the market. HeatPerformance's gloves are snow- and water-resistant, and will always keep your hands warm.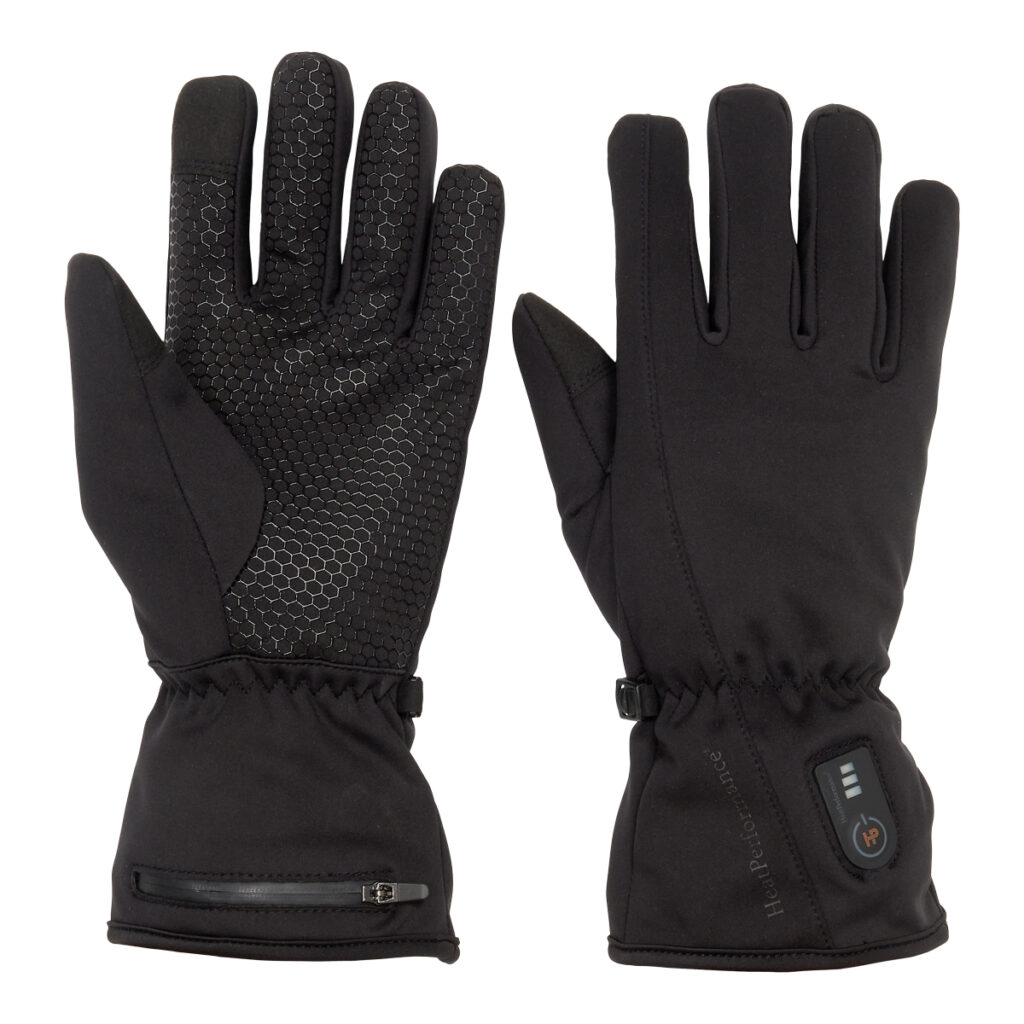 As easy to control as the socks, these also have three different heat levels. Simply press the button and feel the heat flow within 30 seconds over the back of your hand to your fingers.
If you prefer your own mittens or gloves, the good news is you can still benefit as these are also available as thin gloves to insert underneath.

To find out more about HeatPerformance, visit heatperformance.co.uk