We've all been there: you're in the middle of a food shop and reaching for all the items that take your fancy, but before you know it, you've got a fridge full of produce you aren't really sure what to do with.
The UK's Six Top Thrown-Away Ingredients:
Eggs
Potatoes
Cheese
Apples
Milk
Bread
So, in celebration of #StopFoodWasteDay, recipe delivery subscription service, Gousto has created some delicious recipes to help you make your food shop go further – saving you money and trips to the supermarket.
Speedy Sausage and Egg Hash
Sweet mustard and ketchup gives this easy weeknight dish tons of flavour, and it's a great way to use up leftover eggs too, just fry and add to the potatoes, sliced leek and Cumberland sausages, the perfect breakfast for dinner meal.
Ingredients:
1 Leek
2 British Free-Range Eggs
10g Chives
4 Cumberland Sausages
400g Waxy Potatoes
1 Mustard Ketchup Pot (20g)
Method:
Boil a kettle and cut the waxy potatoes (skins on) into very small chunks. Add the potatoes to a pot of boiled water with a pinch of salt, bring to the boil over a high heat and cook for 10-15 min or until fork-tender.
While the potatoes are cooking, wash the leek carefully to remove any grit from between the leaves, then top, tail and slice finely.
Heat a large, wide-based pan (preferably non-stick with a matching lid) with a large knob of butter over a low heat.
Once melted, add the sliced leek and a generous pinch of salt and cook for 5-6 min or until they're starting to soften.
While the leeks are softening, remove the sausage meat from their skins and discard the skins.
Once the leek has softened, increase the heat to medium and add the sausage meat, breaking it up into small pieces with a wooden spoon as you go. Cook for 4 min or until the sausage meat is brown and crispy.
Once the potatoes are done, add them to the pan with a pinch of salt and cook for five to seven minutes, or until brown and crispy. Meanwhile, chop the chives finely.
Once the potatoes are browned, stir the chopped chives (save some for garnish) into the pan, then serve up onto plates (keep the pan for the next step!) – this is your sausage & leek hash
Return the pan to a medium-low heat with a drizzle of vegetable oil, crack the eggs into the pan and cover with a lid and cook for 2 min or until done to your liking
Serve the fried eggs over the sausage & leek hash with the mustard ketchup to the side. Garnish with the reserved chopped chives. Enjoy!
Ultimate Mac & Cheese
Our gooey Mac & Cheese is a great way to use up a selection of leftover cheeses and can be made ahead and frozen for convenience. Adapt the recipe to whatever cheese you have leftover, from mature cheddar to red Leicester or for a more complex flavour use blue cheese, gouda or gruyere.
Ingredients (Serves two, double for four):
200g Conchiglie pasta
1 Garlic Clove
2 Tbsp Wholegrain Mustard
1 Mozzarella Ball (125g)
135g British Dry Cured Smoked Streaky Bacon
40g Cheddar Cheese
40g Italian Hard Cheese
30g Panko Breadcrumbs
50g Baby Leaf Salad
125g Baby Plum Tomatoes
15ml Balsamic Vinegar
Method:
Preheat the oven to 240°C/ 220°C (fan)/ 475°F/ Gas 9, and boil a kettle.
Add the conchiglie to a pot of boiled water with a large pinch of salt and bring to the boil over a high heat. Cook the conchiglie for 8-10 min or until cooked with a slight bite
Once done, drain the conchiglie, reserving 300ml of the starchy pasta water
Meanwhile, cut the streaky bacon into small, bite-size pieces. Heat a large, wide-based pan (preferably non-stick) over a high heat and once hot, add the chopped bacon Cook for 3-4 min or until crisped, then transfer to kitchen paper and set aside (keep the pan!)
Meanwhile, peel the garlic and grate the Italian hard cheese and the cheddar and drain, pat dry and rip the mozzarella into small, bite-sized pieces.
Return the pan to a medium heat and once hot, add 30g butter. Once melted, add 30g flour and stir with a wooden spoon for 1-2 min or until a sandy paste forms – this is your roux
Gradually whisk 350ml milk into the roux and cook for 5 min or until a smooth, thick sauce remains – this is your béchamel sauce
Meanwhile, grate the garlic into the béchamel sauce and season with a generous pinch of salt and pepper. Once thickened, add the Italian hard cheese, cheddar, wholegrain mustard, crispy bacon and drained conchiglie with a few splashes of starchy pasta water to loosen the mixture
Transfer the cheesy pasta to an oven-proof dish, then top with the ripped mozzarella, panko breadcrumbs and the remaining chopped bacon, drizzle with olive oil and put the dish in the oven for 20-25 min or until it's golden. Enjoy!
Gluten Free Apple Crumble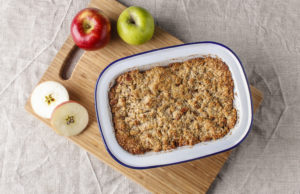 Turn your leftover apples into something special with a gluten-free apple crumble. A quick and easy gluten-free take on the classic family favourite, so those with wheat intolerances needn't lose out.
Ingredients (serves six):
150g unsalted butter (at room temperature)
60g unrefined caster sugar
2 tbsp ground flaxseeds
70g almonds with skin
1 tsp cinnamon
60g fine gluten-free oats
5 large apples
Method
Preheat the oven to 200C
Start by making the crumble topping. Roughly chop the almonds, then transfer them to a bowl along with the flax seeds, 40g of sugar, the oats and the butter. Rub the butter into the mix thoroughly, until it resembles soft crumble.
Peel and core the apples and cut into slices. Lay them in the oven dish. Sprinkle the top with the cinnamon and the rest of the sugar.
Cover with the crumble. Best way to do this is to use a small spoon or your hands.
Bake in the oven for 20 minutes or until browned on the top.
Remove from the oven and leave to rest for 10 minutes before serving (it's best served with custard, yoghurt or crème Fraiche).
Feeling inspired? Jamie Oliver has some more tips on how you can reduce your food waste.