What is omega 3 and what foods can I eat to boost my levels?
Omega 3 ALA (alpha-linolenic acid) is essential to heart health. Our bodies can't make it, so it's important to ensure we eat foods that contain ALA for good health and normal growth and development.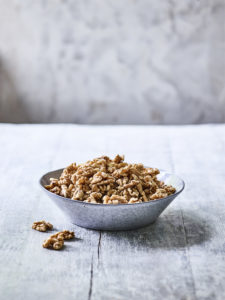 The most obvious source is oily fish, but if you're vegan or vegetarian, you may be wondering where to turn for a plant-based alternative you can grab easily, which is where California Walnuts come in.
Walnuts are the only tree nut to contain significant amounts of the plant-based essential omega 3 ALA (2.7g/30g), which contributes to the maintenance of normal blood cholesterol levels1.
Research has also shown ALA to have a beneficial role in the prevention of heart disease and stroke. In addition, EFSA has approved the health claim that a handful of walnuts a day (around 30g) can have a positive effect on the elasticity of the blood vessels – helping to keep the cardiovascular system healthy2.
California Walnuts have the heart-healthy seal of approval from the cholesterol charity HEART UK.
California Walnuts can be enjoyed as a snack or in a variety of dishes, from porridge to pasta, to stir fry and smoothies. Simply add a handful to your favourite meals for an omega-3 boost. For more recipes ideas and inspiration visit www.californiawalnuts.co.uk
1. EFSA approved health claim / As part of a balanced diet and a healthy lifestyle https://efsa.onlinelibrary.wiley.com/doi/abs/10.2903/j.efsa.2009.1252;
2. EFSA Panel on Dietetic Products, Nutrition and Allergies (NDA); Scientific Opinion on the substantiation of health claims related to walnuts and maintenance of normal blood LDL‐cholesterol concentrations (ID 1156, 1158) and improvement of endothelium‐dependent vasodilation (ID 1155, 1157) pursuant to Article 13(1) of Regulation (EC) No 1924/2006. EFSA Journal 2011; 9( 4):2074. [19 pp.]. doi:10.2903/j.efsa.2011.2074