As the temperature heats up, many of us will want to make the most of the good weather and bask in the summer sun. However, soaking up the rays can come at a cost. Sun safety is important all year round, but especially so in summer. According to a survey conducted by Cancer Research UK, only 60 percent of UK adults who use sunscreen apply it before going out in the sun, and just 37 percent take it with them to apply throughout the day. But why exactly is SPF protection so important? To find out, we chatted to the experts for their top sunscreen tips.
What does the sun do to our skin?
You may not think it, but SPF is the most important product in your regime to slow down the effects of ageing on your skin. "In addition to increasing your skin cancer risk, prolonged sun exposure can also lead to premature ageing because it breaks down collagen," says consultant dermatologist Dr Adam Friedmann (stratumclinics.com). "Collagen is the underlying elastic support tissue that gives skin its strength, smoothness and elasticity and over time sun damage causes these collagen strands to shrink, become thinner and break down. This can make the skin appear wrinkled, have less elasticity, and feel dry and itchy. UV damage can also cause the skin to develop uneven pigmentation and hyperpigmentation, commonly referred to as age spots or sun spots."
If I've got dark skin, do I need to wear sunscreen?
"Sun exposure may also trigger melasma – mottled darkening of the skin on the face," warns Dr Friedmann. "The exact cause of melasma is not known but it is thought that the melanocytes in the skin, the pigment producing cells, produce too much pigment in certain areas." This can appear anywhere on the body, but in particular, the face, when exposed to the sun. "It is more common in women and in those with darker skin tones and who tan very quickly."
Does factor 15 sunscreen protect me from the sun?
"Always go high and wear a SPF suncream with at least factor 30, but ideally 50 on your face to protect from the photo ageing effects of ultraviolet B (UVB)," says Dr Friedmann. "The SPF number represents the degree of sun protection a cream provides to the skin compared with bare skin. For instance, after SPF 50 application, the skin gets the equivalent to one minute of sun exposure for every 50 minutes spent in the sun."
Is a teaspoon of sunscreen really enough?
"For adequate protection against the sun, apply the equivalent of half a teaspoon to the face, neck and backs of ears and over half a teaspoon to each arm," says Dr Friedmann. "Then apply a full teaspoon to the back, the chest and each leg. Applying less will reduce the amount you're protected – for example, only applying half the required amount can actually reduce the protection by as much as two-thirds."
Top sunscreen tips
Before jetting off on your summer holiday, take a glance at Dr Friedmann's top sun safety tips to keep your skin protected while you're away:
Children's sunscreen is a great choice for adults: it goes on well and is often good for sensitive skin and delicate areas around the eyes. Try Nivea for kids for SPF50 sunscreen, and own-brand sunscreens such as Boots Soltan, which applies well without leaving a white sheen.
Look for sun creams with five stars of UVA protection: this will give you the highest levels of defence. While UVA rays have less energy and don't burn the skin, they do cause the skin to age and contribute to the development of melanoma along with UVB.
Don't mistakenly think your face is fully protected by a hat: sunlight is reflected from water, sand, glass and even snow, so a hat can't protect the face without the additional use of sunscreen. Remember, most tanning or burning of the face is caused by reflective UV rays, so don't skimp on the sunscreen.
Heating up
Add these buys to your basket to stay safe in the sun this summer…
COSRX's Aloe Soothing Sun Cream SPF50+ PA+++, £22, £18.25, feelunique.com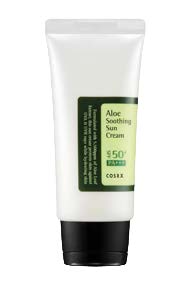 Formulated with cooling aloe vera, this soothing sunblock is lightweight and moisturing. And the best part? There's no white cast left after you apply it.
Pai British Summertime SPF 30, £39, paiskincare.com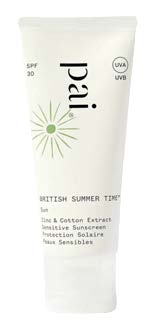 This non-greasy, reef-friendly sunscreen for sensitive skin protects against UVA and UVB rays, while sitting comfortably under make-up.
grüum Läka Soothing After Sun Mist 120ml, £10, lookfantastic.com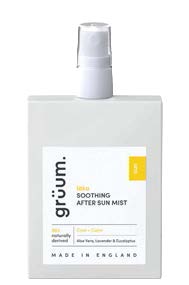 Easy to use in a handy spray bottle, this 98 percent natural formula is infused with aloe vera to help hydrate and moisturise your skin.