Put your fitness levels to the test with this bootcamp-style workout that's going to get your heart pumping and burning some serious kcals.
Designed by personal trainer and previous contestant of SAS: Who Dares Wins, Esmée Gummer has created a unique workout, which challenged Scotland and England rugby fans to defend their teams before the two nations went head to head in the Guinness Six Nations.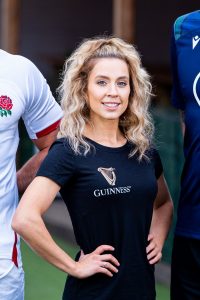 Esmée said: "As a qualified personal trainer and having experienced the type of training the SAS go through, these experiences have made me realise how powerful exercise can be in bringing people together.
"I've used these experiences to create an SAS-style bootcamp that will not only challenge you physically, but also mentally. They also have a bit of a rugby inspiration behind them!
"Obviously this works really well as a team because you can help each other pull through – and you can reward yourselves with a drink at the pub after. Make sure you practice in a safe space like a gym, and have fun!"
The scrum
"Taking my inspiration from the rugby scrum, the first half of the workout is heart-raising endurance exercises to really push yourself.
"The catch here is that you'll need to do everything in complete synchronisation with your workout partner or group like a scrum is, meaning you'll have to move as fast or as slow as your friends!"
Start the timer, and complete:
20 squats (for an extra challenge use weights)
15 deadlifts (use a heavy book if you don't have access to weights)
10 Press Ups
To make this more challenging, every 10 minutes stop and complete 10 burpees, before moving back to your workout.
Sin bin
When players are sent off the pitch to the sin bin, they keep warm doing cardio. For the next 20 minutes you'll complete a cardio workout at a steady state – this could be running or using a cycle or rowing machine if you have access to one.
We're aiming for maximum calorie burn here.
Try line
Getting a ball over the line and scoring a try can be done in a huge number of ways in rugby by making a break for it and running up the pitch or pushing over as a team.
The final exercises should be done three times:
Five burpees
Bear crawl for 15m
10 tuck jumps