I recently returned from a one-week stay at The Body Camp fitness retreat in sunny Mallorca; I was there to scope out the place and find out if it was the real deal or just hype blowing in the wind.
I should preface this by stating, I am a retreat veteran and have both hosted and participated on many different retreats. So, I know my fitness retreats, and have experienced a wide-range of them from bootcamp style ones, to yoga ones and (not so enjoyable) detox ones.
My initial research into The Body Camp revealed a host of five-star reviews, celebrity endorsements, glowing feedback and claims of being one of the top health and fitness retreats in the world. Wonderful, I thought – but seriously? The retreat sounded too good to be true, maybe an enigmatic sweatopia of sorts, so it was time to find out for myself. What I discovered was nothing short of sensational.
I found a retreat hosted by experts in their fields of transformation, motivation, mindset, exercise and food, all set against the backdrop of a gorgeous white-washed, sun-drenched Mallorcan villa. I encountered wonderful people, on their own health journeys, and of course, got to know myself a whole lot better.
My week was filled with making new friends, surprisingly delicious vegan food, fun physical challenges, actionable mental health and behavioural advice, 80's music, dancing around and lots of laughs. My group was evenly split between men and women, from different backgrounds and professions, with the youngest having just turned 19 and the oldest being 59. Throughout the week, there were many firsts for me, along with moments of enriching clarity, and much needed peaceful periods.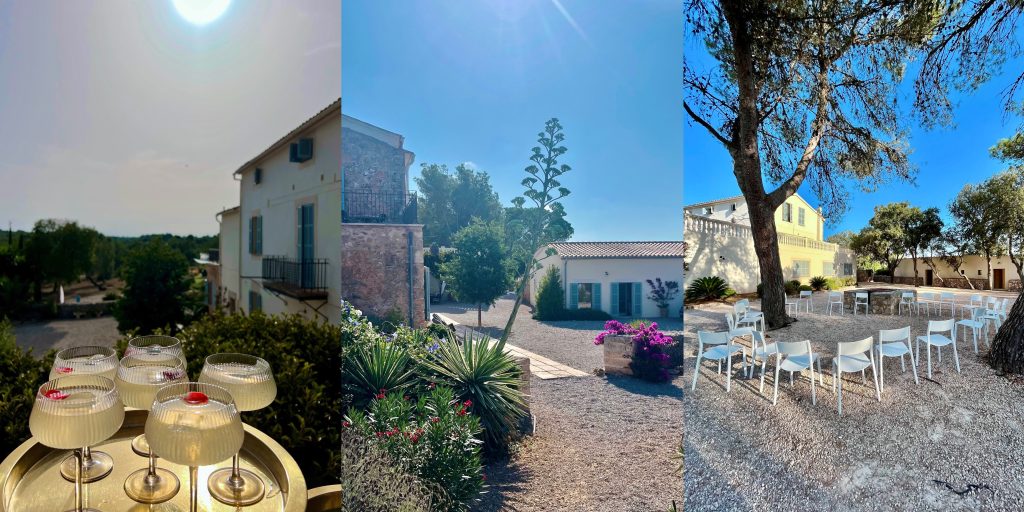 Fitness Retreat Snapshot
What: The Body Camp
Where: Sencelles, Mallorca, Spain
When: The retreat takes place in Marrakech in January, and in Mallorca from April to October. It is seven-nights long and runs Friday-to-Friday every week
Price: Prices start from £1,650 and includes the full programme, accommodation, and all food & drink
Website: thebodycamp.com
Instagram: @TheBodyCampOfficial
The House
The beautiful retreat villa is located close to the Mallorcan town of Sencelles, which is in the middle of the island, and a 40-minute drive from the airport. The villa looks like a slice of dreamy Mediterranean magnificence and is owned by The Body Camp founders, so has been refurbished, modified, and purposely designed to cater for retreats. It is set within a private 25-acre estate, with its own swimming pool, tennis court, workout frames, boxing area, weights gym, yoga studio and running track. The surrounding gardens are filled with brightly coloured bougainvillea, olive trees, a cactus garden and I am pretty sure there is a donkey in there too!
There were a range of bedrooms to choose from, suiting all budgets, including private, twin and sharing. Most of the rooms were in the main house, although there were also two suites in a bungalow just behind the house. I was accommodated in a stunning private suite with its own spacious terrace. All the rooms were decorated in a minimalist rustic luxury style, with oversized beds, sumptuous bed linen, and REN toiletries.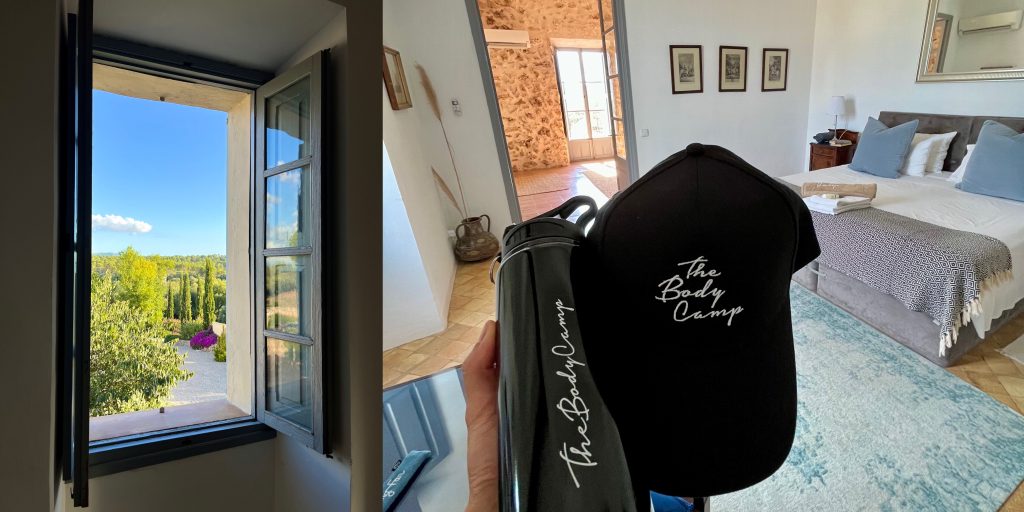 The Hosts
The Body Camp is run and led by Kate Whale (founder and MD), Rick Parcell (head trainer and transformation coach), and Ben Whale (head plant-based creative chef). During my week, Kate and Ben were on annual leave, so Rick was in charge, along with his training coaches, Anthony Richmond and Sophie Tonks; chef, Ramon Marcos; retreat manager, Lou Kavanagh; and a few others helping out behind the scenes.
Between Rick's ridiculous sense of humour and fixation on 80's music, Anthony's high energy and joie de vivre attitude, Sophie's sweet and encouraging demeanour, and Ramon's superb food, I quickly felt at home and part of The Body Camp family. The whole team was friendly, likeable, entertaining, accommodating, and helpful at every turn.
The Food
The food at The Body Camp was mouth-wateringly delightful! It was all vegan except for the odd egg, and gut healthy, nutrient-dense, unprocessed, and low sugar foods provided the foundations to the retreat menu. Better still, the ingredients were mainly sourced from Spain, supporting local farmers and businesses. As Ben, the head chef, was on leave, his sous chef, Ramon was on hand to ensure we were all sufficiently fuelled up.
Upon arrival, the kitchen noted down any food preferences and intolerances I might have, and then asked me to pick a food lane for the week, which would determine my portion sizes. Lane one was for anyone looking to lose weight, lane two was for those who wanted to maintain their weight and lane three was for anyone wanting to bulk up. I chose to go into lane two.
As someone who is neither vegetarian nor vegan, the thought of being vegan for a week made me feel hesitant, but following an incredible welcome dinner, I knew I was in safe hands. The dinner was a Massaman curry made with aubergine, sweet potato, and tempeh, upon which the whole table momentarily went silent as it was devoured. I honestly did not know that plant-based euphoria was a thing. After that, each and every meal was an absolute joy to eat, bursting with flavour and colour, and beautifully presented. Ramon and his team could turn even the most loyal meat eaters into happy vegans for the week (and possibly beyond).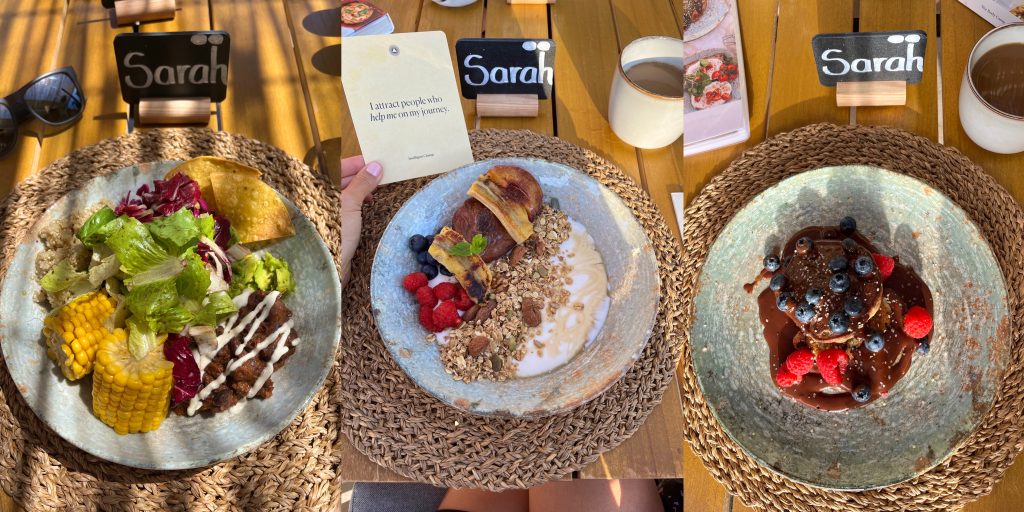 Best of all, I was never hungry between meals. On the third night of the retreat, there was an opportunity to switch food lanes, and honestly, while I probably could have dropped down a lane, the food was so delectable that I greedily wanted to keep my portion size.
Meal times were generally consistent throughout the week: 8:30am breakfast, 10:45am snack, 1:30pm lunch, 4:15pm snack, 6:30pm dinner. Ramon also delivered a couple of afternoon cooking demonstrations and plant-based diet advice for the foodies among the group. Further to that, I was happy to learn that many of The Body Camp meals could be replicated at home thanks to Ben's recipe book: The Body Camp Food Bible.
The Exercise
The Body Camp's iconic Full Immersion Programme, designed by Rick, was intense, varied, and fun. Anthony and Sophie were our training coaches throughout the week, with Rick supporting; they delivered the programme with such an infectious energy and bucket loads of humour, it was hard not to go all in.
I should warn any night owls, the exercise sessions started early (6:45am!), and Rick explained that our early starts (including sunrise karaoke) were in place to help sync our circadian rhythms with nature. Besides, there was no such thing as rise and whine at The Body Camp, it was all about rising and shining, with dance moves and Wham! thrown in for extra entertainment.
All fitness levels and capabilities were catered for so no one was put off or excluded. We did everything including boxing, jogging, circuit training, weight training, hiking, TRX, cycling, pool workouts, team games, and fitness challenges. I have never exercised so much in my life! Thankfully, the programme was structured to maximise workouts, ensuring different parts of the body were exercised in a particular order before active rest days and soothing yoga classes. The workouts tended to be in the mornings, while the afternoons were more relaxed.
Again, I want to emphasise how fantastic the coaches were. Anthony and Sophie made all the exercise sessions fun – that, I believe, is a skill in itself! The setting for every session included music (think Queen, Grease soundtrack, classic rock, disco hits, viral hits), bad jokes, dancing around and 80's trivia. This might sound strange, but it worked. Everyone felt upbeat, energised and importantly, motivated.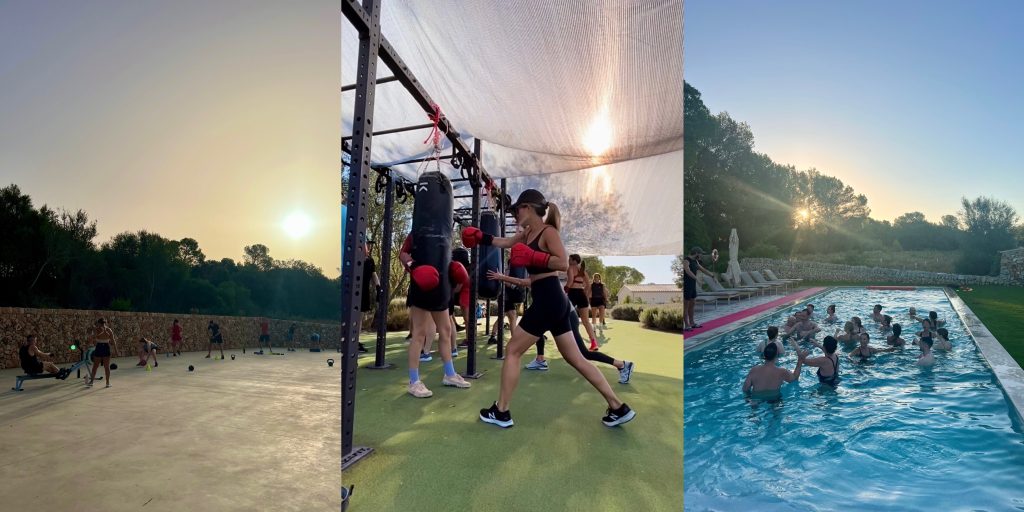 Of the two active rest days we had, one consisted of a 10km hike to a beach in Alcúdia on the north of the island, and the other was a 36km bike ride to the small town of Binissalem and back. It was the first time I had ever cycled 36km in any capacity, so it was an exciting challenge (and even more fun going up the hills!). For those with sore muscles, there was a masseuse on-site in the afternoons and evenings.
The Mindfulness
The mindfulness aspect of the retreat played a large role throughout the week, with dedicated workshop sessions to discuss patterns of behaviour and inner experiences. This was extremely impressive as many fitness retreats claim to be transformational, but they do not offer the tools to make changes nor do they actively engage in the mental health aspects of transformation. The Body Camp successfully did both in a sensitive and intimate setting, which was free of judgement.
Everyone was supplied with their own Inner Technology Manual, a guided workbook that was used in the sessions and focused on habits, relationships, goal setting, mindset training and exercises for personal growth. We were also introduced to the '10 Doctors of The Body Camp', which were 10 beneficial areas of health and wellness that The Body Camp could assist us with, and in turn encouraged us to find our own internal doctors that we could mentally access as part of a healthy self-care routine.
I particularly enjoyed the 'values' session with Rick and taking the time to list out what mine were, along with the values I needed to embrace. This is something I had never done before; I might have made a mental list in the past, but writing them down and thinking about them helped to effectively solidify my thoughts around them and create clarity on want I want in life. Another useful session was one on reframing negative thought patterns, demonstrating just how powerful the mind and language is when it comes to dictating mood and behaviour.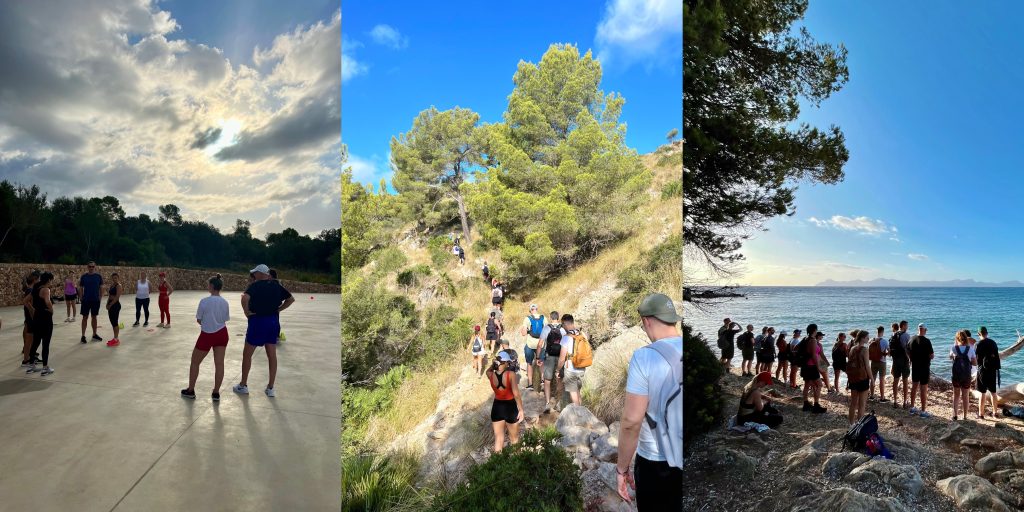 What Makes The Body Camp Different?
Where do I begin… this could take a while.
First and foremost, it was fun, not just nice, or relaxing. It was intensely happy, positive, and playful. There was music and madness from the start, along with karaoke and quiz nights. Embracing your inner-child, and remaining present and open-minded was strongly encouraged. These lighter moments helped the group to bond and connect quickly, and by day two, most of us felt very comfortable around one another.
Considering there were 20 participants on my retreat, I managed to spend quality time with every single person, thanks to the seating plan being mixed up at each meal, and constantly being paired up with different people during almost all the scheduled activities. I appreciated these pro-active bonding practices as they helped to break down invisible barriers we might have had up around ourselves, stopped cliques from forming, and put everyone on equal footing.
A fun challenge outside of our scheduled activities was The Body Camp 360 Challenge, whereby each day, we were tasked with independently collecting what were essentially brownie points. The points could be accumulated through additional physical activities such as swimming lengths of the pool, completing 20 push-ups and walking around the '360 track', or kind gestures such as making a cup of tea for someone else, telling a joke, singing a karaoke song, or even getting a quiz question right (yes, really!).
The Body Camp recognises that transformation is not passive and that lasting transformation requires active tools. Other fitness retreats believe that simply being among nature, exercising and eating healthy food will suffice for change, but it takes more than that. It requires education, and understanding oneself, then addressing changes from within. The Body Camp actively helps to steer guests onto better paths through starting conversations, initiating a deeper awareness of oneself, creating new perspectives, and offering mindful prompts.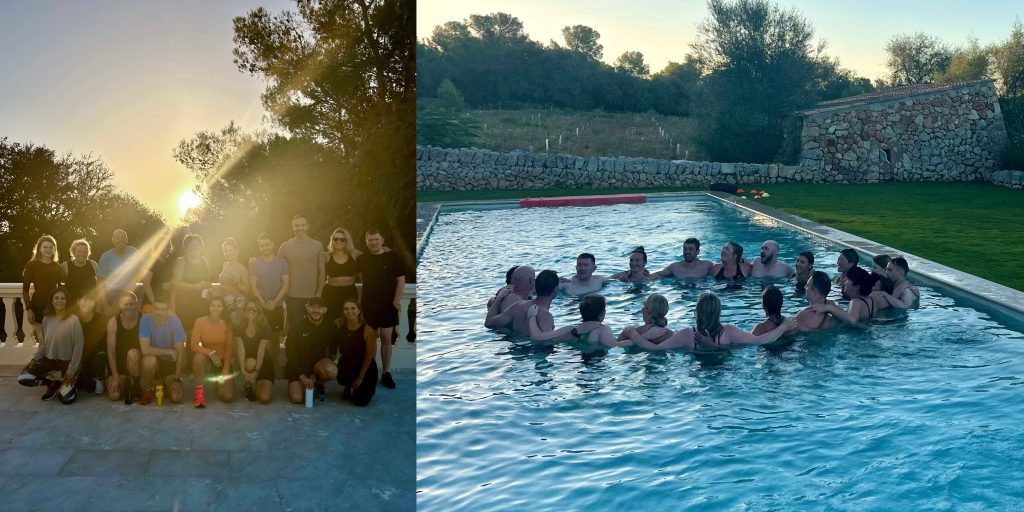 At the end of the retreat, we were given detailed post-retreat food and exercise guides to help keep up momentum around our healthy new habits. This was helpful since it would make no sense to attend the retreat and overhaul your food, exercise, and mindset habits, only to revert straight back to your old habits as soon as you leave. Furthermore, based on the retreat group chat, it appears everyone who attended my week is keeping up with their new habits, and I have seen copious amounts of healthy food and exercise content being shared.
Impressively, The Body Camp has a high rate of return from past attendees. During my week alone, four of the guests had been on the retreat previously, and I heard this was very common on other weeks too. Moreover, I know several of the guests from my week have already booked their spots for next year, which could not be a better testament to the immense value of the retreat.
Final Thoughts: From Bohemian Rhapsody to Retreat Rhapsody
While I was invited to the fitness retreat for the purposes of writing a review, I would happily pay to return and do it all again. It is an investment in your mind, body, and at the expense of sounding banal, your soul (and I never use that word!). I left the retreat fitter, healthier, and happier; three things which are beyond valuation.
I discovered that vegan food can be filling and enjoyable, exercise is fun, and mindset matters. I also inadvertently expanded my knowledge of 80's trivia and movie quotes! My personal highlights from the week included all the people I met, the 36km bike ride, every single meal, '360 track' evening walks and visits from Dr Quiet.
Above simply being a fitness retreat, The Body Camp is a transformational retreat allowing and driving participants to reach their full potential in all areas of their life. The programme is thoughtfully put together and well-organised by a team that is hugely passionate about what they do.
The Body Camp Mallorca runs through until 28 October 2023. Prices for one week start from £1,650 (from Friday-Friday), which includes the full programme, accommodation, and all food and drink. Visit thebodycamp.com to discover more.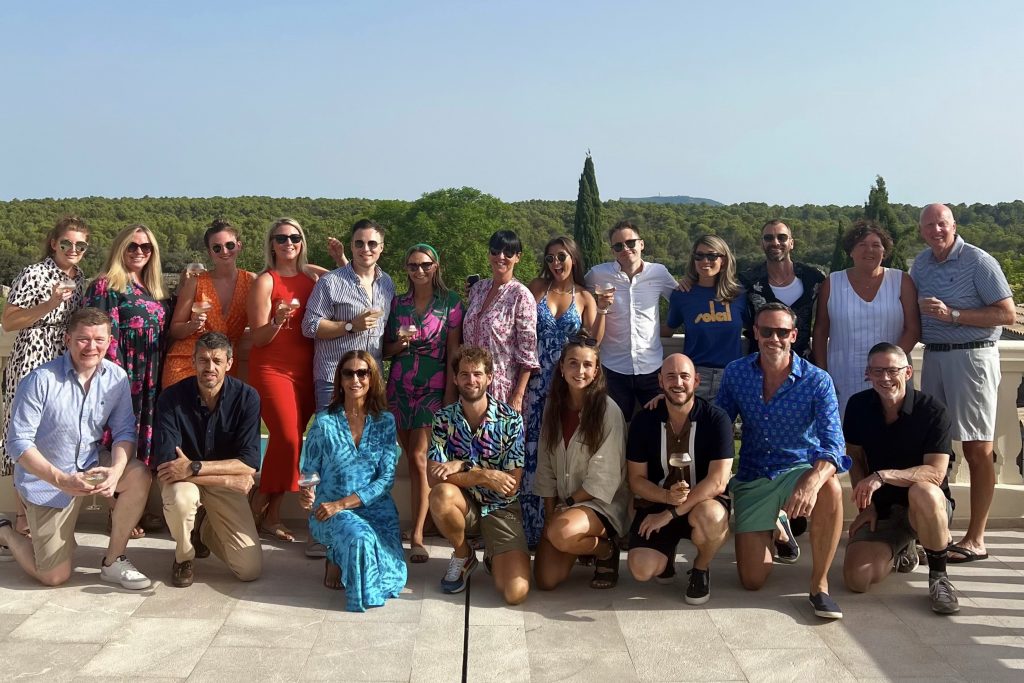 ————————————————-
Born in Hong Kong and based in London, Sarah Highfield is a leading international yoga teacher and writer. Follow her travels on Instagram: @SarahHighfield.