Most of us at some point in our lives will have crossed paths with the dreaded seasonal influenza virus. A combination of a runny nose, sore throat, cough, congestion, and a lingering fever can leave you feeling wiped out for days. Fighting off a viral infection takes its toll on most people, causing them to miss days at work and social occasions. That's why the best thing you can do during these chillier months is guard up to prevent flu.
Protective measures have never been more important! Our immunity to flu viruses is believed to have fallen as a result of lockdown and social isolation, which resulted in low levels of exposure to flu viruses last winter. Health experts warn that as a direct result of this, we could be facing a very difficult flu season this year.
That said, there are ways to prevent flu. Here, GP Dr Sarah Brewer, in collaboration with the natural and very effective Cold & Flu Guard from Oraldent, shares her top tips to keep colds and flu at bay.
3 easy ways to prevent flu
Keep your sanitiser close
Most of us have gotten into the habit of keeping a hand sanitiser or antibacterial wipes with us thanks to the pandemic. According to Dr Brewer, this is a good practice to stick with in the long run. "Many cold viruses have an outer protein coat, which is usually more stable in the environment. These viruses are less susceptible to heat and drying. In fact, they can potentially survive on a door handle or other objects for 24 hours or more. Therefore, wiping down items with alcohol-based sanitiser will help to destroy them."
Use an oral & nasal spray for added protection
Although sanitising is important, it might not help against some influenza viruses that spread through sneezing and coughing. Social distancing and wearing a face mask can help. But there is also another option that can protect you from viral respiratory infections.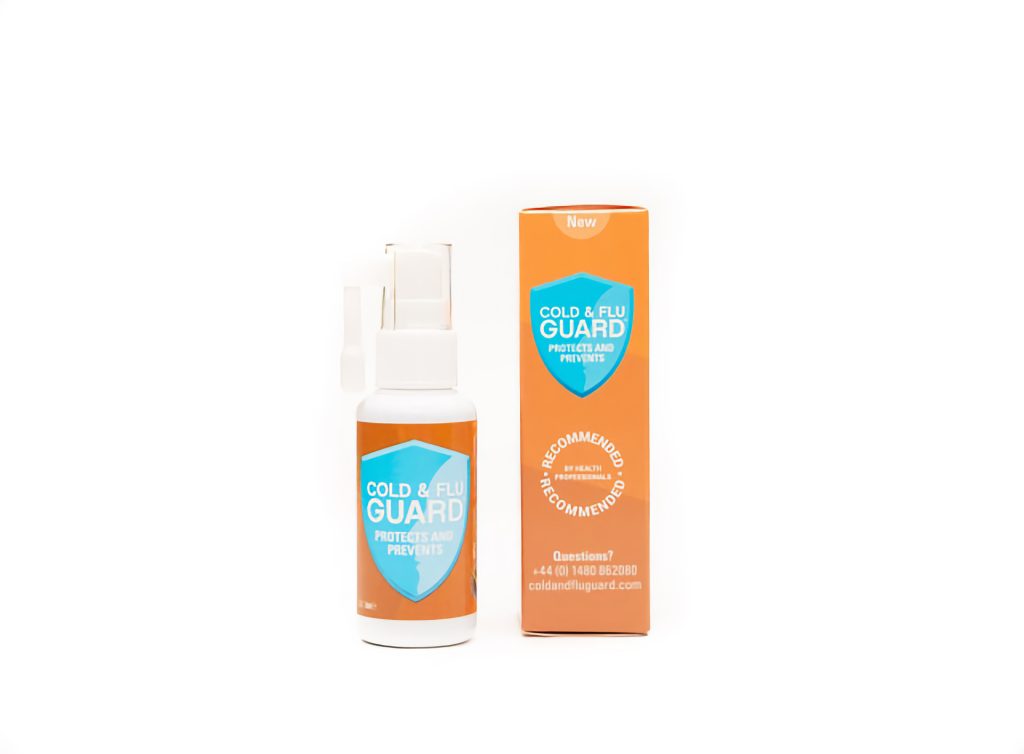 A new, natural and easy-to-use solution, Cold & Flu Guard (£9.99, oraldent.co.uk) is a nose and mouth spray containing citrus bioflavonoids with a natural antiviral action. It works by coating the back of the nose and throat where viruses would take hold and start to develop. The patented natural active ingredient, Flavobac™, then envelops the viruses or bacteria. It works by trapping and inactivating them, so that they can no longer reproduce or cause any harm. The spray has a mild orange taste and should be used 2-3 times a day for full protection. According to Dr Brewer, it also "helps to alleviate the severity of symptoms if you are already feeling under the weather. What's more, it can reduce the number of viruses you breathe out so you are less infectious."
Fancy trying it yourself? Here's your chance to win a Twin Pack of Cold & Flu Guard!
Work from home if you are feeling unwell
Another perk of the last year is the changing attitudes towards working from home. A few years ago, most of us would have thought nothing of going into work because we had a slight cough or sneeze. However, now it is easier to work from home.
"I strongly advise anyone to work from home if they feel even slightly unwell or develop any respiratory symptoms," says Dr Brewer. "If you are feeling under the weather, it also means you can stay warm and avoid the stress of commuting while limiting the spread of any infection. Use good hygiene practices at home to avoid spreading the infection to other members of your household. This includes hand washing, sanitising, wearing a mask and practising social distancing."