Versatile and low calorie with bags of vitamin C – juicy mangoes not only serves well in your salad bowl but in these tasty recipes, too. Known as the king of fruits in some countries, the mango is packed full of antioxidants and essential vitamins (think A, E and B6) and can also help with digestion. They contain a group of digestive enzymes that break down large food molecules so they can be easily absorbed.
Mangoes and raspberries smoothie bowl
Brighten up your breakfast with this refreshing smoothie bowl. Packed with fruit, seeds and nuts, you're bound to get your five-a-day in one go.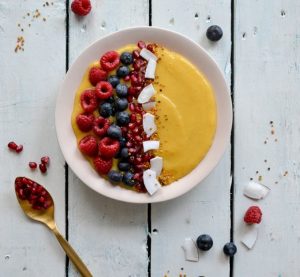 Mango and tofu curry
Putting a different spin on the tropical fruit, mangoes actually work brilliantly in a curry. This curry is light and flavoursome that packs a punch. Try it now!