Looking for an eco-friendly exercise bike to help you focus on your fitness?
It's no secret that more of us have been expanding our home gym over the past year. We've been kitting ourselves out with everything from resistance bands and yoga blocks, to kettlebells and indoor rowing machines.
If you're looking for a new piece of sustainable exercise equipment that works seamlessly in your home, then we have just the thing.
At the cutting edge of eco-design, this is the only exercise bike that blends sustainable materials, practical equipment, and looking really good. It's the Domyos Woodbike from Decathlon! Launching today (28th May), this eco-friendly exercise bike could be the perfect new addition to your home gym.
We spoke to Miguel Duarte, Product Manager at Decathlon, to find out more.
Tell us about this new eco-friendly exercise bike…
The entire design process of this new stationary bike was guided by the search for well-being at home. As a result, the Domyos Woodbike was designed to blend seamlessly into the home from the get-go.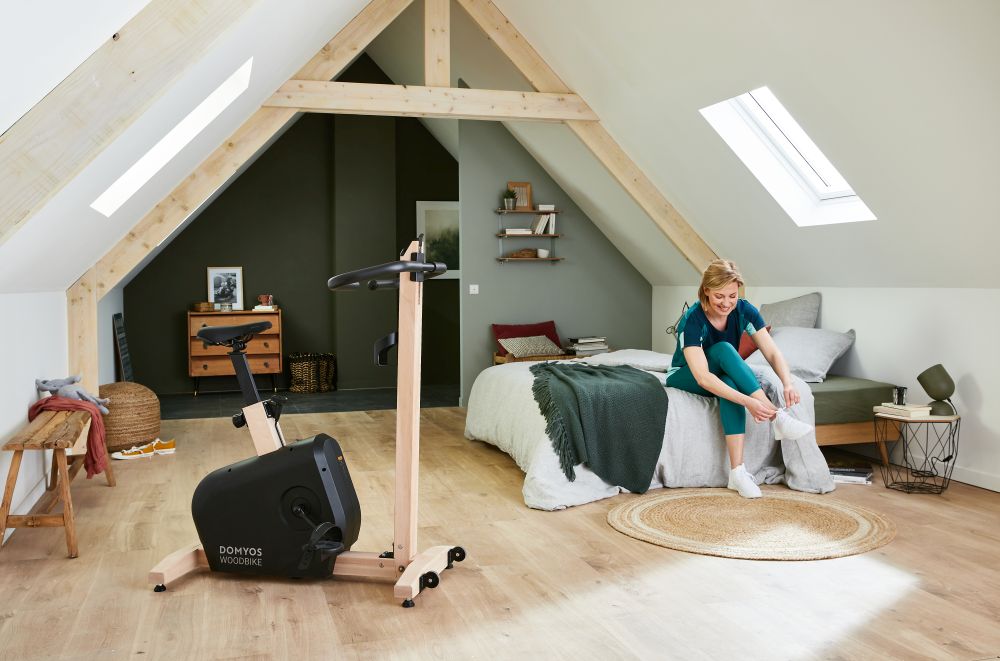 Whether in the lounge, office or bedroom, this unique exercise bike will breathe new life into your interior. With its minimalist and functional design, it's designed to blend in to your home rather than stick out like a sore thumb, so you'll want to keep it on show rather than hide it away! It's here to play a natural and long-term role in the day-to-day life of your home, making it easier for you to integrate wellness into your daily routine.
Besides being incredibly unique, the Woodbike offers great value for money, providing an affordable, functional and effective piece of equipment for people who are looking to incorporate more exercise into their wellness routine at home.
Let's get technical: what makes the Domyos Woodbike unique?
The Woodbike designers started from scratch. Looking to materials that have never been used to make exercise bikes before, they landed on sustainable beech wood.
This not only makes the Woodbike the only exercise bike ever made with a solid wood frame, but the use of beech also means that it's sturdy and reliable. The stable frame makes it ideal for regular use – around 3-4 sessions per week, five hours per week.
Its 6kg flywheel gives you the smooth and silent pedalling you need to get going. And, of course, comfort is always key with cycling. The bike's gel saddle is one of the most comfortable in our range, guaranteeing an enjoyable workout, even for longer sessions. Designed by our bike specialists, Btwin, it's height adjustable and it can adapt to any body shape.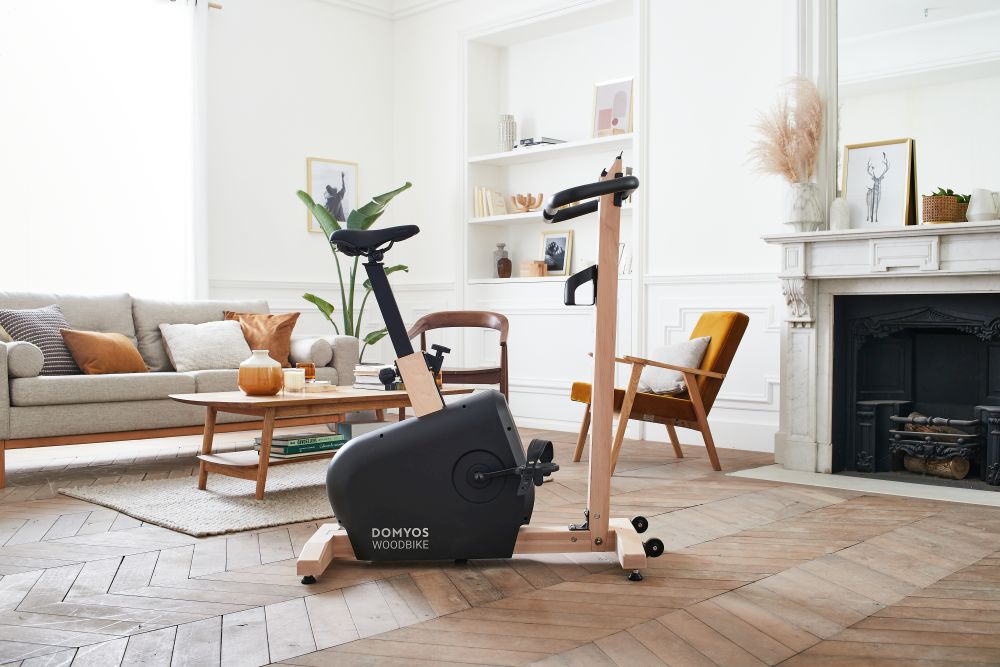 The Woodbike also features a holder than can accommodate most smartphones and tablets, so you can use your favourite device to stay entertained or receive coaching while you pedal. It also has a bottle holder so you can stay hydrated during workouts, and travel wheels to make it easier to move your bike from one room to another.
Tell us more about the bike's innovative design and eco credentials…
The Woodbike is made using beech from traditional woodcraft specialists Marotte, based in the heart of the Jura.
Beech wood provides a similar level of durability and stability as a metal structure. It has a great finish and a neutral colour, with low tannin content and few growth rings.
When it comes to sustainability, 10 trees will be planted for each tree used during the Domyos Woodbike manufacturing process through Reforest Action.
There's also no electronic console; instead, we have provided the ability to attach your phone/tablet so that you can choose your favourite training plan to follow or video to watch as you cycle.
Decathlon will offer repair and servicing, and we can change and replace the handlebar, saddle, flywheel and pedals.
The bike is sold in two parts: the wooden frame and the accessory kit, which includes the flywheel, bottle holder, handlebars, phone/tablet holder, seat post, saddle and travel wheels – think of the IKEA model. This also means that customers will be able to upgrade when the Woodbike + and Woodbike Pro models are released at later dates – so stay tuned!
What makes a stationary bike a good addition to our home gym?
Exercise biking is an impact-free sport, so you don't need any prior experience to get going. Anyone can try it out, no matter your age or physical condition.
Stationary bikes allow you to choose the intensity and duration of your workout, making them the ideal choice for getting in shape, reducing and relieving pain (back, hips, knee, ankle, etc.), strengthening your cardiovascular system and toning up.
The launch of the Domyos Woodbike comes at the perfect time, too. Decathlon UK's tagline for summer 2021 is Let's Play. We want to inspire a feeling of fun and giving sports and activities a try – because it's not all about winning or looking good. So this summer is the perfect time to give exercise biking a try.

The Domyos Woodbike by Decathlon is available for £349.98 (sold separately in two parts for £199.99 & £149.99). To find out more, visit decathlon.co.uk