Do you struggle to ensure that you and your family get their five-a-day, as recommended by the government? Why not try California Raisins – they're a great source of natural energy and they're available all year round are always accessible, unlike seasonal fruit. Not only do they make a great snack for when you're on-the-go, but they're also a good source of iron, which can help muscle development and play an essential role in producing healthy white blood cells. You can add California Raisins to all types of dishes, from salads and main meals – here are some delicious Easter recipes made even tastier with the addition of California Raisins for you and your family to make this spring!
California Raisins Hot Cross Buns with a Lemon Twist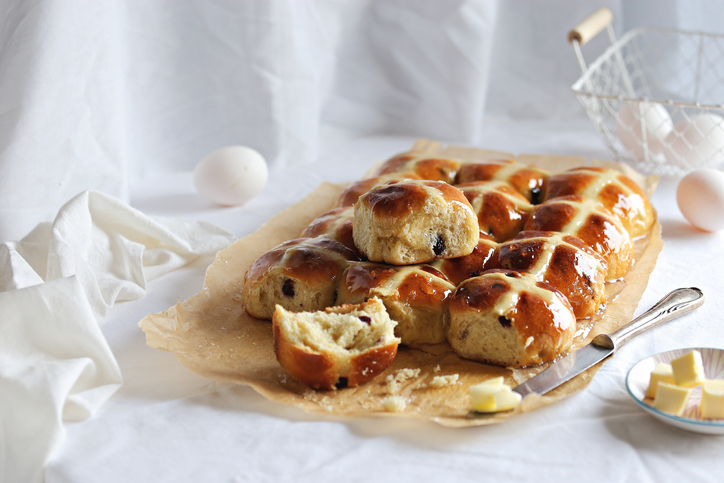 Ingredients:
For the hot cross buns
237ml milk
30g butter or margarine
1 package active dry yeast
59ml warm water (45°C/110°F)
600g flour
75g sugar
1 tbsp salt
1 tbsp cinnamon
200g California Raisins
100g mixed candied fruit
2 eggs, well beaten
1 egg yolk, diluted with 1 tsp water
For the lemon topping:
150g powdered sugar
2 tsp lemon juice
1 tsp water
Boil the milk; stir in the butter and cool to lukewarm. Dissolve the yeast in warm water.
Sift the flour with sugar, salt and cinnamon in a large bowl. Stir in the raisins and candied fruit until well coated. Then, stir in the eggs, cool milk and the yeast and blend well.
Turn dough out onto lightly floured board and knead until smooth and elastic – this will take between 5-8 minutes. Place in a greased bowl and cover. Let it rise in a warm place until it's doubled in bulk – this will take about an hour and a half.
Once this is done, knock back the dough, pinch off pieces, and form smooth, rounded balls that are about 1.5 inches in diameter. Place them on a greased baking sheet about 2 inches apart, then brush each bun with the diluted egg yolk. Snip a 1/2-inch-deep cross in centre of each bun with greased scissors.
Let the buns rise in a warm place until they've doubled in bulk, this will take about 30 minutes. Bake at 400°F/200°C for about 8 – 10 minutes, or until lightly browned. Cool on wire racks for about 5 minutes.
To make the lemon topping, combine the lemon juice, powdered sugar and water and beat until smooth. Drizzle the icing on the crosses of the hot cross buns and serve.
California Raisin and Chocolate Chip Easter Cupcakes

Ingredients:
175g self-raising flour
175g butter, softened
25g  cocoa powder
200g caster sugar
90g dark chocolate, roughly chopped
70g California Raisins (chopped) – tip chop with a wet knife
1 tsp baking powder
3 eggs
4 tbsp milk
Icing, to decorate
Easter eggs and other favourites, to decorate
Pre-heat oven to 180c or 160c fan.
In a large bowl, beat together the butter and sugar until light and fluffy.
Beat the egg and milk together, then add to the mix and beat thoroughly.
Sift in the cocoa, flour and baking powder and fold through.
Stir the dark chocolate into the batter with the raisins.
Line a baking tray with cupcake cases and share the mixture evenly between them.
Bake for 30 minutes.
Allow to cool completely, then decorate with your favourite icing and Easter favourites.
Easter Simnel Cake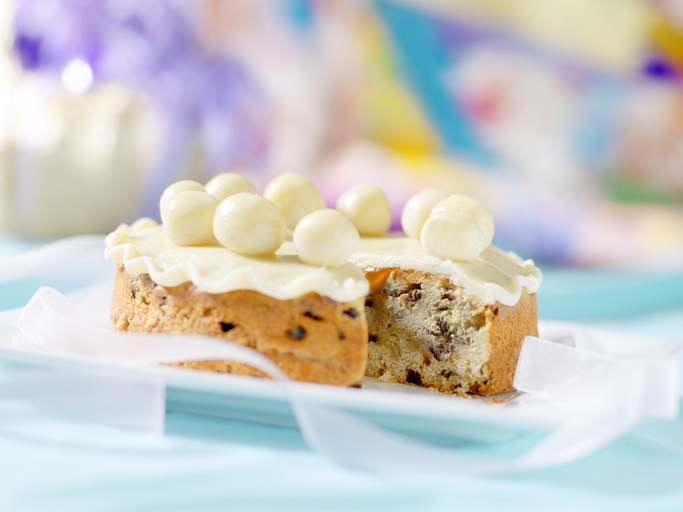 Ingredients:
100g butter
100g caster sugar
12g glycerine
5 eggs, beaten
400g California Raisins
50g California Raisin paste
75g glace cherries
50g mixed peel
100ml California Raisin Juice
300g plain flour
50g ground almonds
2 tsp mixed spice
250g white marzipan
25g apricot jam, sieved
1 x 250g ready-to-roll icing
Cream the butter, sugar, glycerin and raisin paste, then slowly add the beaten eggs.
Add the raisin juice and fruit, fold in flour, mix well, and then place half of the mixture in a greased and papered round 9-inch cake tin.
Roll out one third of the marzipan round and place on top. Then, add the rest of mix and make a dent in the centre to allow an even rise in the cake.
Bake for 1-2 hours at 150 degrees, then test the cake with a cocktail stick or a skewer. If it comes out clean, it's cooked.
Turn out on to a wire rack to cool.
Once cool, remove the paper and brush the top with warm apricot jam, then roll out the icing and place on top.
Roll out the reserved marzipan to a rectangle about 9 x 6 inches (23 x 15 cm), then cut it into 12 long strips, about ½ inch (1 cm) wide, for the lattice topping.
Pre-heat the grill, when hot, brush the marzipan strips with the egg yolk and place the cake under the grill, about 4 inches (10 cm) from the heat.
Tie a ribbon around the middle of the cake for decoration and enjoy!

Click here for more recipe inspiration and advice!