A fixture on our TV screens for more than 20 years, most notably in Big Brother and as a The Masked Singer judge, self-confessed 'fitness lady', TV star and British presenter Davina McCall has also made an impressive 15 workout DVDs and created her own exercise platform, Own Your Goals. Since turning 50, she's been busting myths and proving that age is no barrier (regularly sharing 'shameless bikini selfies', as she calls them, on her Instagram page). I sat down with the This Time Next Year presenter to talk about resolutions, role models and how she got into fitness in the first place.
Life lessons
As 2019 drew to a close, bringing with it a whole new decade, I asked what life lessons Davina has learned over the past 10 years. "I've realised that it's important to love the skin you're in because in 10 years' time, you're going to look back at the pictures of you now and think how good you looked," she says. "I think we spend so much time being critical of ourselves – enjoy where you're at. I spent time wishing I had better legs, but actually your body shape is your body shape – you can't do much about that – so make the most of it. I know now what suits me and what doesn't. For example, I know I look good in things with cinched waists, so I wear outfits to show that off. I'm comfortable with my clothes choices now. I don't get too stuck following fashion. You can take bits of the latest styles and adapt them to your look, but you don't necessarily feel like you have to follow a trend – you can always start your own."
Davina's role models
So many of us look up to Davina and aspire to be like her, but who is she inspired by? "There are lots of older women I really admire," she says. "Helen Mirren is one, and Gloria Hunniford is another. I saw Gloria the other night and she looks SO fabulous; she and her husband just looked so cool, and she's so sharp. I don't even want to say how old she is, it doesn't matter, but she's a shining beacon of where I'd like to be." 
Of course, she names other fitness gurus too: "Greg Whyte trained me, David Walliams and John Bishop – he's my age and he is the fittest man I have ever seen, and I don't mean fit as in 'hot', I mean literally fit. He's trained hard and he's so dedicated. I find him very inspiring. I always think that if he can do it, I can definitely do it – age is not a barrier." 
But it's not just celebrities that Davina looks up to. "Sometimes, I lie in bed thinking, like everyone else, I don't want to get up because I'm too tired, and then I look on Instagram and I see a picture of someone who's just done a run or a workout, and I think 'I'm going to do mine'. Other people inspire me all the time."
Fighting fit
Nowadays, a lot of people know Davina more for her fitness than her TV work, but she wasn't always so passionate about it. "I always did skeleton fitness all the way through my life," she explains. "My teens and early 20s were spent clubbing four nights a week, so I was exercising on a dance floor for six hours a night, and that was amazing cardio. Then, I stopped clubbing and I quit my smoking addiction at the same time, and immediately put on about a stone. I started going to the gym, but it was only when I got older that I realised I needed to get a bit more serious about it. When I was pregnant with Tilly, my second child, I ballooned, and she was a massive baby. 
"Afterwards, I met personal trainers Jackie and Mark Wren, who were local to me in Surrey, and got them to train me. Mark is a former marine, and Jackie is a former gymnast. They trained me separately, but he was into weights, boxing, skipping and yomping (which is walking while wearing a massive backpack), and she was more into aerobics and stretching, so they were a brilliant duo. They got me into the shape of my life. I'd never looked that good. I went to an awards ceremony and I remember standing on the red carpet thinking 'God, everybody's taking my picture a lot, that's weird!' and then suddenly everyone was saying 'Oh my God, look at Davina's body!'. 
"I realised that people had noticed that my body had changed shape, so I spoke to my agent about doing a workout DVD with Jackie and Mark because they're amazing, and people wanted to know how I'd changed my body. He told me not to do it because it's tacky! But because Jackie and Mark really did change my life and we had an amazing relationship, our DVDs felt real and I think people liked that. We did 10 or 11 years together of workouts before Jackie got an injury that meant she couldn't film any more, but we've stayed good friends and they're on my platform, Own Your Goals. It's been an amazing journey – when I met them, I never thought it would lead to this, but it's been brilliant and it's lovely to know that I've influenced people's health in a positive way."
Currently, Davina does one or two home workouts a week, as well as other activities: "I probably do 40 minutes on a mat with some weights. I'll do one or two runs, and then one spin class. Sometimes if I've got spare time, I might do a bit of yoga – there's a lovely lady called Julie King who lives down the road from me, so I try to go there with my kids sometimes. I try to mix it up a bit." Speaking of her children, I wonder if they've caught the fitness bug like their mum? "My girls love working out, but Holly in particular loves going to spin, she's a complete convert. Tilly is into stretching and yoga. I've been very hands-off about exercise because I wanted them to come to it by choice and not because I forced them – I know that if anybody tries to make me do something, it makes me run a thousand miles in the opposite direction. I didn't want to do that with them, so they've come because they've wanted to, which is so nice."
Davina's fitness tips
Everyone's fitness journey has to begin somewhere, and Davina is full of advice for those taking their first steps. "Try an easy, beginner's workout at first rather than going straight into an intermediate one, because if you wake up the day after and you can't walk or you're weak, it's not going to make you want to go back. The point is, we want to make your first workout so much fun that you want to do it again, not so painful that you never want another go," she laughs. "Start small and set yourself little goals. I would say the first one you want to set yourself is to try to find time in your diary to work out three times a week because you're not going to feel or see the benefits if you don't do it that often. 
"If you can, be brave and find a class to do once a week, as it will help you find your tribe. Don't be disappointed if you don't like the first class you go to – it's a bit like kissing frogs to find your prince, you have to do lots of classes before you find the one that fits. Don't just do the same class all the time though, try a couple of home workouts, go for a bike ride, anything that keeps you interested and that makes training fun. Try to set you and a friend a challenge, such as doing a park run or aiming to get through an intermediate workout without stopping, so you're both aiming towards something."
Davina on reaching milestones
Davina turned 50 in 2017, which is a big milestone for any of us. Has her outlook on life changed? "I'm less harsh on myself, and I'm not as judgemental," she admits. "I feel like I'm mentally more at ease. Your body starts going south and your skin is more wrinkly, but it's offset by the fact that you feel more comfortable in your own skin. A decade is always quite a difficult one to hit. I found turning 30 and 40 quite hard, but when you turn 50, if you feel physically fit and relatively good about yourself, it's a time when you can say 'hell, I'm 50 and I still feel amazing!' whereas when you're 30 or 40, you may have young children and feel absolutely shattered as I did. Once all of that gets a bit easier, it's like having a renaissance – so I actually found 50 easier than 40."
Davina is truly flying the flag for older women, proving that you're never too old to do things you want to do. "I had loads of preconceptions about turning 50 when I was younger, so I think that's why I feel it's important that I show younger people what 50 might look like for them," she states. "I almost feel like it's my duty to have the best time ever and to show you all that there is life after 50. I thought I was going to be in twinsets and pearls with a purple rinse and a perm, so I'm excited that life isn't like that." There are other myths Davina McCall wants to bust about hitting this age, too. "I hate this idea that we don't allow ourselves to wear certain clothes," she tells me. "If I want to wear a crop top, I will. If somebody tells me I can't do something, I'm now at an age where I think: 'I'm going to do it, and I'm going to take a picture and send it to you'. I feel like nobody can tell me what I can and can't do – in my 50s, I'm allowed to do whatever I like."
Does she have any advice? "My big thing is that it's never too late to do anything. The truth is, 50 isn't the end, it's the beginning, maybe of a new career, a new exercise regime, or a completely new look or, it could be when you decide to let yourself go grey and really embrace it, or sign up for a triathlon that you've never done before. It's not an age when you have to put on your comfy slippers and stay in every night. It's the opposite; a time of experimenting with what you're capable of doing, and trying the things you've always wanted to do but have been too scared to try."
No pause for menopause
There's no doubt about it, we're all becoming more open about menopause, and it's partly down to high profile women like Davina freely discussing it. "I don't think that menopause is such a taboo subject anymore, now that people have started talking about it," she says. "When I started going through menopause eight years ago, I didn't know who to talk to about it and I ended up calling my cousin who's the same age as me and asking if she was going through something similar – I couldn't sleep due to night sweats, my brain was all foggy and I didn't know what was going on. 
"I spoke to some girlfriends as well and one woman suggested HRT (hormone replacement therapy) to help with each menopausal symptom. I was really anti-HRT because I thought 'it's hormones, and we shouldn't be putting hormones in our body', but then my friend reminded me that I'd been on the Pill for years and it's exactly the same thing so you can't be funny about that [Davina laughs]. I remember I was working on a TV show and it was proving difficult for me to read the autocue. I don't know what menopause was doing to my brain, but I just couldn't do it, and I knew I had to see a doctor. I put my first patch of HRT on and all the symptoms went away. I was sleeping again and I felt amazing, so that's been a game-changer for me. I've tried to talk about it and women's health as much as I can because I want to stop menopausal women feeling guilty about taking HRT – it can be seen as a slightly weaker option, but I've done it and it didn't feel like a weaker option for me – it literally saved my bacon."
Confidence is key
Just like many of us, Davina McCall has times when she feels a deep frustration about her looks. "Some days, I can feel good about myself, and then other days I feel really wobbly," she admits. "I must say that as I've got older, I don't feel like that as much anymore though. I think it's an affliction that happens to you when you're young. It's funny because I hear kids say things like 'I look terrible in that photo!' and I think, 'are you kidding me? You look absolutely incredible!'. They use language like 'I look disgusting' or 'I'm so ugly', and it makes me think, 'No, you've got to stop talking about yourself like that because the more you do, the more likely you are to start believing it'. I'm not perfect, my body's not like that of a 20-year-old's anymore, but I look like myself and I'm going to enjoy that. Confidence is something that comes with age. I believe that when you're not feeling confident in yourself, acting like you are means that every other person will treat you as if you are, which, in turn, makes you feel more confident. It's a positive cycle."
Behind the camera
Any resolutions for 2020?
"I feel like I've given up enough because I don't drink alcohol and I eat well, so I think there's a point at which you can just be too good, so I reckon my resolution would be to start up something fun that I can do that's a bit naughty, something that's bad for me [she laughs]. People can be so hard on each other."
How do you stay motivated?
"After I had babies, I put a picture of myself when I felt comfortable on the fridge. Interestingly, when I was pregnant, these pictures weren't of me looking super-skinny, they were just of times when I looked healthy and comfortable in my own skin. I'm a terrible grazer, I eat all the time, so I'm always opening the fridge door and scanning for things I can chew, but I'd look at the picture and it would stop me. I used to have pictures of Elle Macpherson up in the gym, but I'm never going to look like her, I just don't have her genes! However, by putting up a picture of yourself, you know you can achieve that because it's you."
What are your favourite picks from your workout range?
"I think one of my favourite things is the weighted glove – you have a thumb hole and little finger holes and the weight is on the back of the glove, and if you're going to do any home workouts, such as boxing, or arm exercises, these are brilliant – you don't really need dumbbells, you can just use the weighted gloves. I also use them running as you can do some arm exercises at the same time. I also think a mat is the best thing you can have."
Davina's top moves for stronger legs
"My legs are the area I want to work on the most – it's why I run, because it makes my legs look nice. After 50, I have to work on maintaining muscle tone and the quality of my muscles, because I can feel it depleting. I love feeling DOMS (delayed onset muscle soreness) in my legs – I'm weird like that!" Here are her favourite leg moves…
Squats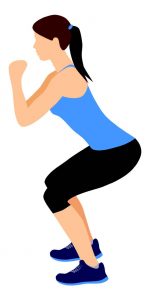 Lunges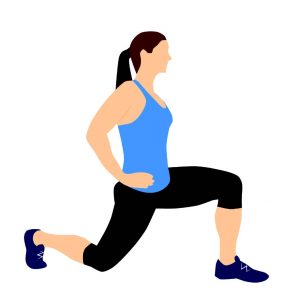 Jump lunges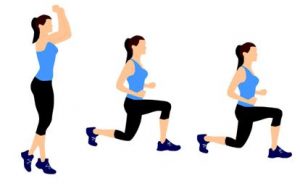 If you're interested in more of Davina's workouts, take a look at her online gym, Own Your Goals Davina and her total body workout that only uses a plastic bottle, then get some much-needed inspiration from Davina McCall's fitness advice.