If your diet more closely resembles 50 shades of beige than something of a rainbow, it's probably time for a bit of a shake-up when it comes to your food choices. Fear not, we're not suggesting taking precious carbs away altogether, it's more about rethinking your go-to meals and snacks.
It's no secret that carbohydrates are a hot topic in the nutritional world. We've lost track of the number of fad diets and health articles that tell us not to eat them – and it's led to the food group getting an unfairly bad rap. This can be tricky to navigate, especially when you're trying to shift some weight. Particularly for vegetarians and those on a plantbased diet, or those attempting to cut back on their fat intake, it's easy to end up relying heavily on carbs to feel full and bulk out a meal. And sometimes it's just simply because we don't know how else to balance our plate.
Are carbs bad?
So, how can you beat your over-reliance on carbs, and should you be avoiding them altogether? We spoke to registered nutritionist and UKHCA health coach Anna Cummings (annacummings.co.uk) to find out: "Just as fats have been demonised over the years, it seems carbohydrates are experiencing their turn! Carbs are not 'bad', however, quality is important. In the Western diet, some of us tend to rely a little too much on them for the majority of our intake, and it's out of balance with the rest of our plate."
That said, carbs are our body's preferred source of fuel. It's important, however, to note the different types of carbohydrates and the effects they have on the body, according to Dr Marilyn Glenville (marilynglenville.com), one of the UK's leading nutritionists and a best-selling author: "Refined carbs – foods like sugar, white bread, and glucose added to sports drinks – hit your bloodstream quickly, causing a spike in blood sugar. This results in higher levels of insulin, which tells your body to store fat. Unrefined carbs, on the other hand, give you greater, longerlasting energy and stable blood sugar; examples are brown rice, oats, wholemeal bread, barley, and rye."
Finding a balance
So, if you find yourself consuming too many carbohydrates with each meal, how can you create more balance? Anna says, "To avoid that 'carb coma' feeling, ensure that you have enough protein-based food on your plate, along with a source of healthy fats, plenty of non-starchy vegetables, and just a bit of good-quality whole food carbs, such as brown rice, quinoa, and spelt pasta. Choosing a couple of different sources of protein can be a good call when you're living the plant-based life, too, as this will increase the range of amino acids (the mini building blocks that make up protein) that you're eating."
According to Dr Marilyn a good rule of thumb is to have at least half of the plate filled with non-starchy, low-carb veggies – this will help fill you up while also providing a range of vitamins, minerals, phytonutrients, and fibre. "Include one portion of greens or salad," she adds. "Frozen vegetables are good-quality and convenient."
Anna recommends filling up a quarter to a third of your plate with protein-based food, such as lean meat, fish, pulses, legumes, tofu, nuts, and seeds, with a small amount of dairy (if you include this in your diet). The remainder should then comprise healthy sources of carbs such as beans and lentils, and wholegrains like brown rice and buckwheat – and remember to include a small portion of healthy fats such as nuts, olive oil, and avocado, too. If you do need carbs for energy, go for unrefined options, as these are long-lasting.
Easy ideas
Dr Marilyn suggests turning to foods like quinoa, which cooks like a starchy carb, but is actually a seed that's high in protein, vitamins, and minerals. In addition, having a soup before your meal can control hunger, and could help you avoid loading up on carbs. And, if you do need your bread fix, opt for high-fibre alternatives such as wholemeal sourdough.
Trying some of these simple tweaks to your diet can make all the difference to your appetite and energy levels. Choosing your carbs wisely will help you step off a blood-sugar rollercoaster of highs and lows. Why not start now and give these recipes a go?
Cavolo nero salad with sweet potato, pear , walnut, and a vegan blue cheese dressing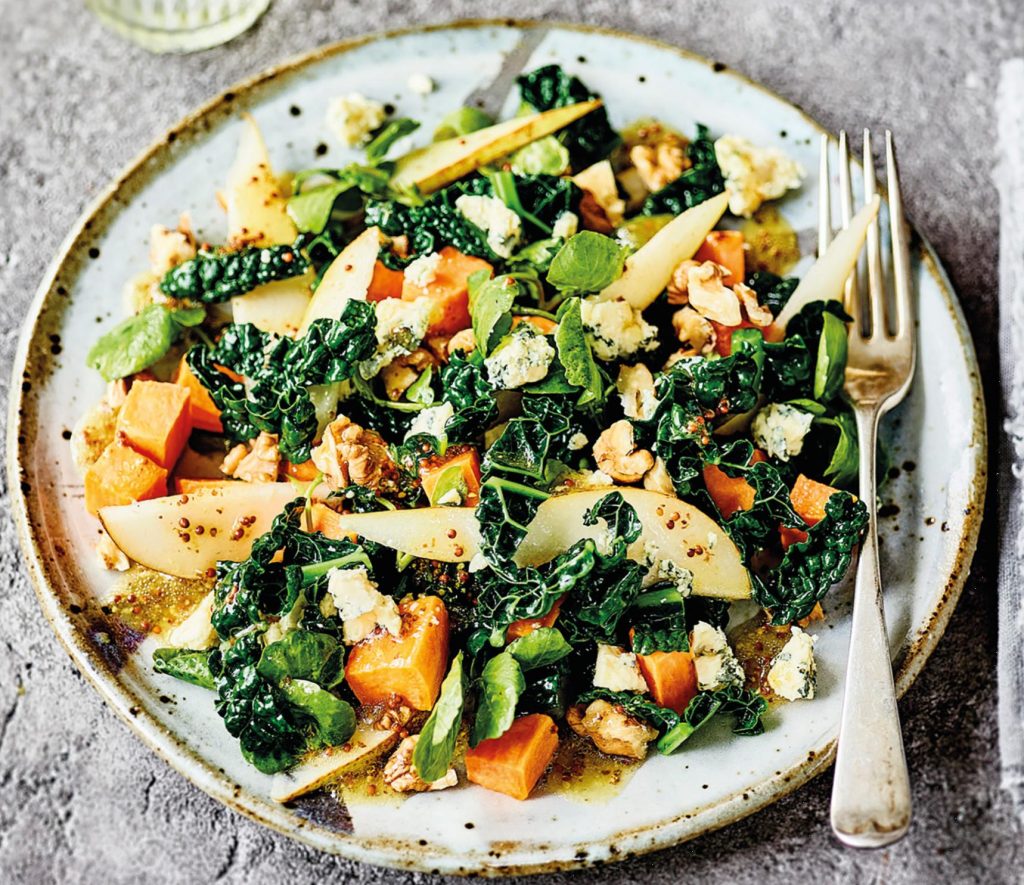 Ready in: around 20 minutes
Serves: 2
• 200g sweet potato, chopped into 1cm cubes • Olive oil • Salt and pepper • 80g cavolo nero, sliced • 1-2 pears (around 150g) • 50g watercress • 40g walnut pieces
For the vegan blue cheese dressing:
• 1 cup vegan mayonnaise • 1 tbsp Dijon mustard • 1 crushed garlic clove, or ½ tsp garlic powder • 1 tbsp white wine vinegar • 2 tbsp lemon juice • 1 tbsp maple syrup • ¼ cup nutritional yeast (optional) • 1 tsp salt • ½ tsp dried dill • 60g extra firm tofu
First, preheat the oven to 180C/350F/ Gas 4.
Next, place the sweet potato cubes on a baking tray and drizzle with the olive oil. Bake for around 15 minutes, until soft.
Meanwhile whisk together all the dressing ingredients (minus the tofu) until smooth. Crumble the tofu with a fork and stir it into the mixture. Set aside.
Bring a small pan of water to the boil. Blanch the cavolo nero for five minutes or until tender.
Next, quarter, core and thinly slice the pears. Mix the cavolo nero, watercress and pear slices in a bowl.
In a pan, dry toast the walnut pieces for two minutes, then add the walnuts and sweet potato to the bowl. Drizzle over your preferred amount of dressing and serve.
Top tip
• This dressing recipe makes more than you need, so store the remainder in the fridge. Don't feel like making your own dressing? Buy a ready-made vegan (or traditional) blue cheese dressing.
From nutritionist Pixie Turner for discovergreatveg.co.uk
Winter lentil & kale soup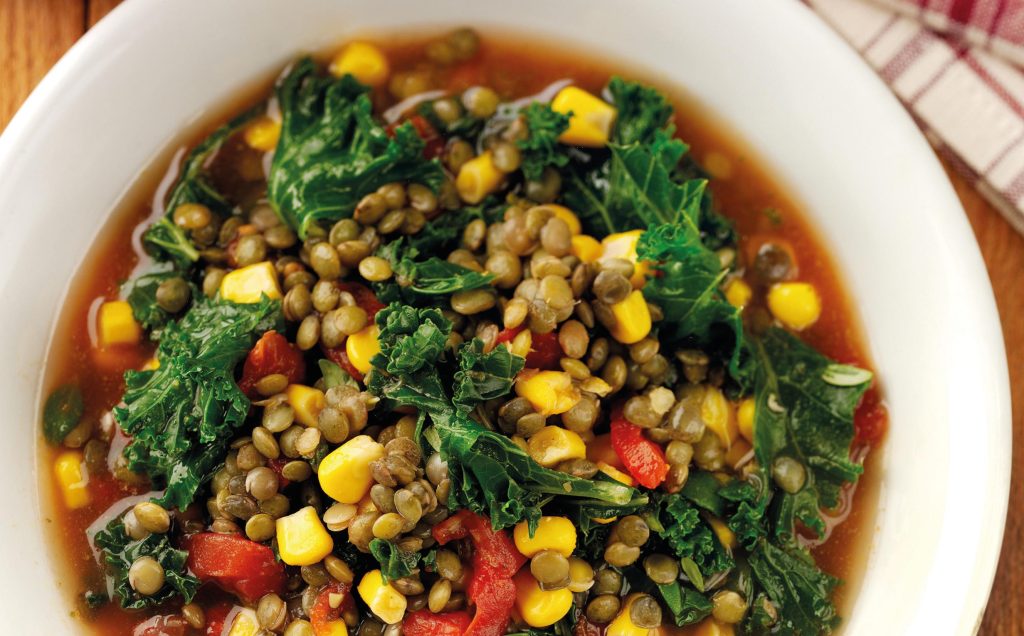 Ready in: 35 minutes
Serves: 4
• 150g puy lentils • 2 x 200g packs of kale • 1.5 litres vegetable stock • 195g can sweetcorn, drained • 4 sprigs thyme • 400g can chopped tomatoes
Cook the lentils in boiling water for 15 minutes, then drain and return to the pan.
Add the kale, stock and the remaining ingredients.
Simmer, covered, for eight minutes then season to taste before serving.