Frozen food has developed a bad rap over the years, with the general advice claiming that fresh is best. But, with the recent COVID-19 pandemic, many Brits have been resorting to it in a bid to keep their household stocked.
But what foods are safe to freeze? Waitrose & Partners food editor, Alison Oakervee has some advice when maintaining our nutrition and immunity is paramount.
"While it's true that almost any food can be frozen safely, there are some things that freeze (and thaw) better than others.
"Leftovers or batch-cooked recipes that have lots of sauce such as stews, casseroles and bolognese, or a high proportion or liquid, like stocks and soups, freeze really well. As do assembled, part-cooked dishes such as lasagne, pastry or potato-topped pies.
"Avoid fruit and vegetables that have a high water content, such as strawberries, melon, cucumber and lettuce, because they just go soft and mushy when thawed. And creams, yoghurts and egg-based sauces – such as mayonnaise – tend to separate and become water, so avoid freezing those, but raw eggs freeze well when out of their shells and separated.
"Always cool food thoroughly first, then wrap it well to avoid freezer burn and freeze in regular flat shapes so things are easily stacked and in sensibly sized portions. Remember to label and date everything – you might think you'll recognise and remember what it is, but egg whites and apple puree can look surprisingly similar when frozen!"
Quick tips
Dairy
Milk and hard cheeses freeze well. If you have lots of small pieces of leftover cheese, grate them into a bag together, ready to make a cheese sauce when you need it.
Bread
Freeze slices of bread and buns separately, to make portion control easier.
Fruit and vegetables
Berries and bananas are great for the freezer and can act as a replacement for ice in smoothies.
Freezer-friendly recipes
Veggie Samosa Pie
Serves: 4
Prepare: 25 minutes + cooling + freezing
Cook: 15 minutes + 1 hour 15 minutes reheating
Ingredients
2 large potatoes (about 300g each), cut into 1cm cubes
250g frozen essential Butternut Squash
1 tbsp oil
2 onions, chopped
3 tbsp mild/medium curry paste (such as tikka)
150g frozen peas
5 sheets filo pastry
25g butter, melted
200g tzatziki, to serve
Beetroot salad, to serve
Method
Boil the potatoes in salted water for 10 minutes. Add the squash, bring back to the boil and cook for another 5 minutes until the potatoes are tender. Drain when ready.
Meanwhile, heat 1 tbsp oil in a wide frying pan, then soften the onions for 10 minutes. Add the curry paste, cook for 1 minute, then add the potatoes, squash and peas, and gently stir. Season well, then cool.
Lightly butter a sheet of filo, then use to line a shallow metal tin, about 27x13cm. Use 3 more sheets, alternating the overhang from the short end and the longest sides of the pan each time. Spoon in the filling, flatten, then top with the final sheet of buttered filo, folded to fit the top. Fold the overhanging edges back over in reverse order, then mark 8 triangles on the top with a sharp knife. Brush with the leftover butter. Cover with foil and freeze for up to 3 months.
When ready to eat, preheat in the oven to 200 degrees Celsius, gas mark 6. Bake with the foil on for 50-55 minutes, remove the foil and cook for a further 20 minutes or until piping hot, crisp and golden. Serve with spoonfuls of the tzatziki and the salad.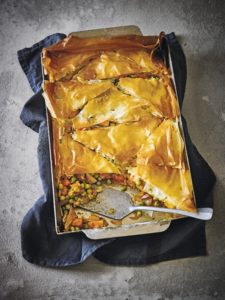 Leek and Haddock Pie with Cheese Saffron Mash
Serves: 4
Prepare: 20 minutes + cooling, freezing and defrosting
Cook: 15 minutes + 40-50 minutes reheating
Ingredients
50g butter, plus extra for greasing
2 leeks, sliced
425g frozen haddock fillets (or cod)
A pinch of saffron
600ml milk
40g essential plain flour
2 x 450g packs Cheddar Mash
Method
Heat 35g butter in a large frying pan, add the leeks, season and soften for 5 minutes over a low heat. Sit the fish on top, sprinkle over the saffron, then add the milk. Bring to a simmer, then cover and cook for 5 minutes until the fish is just cooked. Lift the fish and leeks from the liquid with a slotted spoon, and put into a 25x20cm baking dish.
Put the flour and remaining butter into the milk, then whisk constantly over a medium heat until boiling. Once thickened, cook for 1 minute. Taste for seasoning.
Make sure the fish is in very big flakes, then pour the sauce over the fish and leeks, and leave until cold. Remove the mash from the containers, then cut each pack into 16 wedges and lay them on top of the pie. Cover with greased foil and freeze for up to 3 months.
Defrost completely in the fridge. Preheat the oven to 200 degrees Celsius, gas mark 6. Place the pie on a baking sheet, remove the foil and bake for 40-50 minutes until piping hot, golden and bubbling. Delicious served with freshly cooked essential Pea and Bean Mix (from the freezer aisle).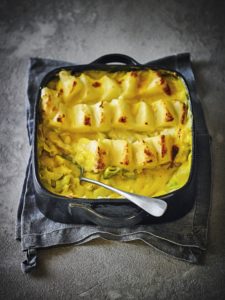 Spiced Sweet Potato and Lentil Soup with Chutney Cheese Twists
Serves: 4
Prepare: 20 minutes + cooling and freezing
Cook: 20 minutes + 25-30 minutes reheating
Ingredients
2 tbsp garlic oil, plus extra to serve
2 onions, roughly chopped
2 tsp cumin seeds
Large pinch chilli flakes, plus extra to serve
2 sweet potatoes (about 750g), peeled and roughly chopped
200g split red lentils, rinsed
1.2 litres vegetable stock
320g chilled Jus-Rol All Butter Puff Pastry Sheet
2 tbsp Geeta's Premium Mango Chutney
50g Wensleydale, well crumbled
Method
Heat the garlic oil in a large saucepan, then soften the onions for 5 minutes. Add the cumin and chilli, cook for 2 minutes, then add the sweet potatoes, lentils and stock.
Bring to a boil, then simmer for 5 minutes until the lentils are tender. Blend until smooth or mash and leave chunky. Season, then transfer to a freezer-proof container, cool completely and freezer for up to 3 months.
Meanwhile, unroll the pastry with the longer side closest to you, then spread the mango chutney. Scatter the cheese on the right half of the pastry, then fold the other side over it. Press down a little, then cut into 8 strips starting from the folder edge. Twist the strips, then freeze on a baking sheet. Once solid, pack into a freezer-proof container.
Preheat the oven to 220 degrees Celsius, gas mark 7. To reheat the soup, place it, frozen, in a large, deep frying pan with 50ml water, cover and cook over a low heat for 25-30 minutes, stirring occasionally until piping hot, adding a little water to loosen if needed. Meanwhile, bake the frozen twists on a parchment-lined baking sheet for 15-18 minutes or until puffed and golden. Finish the soup with a drizzle more garlic oil and a few chilli flakes to serve.