More and more research is being done on the incredible complexity of the gut and its importance for our bodily processes with numerous studies proving a connection between gut health and general well-being. Many aspects of our modern lifestyle, such as stress, too little sleep, processed and sugary foods or even taking antibiotics, can put a strain on our gut flora and in turn cause us to struggle with a bloated belly, a feeling of fullness, but also impure skin and low energy.

Your Super has created a unique superfood mix to help support your gut health with natural active ingredients and digestive enzymes as well as being a prebiotic. Gut Feeling is an innovative blend of celery, Jerusalem artichoke and ginger which makes for a mild instant celery juice that you can either start your day with or consume after a heavy meal.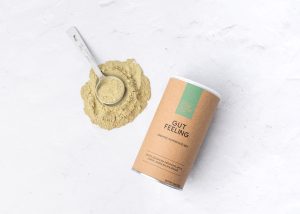 Additional benefits
6 natural superfoods known to support gut health
Developed by holistic nutritionists to ensure the best combination of active ingredients
Highest quality only: No fillers, artificial sweeteners or preservatives – ever
As a B-Corp, Your Super believe business can be a force for good. Their transparent supply chain was designed to ensure they source only the highest-quality ingredients picked at the peak of their freshness from small farmers. And each batch is 3rd party tested to ensure purity and potency.
Gut Feeling contains 6 powerful ingredients:
Celery from Germany
Jerusalem Artichoke from Germany
Lemon Balm from France and Albania
Lemon from Egypt
Ginger from India
Apple from Germany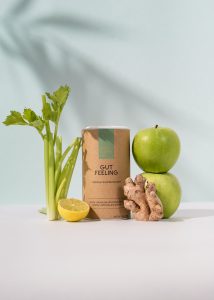 How to use:
Simply stir 2 tsp Gut Feeling in water for an easy instant celery juice, or add it to your daily smoothie.
Instant Celery Juice
Serves 1
Ingredients:
2 tsp Gut Feeling
250ml water
Ice cubes (optional)
1 lemon wedge (optional)
Directions:
Add Gut Feeling Mix to water and stir until combined.
Add ice and garnish with lemon, if using. Enjoy!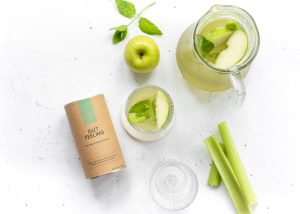 All of Your Super's plant-based Superfood and Protein mixes and bars contain 5-6 naturally dried superfoods. Every ingredient is grown, harvested, 3rd party tested, and packaged 100% sustainably. The ingredients are certified organic, Non-GMO certified, Glyphosate-Free, plant-based and gluten-free. You'll never find any sweeteners, stevia, artificial flavours, fillers, preservatives or additives.