To identify your face shape, you'll need to tuck your hair behind your ears so you can see the perimeter of your face," says Phil Smith, award winning hairdresser and founder of Phil Smith BE GORGEOUS (philsmithhair.com). "Although there are variations of these, the most common face shapes are; rectangle, oval, square, heart, diamond and round. It's worth mentioning that all of these face shapes are beautiful! You only have to Google an example to be inundated with celebrities and models sporting gorgeous hairstyles for each of them. So don't worry if you find your face is not the shape you'd initially thought." So, which are you? And what style should you be asking your hairdresser for next? Read on for Phil's guide to face shapes and the best haircuts for them…
Your face shape is rectangle if…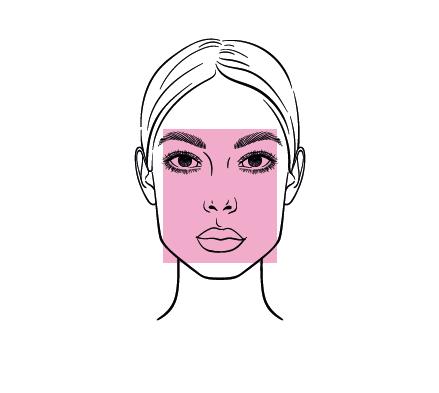 …you have a strong, angular jawline and your forehead is the same width as your jaw.
"I'd suggest asking for a layered style," says Phil. "These are most flattering for a rectangular face shape as the varying lengths help soften the angles. A 70s style curtain fringe adds emphasis on the cheekbones by creating horizontal volume and bringing the forehead in. My advice is to avoid long straight styles and create soft texture by adding waves and curls to compliment and showcase the sharp angles of your face."
Your face shape is oval if…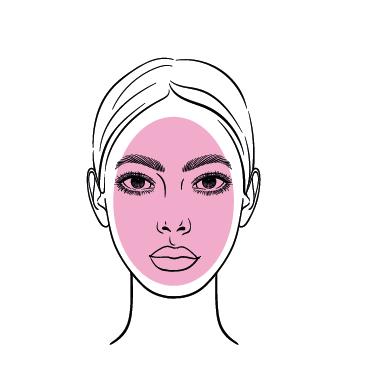 …the length of your face is longer than the width and you have a softer jawline.
"Oval face shapes are often considered the most versatile," says Phil. "Well balanced and feminine, this shape allows you to be more experimental with your style. I will usually use my client's natural part as a way to determine how the hair falls and what style to go for. Short bobs can look very sophisticated and chic, while longer beachy waves will look effortless. The main thing to remember with oval shapes is to always add some volume and bounce to the hair rather than a poker straight style – this will only pull the eye down and make your face appear longer. Waves add lift and draw the eye upwards."
Your face shape is square if…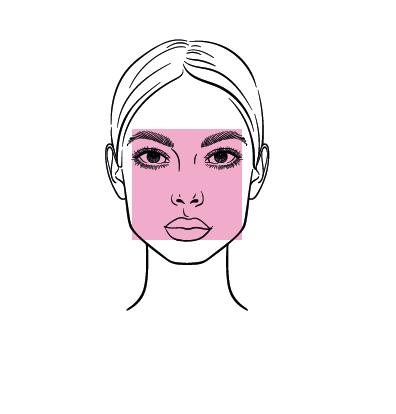 …it's similar to the rectangle, except the distance between your chin and forehead is the same as the width of your face.
"Square faces have broad angular features so drawing the eye across the face is the most flattering. Opt for a soft, side fringe to compliment your bone structure and create focus on the cheekbones. I suggest pairing this with a short, layered bob or a longer layered style to soften the face for a flattering, feminine result."
Your face shape is heart if…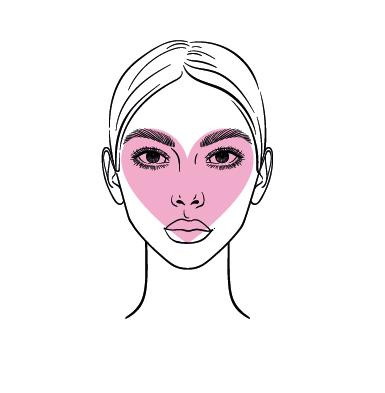 …your forehead is wider than your jawline and you have a more pointed chin. Heart shaped faces often have the 'devil's peak' which is when your hairline comes to a point in the centre of your forehead.
"Usually, the goal with a heart shaped face is to draw the forehead in while widening the appearance of the lower half of your face," says Phil. "A chic lob is an ideal length as it does just this. Pair with a sweeping side part to balance your face and create a mysterious, sophisticated look. If you want to keep a longer style, consider curling or waving your hair starting just beneath the ear as this will help create the illusion of a stronger jawline. I always think a side swept fringe looks great with this style."
Your face shape is diamond if…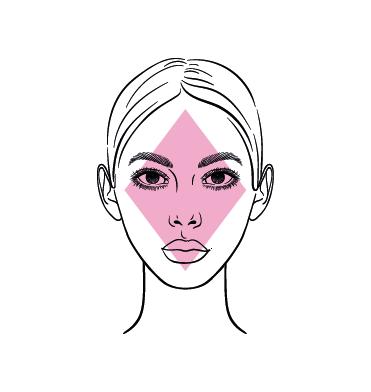 …you have an angular jaw and pointed chin. Your cheekbones are the widest point of your face and your forehead comes inward reflecting the angle of your jawline.
"Prominent cheekbones are an asset of the diamond face shape," says Phil. "They look dramatic and beautiful with a slick ponytail or bun that shows them off. As for the cut, longer locks with beach waves can really compliment the angular nature of the diamond face shape. To balance the width of your jaw, you could ask for shorter, face framing sections that graze your jawline."
Your face shape is round if…
You have soft features and the distance between your chin and forehead is the same as the width of your face.
"When asking for a flattering style for your round face shape, it's all about creating length and drawing the eye down," says Phil. "I recommend you avoid blunt cuts, bobs and short styles that have layers or curls as this will only add volume to the face. Longer locks with staggered layers starting below the ear are most flattering while a sharp pixie cut can look striking for someone wanting a more androgynous look."
TLC for your tresses
Give your locks some love with our expert advice
Beware of brushing
"When hair is washed, we tend to cause damage through styling and applying heat," says Michael Shaun Corby, global creative director of Living Proof (livingproof.co.uk). "When you do wash your hair, be sure to use a wide-toothed wet brush, as this will reduce tension as you comb. Hair is at its weakest when it's wet, so it's important to brush gently and dry thoroughly. The healthier and smoother your hair is, the better the shine."
Apply a mask
"Conditioning masks are a great way to gain glossy locks," says Stevie Holland, senior stylist at Salon64 (salon64.co.uk). "I work with my clients' busy lifestyles to find where this will best suit. Exercising at the gym? Work out with a treatment on your hair and wash it off after. Partial to a steam room? The heat and steam are fantastic for moisturising treatments and intensifies the result."
Switch your shampoo
"To maintain your hair's health, using a good professional grade shampoo and conditioner is a must," says Valerie Maine, director of hairdressing salon Live True London (livetruelondon.com). "Many chemists' varieties contain harsh chemicals that strip the hair of its natural oils. For a good all-around shampoo and conditioner, try Redken's All Soft range. It's infused with argan oil for intense softness and shine."
Add oil
"Using a hair oil in your haircare routine will nourish and help smooth the hair cuticle," explains Michael. "This will enhance smoothness and give good gloss and shine without weighing the hair down or leaving it feeling greasy."
Avoid heat where you can
"Try to keep heat styling to a minimum," advises Valerie. "When blow drying your hair, use the lowest heat setting and, if you are straightening or curling your hair, always use a heat protecting spray before you style."
Fight frizz
"Frizz can leave hair looking dull, so invest in a dry conditioning spray," says Michael. "Spray it on dry hair, smooth with your fingers, and you're good. It replenishes your hair's natural oils, so in between shampoos your hair looks and feels softer, smoother, and all-around shinier. If you have fine hair, apply it from mid-length to ends."
Use a clarifying product
"Apply a clarifying shampoo to help offset pollution and build-up of styling products, as well as minimising the drying and dulling effects hard water has on your hair to leave it healthy and shiny," Michael advises. "Use in place of your usual shampoo as and when you feel you need it."