Tess Daly talks fitness, motherhood, the importance of female friendship and her beauty secrets with deputy editor Vicky Warrell
You never know if celebrities are going to be the same in interview as they are on screen, but Tess Daly certainly is – her warmth and enthusiasm spills over on the phone when I talk to her ("I'm excited to be on the cover! It's always nice, especially on a health magazine!" she exclaims). A fixture on Saturday night TV for an impressive 16 years, the Strictly Come Dancing presenter is still as in love with the show as she was all those years ago. Now a mother to Phoebe, 15, and Amber, 10, with husband and fellow presenter Vernon Kay, Tess lives what she refers to as a 'low-key life' with her family when she's not lighting up our TV screens. I caught up with her to discuss her life in the spot light, her dream Strictly celebrity, and why she would never say no to cake.
Reaching milestones
Tess turned 50 last year and celebrated by posting a bikini selfie on Instagram, following in the same vein as Davina McCall. Her outlook on life hasn't changed now that she's reached this milestone, though: "I genuinely believe you're only as old as you feel," she says. "I'm very much of the mind that as long as I'm fit, healthy, able to do exactly what I demand of my body and enjoy my life, then that's all good with me. I'm so grateful for good health – you get what you put in. I've looked after myself for as long as I can remember, I've had to for the nature of my business, but also because I want to enjoy a long and healthy life. I honestly thought that I might feel differently now I've reached this landmark age, but I don't. I have kids and they demand that you're on your toes physically and mentally. They keep me young – young at heart, at least!" she laughs.
Tess's daily menu
Tess is a staunch advocate of not skipping meals: "I'm a three-meals-a-day girl, and I graze a lot as well," she tells me. "I start the day with porridge, blueberries and maple syrup, or I'll purée some mango and throw in some banana slices, then sprinkle some granola and flaxseed on top. That said, at the weekends, I'll splurge and we'll have a pancake making session for brunch, usually with the girls, which is always fun – I don't swerve the pancakes or the homemade French toast! Lunch might be a falafel wrap with vegetables and hummus, a homemade veggie burger or a tuna mayo sandwich. Dinner is usually rice, vegetables and chicken, or I'll make fajitas, and we'll do roast chicken on the weekend. Chicken is the only meat I eat – I haven't eaten red meat since I was a teenager. But I've got a sweet tooth that must be satisfied! I can't imagine a life without chocolate and cake. I could never deny myself cake because that just makes for an unhappy life. I'm a big believer in moderation. I tend not to deny myself what I fancy, because, like all of us, as soon as we deny ourselves treats, then we fixate upon it and it becomes an unhealthy relationship. I subscribe to the theory that a little bit of what you fancy does you good – as long as you're not reckless, it's not necessarily an unhealthy choice. Have a chocolate bar at 4pm – we're British for goodness' sake, afternoon tea used to be a meal here – it still is in my house!"
Feeling fit
One way that Tess takes care of herself is to maintain a good workout routine, so I ask her what fitness means to her. "It's being strong enough that I can do whatever I demand of my body without it feeling tired," she states. "Fitness means avoiding aches and pains and feeling strong, which I like. I'm the sort of person who has a hard time staying still – I'm always on the go and I like it that way. I enjoy being physically active, it's always been a part of my life, so working out means that I'm able to stay strong, fit and not feel my age. I work out a couple of times a week with a trainer, and then at home, I'll skip, do a few light weights, or get on the running machine – I can do 15 minutes, watch something on the iPad at the same time and not even realise that I'm running – happy days! Is this not what you want to hear in your magazine? Sorry!" she laughs. "I dread going to the gym, but then when I get there, I find myself enjoying my workout, and afterwards, I'm so glad that I've done it. I think we all feel that way a bit, a lot of us are intimidated by the thought of committing to that routine, because it is hard, but then if it was easy, everyone would do it and we'd all have six packs. So it is a commitment, but it's one that I will commit myself to because I enjoy the benefits. I like being able to eat a little bit of what I like and wear the same size jeans that I've worn since I was 20."
A role model
Tess is aware of how important it is to set a good example to her children. "As a parent, your number one job is to be a role model to your children, so your actions must speak just as loudly as your words," she tells me. "You must set examples through what your actions are – you're showing them the way." Does she have any parenting advice? "Pick your arguments, of which there will be many. I relate back to my teenage self and my relationship with my mum – I'm very close to her, but there were times when we'd have big arguments. It's a minefield, because they're under hormonal arrest a lot of the time, so the best thing to do is to try not to overreact to something they say that may shock the heck out of you. Walk away, take a deep breath and often, they'll think about what they've said and apologise. Usually, they'll realise the errors of their ways – they frequently speak before they think. Remember that they are trying to work it all out for themselves, and the people closest to them get the full wrath of their fury! But they are a delight most of the time so I don't want to sound disloyal – it's inevitable as a parent that you will go through this phase with your teenager. Sometimes my hair is standing on end and I'm having to take a deep breath and count to 10, but I'm lucky I've got good girls who are sensible and kind, and that's what matters at the end of the day."
A strong sense of self
Despite what you may think about celebrities, they still have body hang ups just like the rest of us, and Tess is no exception. "I've worked in industries that judge you for the way you look for the past 30 odd years," she says. "You kid yourself that it's about your character and that's why people are booking you, but it's not. It's not always easy, but it's just been one of those things.
When I was a model, I'd have an agent tell me one week I needed to gain weight, and the same agent would tell me two weeks later I needed to lose weight, and in fact I hadn't gained or lost a pound. I soon came to realise that it was people's perceptions that they were projecting onto me rather than my own perceptions of myself. I've always had a very strong sense of self – I thank my Northern roots for that; my solid working class upbringing where you've always got two feet firmly planted on the ground. There are certain things you can't change and you were born in the skin you're in. Yes, there are things that I don't like about my appearance, just like everybody else – we all suffer from that, don't we? I could give you a huge list of things I don't like about myself – in winter I get dry skin, my children laugh at my knobbly elbows, and my big toe isn't just a big toe, it's a huge toe (I'd be two sizes smaller if it wasn't so gigantic) – but what is the point? I'm not going to sit here whinging about them. I'm a happy, healthy woman who's comfortable in her own skin. This body has brought me two children who I adore, and I've worked for 33 years of my life and have enjoyed pretty much every step of the way, so I'm not going to start moaning about the meat suit that's carried me through it. I'm the sort of person who focuses on the positive. It helps me get through life."
Life in the spotlight
Although Tess is incredibly well known, she lives a low-key life. "Where we live, everyone knows us so it's not a big deal," she admits. "It's funny, because you're in your little bubble as a family, and someone might say "hi" and you think you know them, and then you realise you don't, but they know you off the telly! So you're snapped out of your bubble, but people are always lovely – it's never a problem. When you're on a red carpet, it's different because you've had your hair and make-up done, you've got a gorgeous dress on, you're aware that there are photographers there, and it's a different mentality, but when you're in your day-to-day life, I feel very low-key and it's not something I think about. I just get on with my life – it's more about being a parent for me when I'm off-duty. I think that life's a mirror – if you smile at people, they tend to smile back."
A friend indeed
As Claudia Winkleman and Tess's friendship is clear to see, I wrap up the interview by asking Tess how important female friendship is to her. "My girlfriends mean the world to me," she says firmly. "They are my tribe and my sounding board. We're there for each other, we lend each other clothes, we swap makeup tips, we go out for cocktails, we do play dates with our kids. Sisterhood is everything."
Inside Tess's make-up bag
Clarins Beauty Flash Balm, £33, clarins.co.uk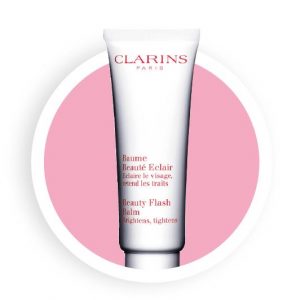 "This is one of my can't-live-without products. It adds moisture and plumps the skin. You can use it as an overnight hydrating mask and I'll use it on a plane to combat the effects of jet lag and dehydration – it makes your skin look dewy and divine."
Eight Hour Cream Skin Protectant, £28, elizabetharden.co.uk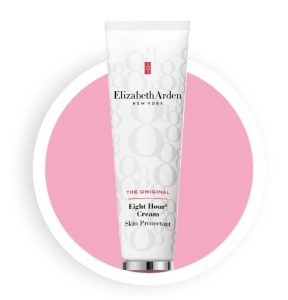 "I use this on my lips, on my eyes if they're dry, on my cuticles for an instant manicure – it's an all-round wonder cream. If your skin's really dry, pat it on overnight and you'll wake up moisturised. I've got one in my handbag and one in the car!"
Tweezerman Rose Gold Lash Curler, £17, boots.com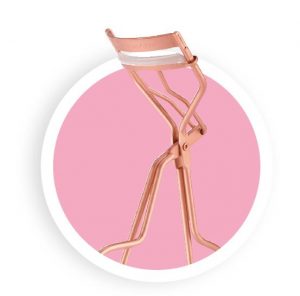 "I can't live without eyelash curlers. They open the eyes, and the eyes are the window to the soul – it's the first place people look when they converse with you."
At home with Tess
Tess has partnered with fabric and wallpaper specialist Clarke and Clarke to launch a homeware collection: "Designing my own range of bedlinen has been a dream come true," she says. "Creating a beautiful space at home is essential as it's often our sanctuary, a place to recharge and indulge in a little bit of me-time." Here are some of her top picks:
Diamond knit throw, £95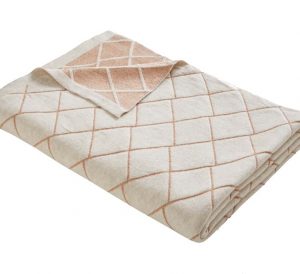 Faux mong lian blush cushion, £39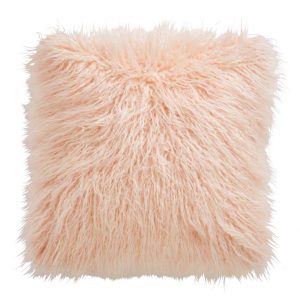 Phoebe bedlinen, £80- £140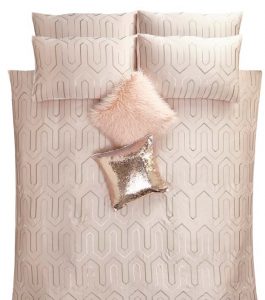 Splatter foil print cushion, £25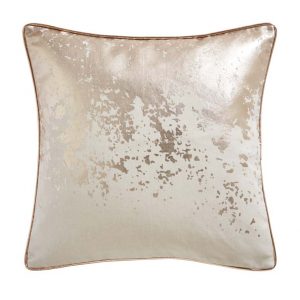 Love boudoir cushion, £35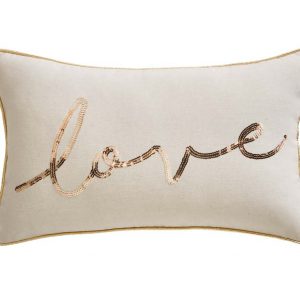 All available exclusively at next.co.uk
Strictly secrets
Who would be your dream celebrity?
"Now that we've had Michelle Visage, I'd quite like to invite her friend, Ru Paul. Imagine the outfits, the hair, the make-up and the moves, it would be just so fabulous, a real treat. We fell in love with Michelle, she's an absolute darling lady, and we met Ru Paul through her – he came to the show and enjoyed it. He's a force to be reckoned with. I'd also love David Walliams or Alan Carr. Alan's a big fan of the show, I think he's waiting until he's not on tour, then he might come and join us, hopefully!"
Have you been bitten by the dancing bug?
"Dancing is my life. I love every moment of it. I feel so lucky to have worked on a show that the nation has taken to its hearts for this many years. I thoroughly look forward to every season. It's been part of my family's life for as long as I can remember. I watch the professional dancers in awe, like the rest of the country, thinking that I wish I could do that. Their six packs are amazing, and that's just the girls! I take my hat off to them because what they do is incredible, inspiring and joyful."
How did you feel when you and Claudia became the first ever female duo to host a prime time TV programme?
"I felt really proud, it was a real honour. It's amazing to think that we were the first just a few short years ago and that it hadn't happened before then – it's hard to believe, isn't it? As the mother of girls, it makes me proud that we were able to pave the way. I think people made more of a bigger deal of it than it felt at the time to us. But subsequently, my daughter has mentioned it and she's proud that I was part of that."