Nestled just a short 30-minute drive from Belfast airport, the Galgorm spa hotel is a hidden gem in the picturesque landscape of Northern Ireland. As I embarked on the journey to this serene retreat, I couldn't help but be captivated by the breath-taking views along the long, winding road leading to the hotel. The anticipation built with each turn, and when the hotel finally came into view, it was a sight to behold, a stately manor set amidst glorious grounds.
On my arrival, I was warmly greeted by two friendly concierge who instantly made me feel at home. Check-in was a breeze, thanks to their user-friendly app, which I had used while waiting for my flight. This seamless process ensured that everything was ready for me when I arrived, allowing me to dive straight into the Galgorm experience.
First impressions
My excitement soared as I entered my spacious and modern room, seamlessly designed to complement the hotel's overall aesthetic. The double windows opened to reveal a mesmerising view of the serene river and the outdoor pools. After quickly unpacking, I was ready to explore.
Galgorm goes beyond being just a hotel; it's a multifaceted destination. As well as the main building, the property hosts log cabins and shepherd's huts, ideal for families and groups, making it an excellent choice for events like hen weekends and birthday celebrations. For those seeking a fairytale wedding, the site offers two beautiful buildings for wedding ceremonies and receptions, ensuring that both brides remain secluded from each other. This thoughtful arrangement speaks to the hotel's dedication to creating unforgettable moments for its guests.
While the indoor spa and pool facilities at Galgorm may leave you thinking you have everything you need, the real treasures are found in the hotel's lush grounds: the Thermal Village. Here, you'll find a delightful array of hot tubs, steam rooms, pools, and a café, all cleverly integrated into the natural surroundings. This idyllic setting is perfect for relaxation and rejuvenation. It's the kind of place where you can find your own tranquil corner and revel in the serenity of the outdoors while indulging in spa experiences.
Delicious food
On the first evening, I had the pleasure of dining at Gillies Grill, and I must say that the experience was nothing short of exceptional. The food was exquisite, with meticulous attention to presentation and flavour, elevating the dining experience to a true five-star level. The waiting staff were not only courteous but also highly knowledgeable about the menu, ensuring that each guest's needs were met with precision.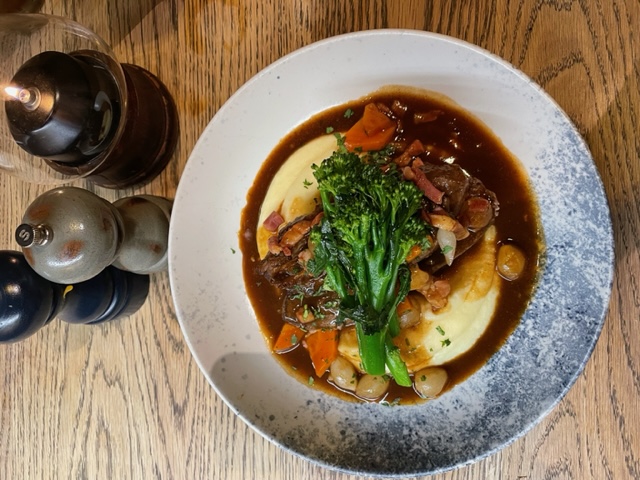 Deluxe spa treatments
The following day, I was treated to a 90-minute Taste of Galgorm massage, a perfect blend of a soothing back massage and a rejuvenating facial. My skilled masseuse made sure to provide a genuinely relaxing experience, and I left the treatment room feeling utterly rejuvenated.
After my massage, I had the opportunity to indulge in a unique wood-fuelled hot tub experience. Set by the picturesque river Maine, I immersed myself in the soothing warmth of the hot tub, watching the water glide by as I relished a moment of quiet reflection. This serene riverside escape offered an experience of pure tranquillity, far from the hustle and bustle of everyday life.
The verdict
Throughout my stay, the staff at Galgorm exhibited exceptional friendliness and a genuine willingness to ensure that my visit was unforgettable. Their attention to detail and commitment to guest satisfaction left a lasting impression.
Without a doubt I wholeheartedly recommend this luxurious spa hotel to anyone seeking a blend of natural beauty, relaxation, and refined hospitality in the heart of Northern Ireland. Whether you are planning a romantic getaway, a family vacation, or a special event, Galgorm has it all. It truly is a gem, offering an unforgettable escape to recharge and rejuvenate in style.
Find out more at galgorm.com