While you probably know that blueberries, cherries and beets are packed full of health-boosting antioxidants, results of a new study mean you can now add pistachios to the list of powerhouse foods.
"Antioxidant-rich foods are regularly encouraged as part of a healthy lifestyle and research suggests that a diet high in antioxidants may even help to reduce the risk of death," says Amber Wilson, MS, RD, Director of Nutrition Research and Communication for American Pistachio Growers.
"While certain fruits and vegetables are often thought of as high-antioxidant foods, a new study conducted by Cornell University and published in the journal Nutrients, produced surprising results on the nutritional benefits of pistachios."
A new study
Pistachios have a very high antioxidant capacity, among the highest when compared to values reported in research of many foods commonly known for their antioxidant capacity, such as blueberries, pomegranates, cherries and beets.
Researchers from Cornell University wanted to better understand the potential mechanism behind the health benefits that have been linked to pistachios in recent studies.
The researchers used two different methods to measure the antioxidant potential of pistachios – Oxygen Radical Absorbance Capacity (ORAC) and Cellular Antioxidant Activity (CAA) – and found that pistachios have very high level of antioxidant activities.
"We were excited to see that the antioxidant capacity of pistachios measured so high in our study," said Dr. Rui Hai Liu, Professor of Food Science at Cornell University.
"When compared to values reported in research for other common, high-antioxidant foods using the same methods, we see the antioxidant activity of pistachios is higher than that of foods often thought of as antioxidant powerhouses including blueberries, cherries, and beets."
"We believe the high antioxidant activity of pistachios may to be due to the unique compounds in pistachios including vitamin E, carotenoids, phenolics and flavonoids. The combination or interaction of these beneficial antioxidants, bioactive compounds, along with other nutrients in pistachios, is likely what contributes to the many health benefits we have seen in pistachio studies from recent years."
How do antioxidants work?
Most people know that antioxidants are beneficial to health, but many don't know exactly how antioxidants work within the body.
Normal metabolisms of daily life – everything from eating, breathing and exercising to the toxins we encounter in the environment – can generate free radicals in the body.
Free radicals attack healthy body cells and this damage is thought to contribute to inflammation and aging in addition to chronic health conditions, including heart disease and cancer. Health professionals recommend antioxidants from food sources to help protect healthy cells from free radical damage in the body.
The reported benefits show that antioxidants:
Have anti-inflammatory properties
May help protect from free radical damage
May contribute to brain health, enhanced immunity and anti-aging
Research suggests that a diet high in antioxidants may help to reduce the risk of death
"The health benefits of pistachios have been studied over the past 20 years and we are excited to dig further into the specific makeup of pistachios that maybe contributing to overall health," says Amber.
"The results of this study confirm the high antioxidant potential of pistachios, which is great news for those looking to add more antioxidant whole foods to their diet," she says.
Pistachios used in the Cornell study were grown in California and have a different nutritional profile than those grown in other countries.
"Pistachios grown in the U.S. are also a plant-based source of complete protein," ," says Amber. "One serving of pistachios (1 oz or 49 kernels) is an excellent source of copper and a good source of protein, fiber, vitamin B6, phosphorus and thiamin."
Four ways to boost your antioxidant intake in every meal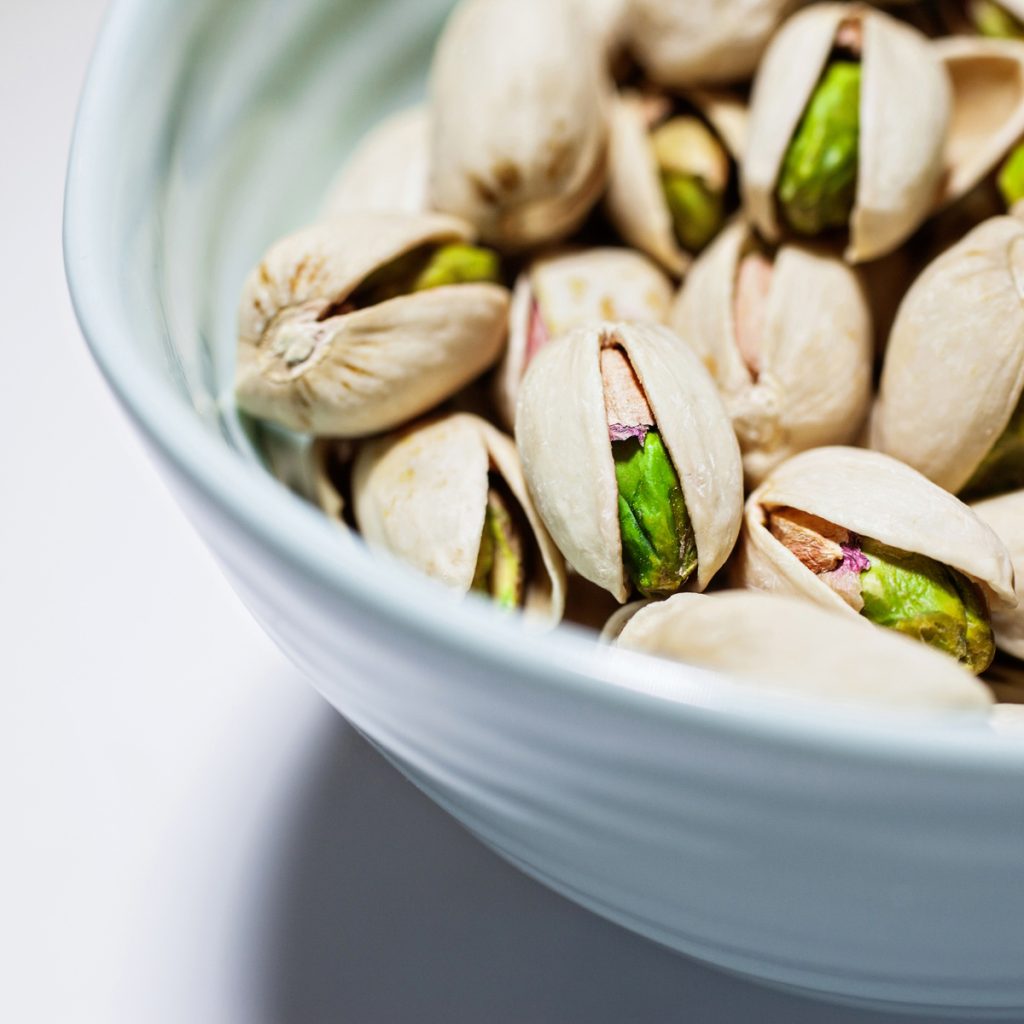 Breakfast
Top your porridge or yoghurt with chopped pistachios.
Lunch
Make your own plant-based bento box with pistachios as the main source of protien.
Snack
Add pistachios to your favourite smoothie or enjoy them straight out of the shell.
Dinner
Blend pistachios into your favourite pesto recipe or use chopped pistachios as a crust for fish.
For more information about research on the health benefits of pistachios, visit the American Pistachios website.