Floks' all-season 8-10 tog wool duvet (from £195, floks.co.uk) is a game-changer in the world of bedding.
Packaged in its reusable drawstring bag, this luxury wool duvet offers an experience that's unlike any other. While it might have a unique initial scent due to its woollen nature, don't let that deter you; it fades after a few days of use, leaving you with a luxurious and comfortable sleep companion.
The standout feature of this duvet is its ability to stay perfectly in place under your duvet cover. It's like having your very own weighted blanket, offering a cozy and secure feeling without being overly heavy. No more waking up in a tangled mess of bedding; with Floks, everything remains smooth and undisturbed.
One of the conveniences of this duvet is its 'easy fit' corners, making it a breeze to change your covers and keep your bed looking crisp and elegant. But it's not just about convenience; it's also about sustainability and quality. Floks prides itself on being organic and made in the UK, aligning perfectly with the values of the environmentally conscious sleeper. 
The all-season tog rating is ideal for most environments, providing warmth without overheating. Unless you live in an extremely drafty, cold house, this duvet will keep you comfortable year-round. Just remember to air it out occasionally, and it will continue to serve you well, thanks to its high-quality materials.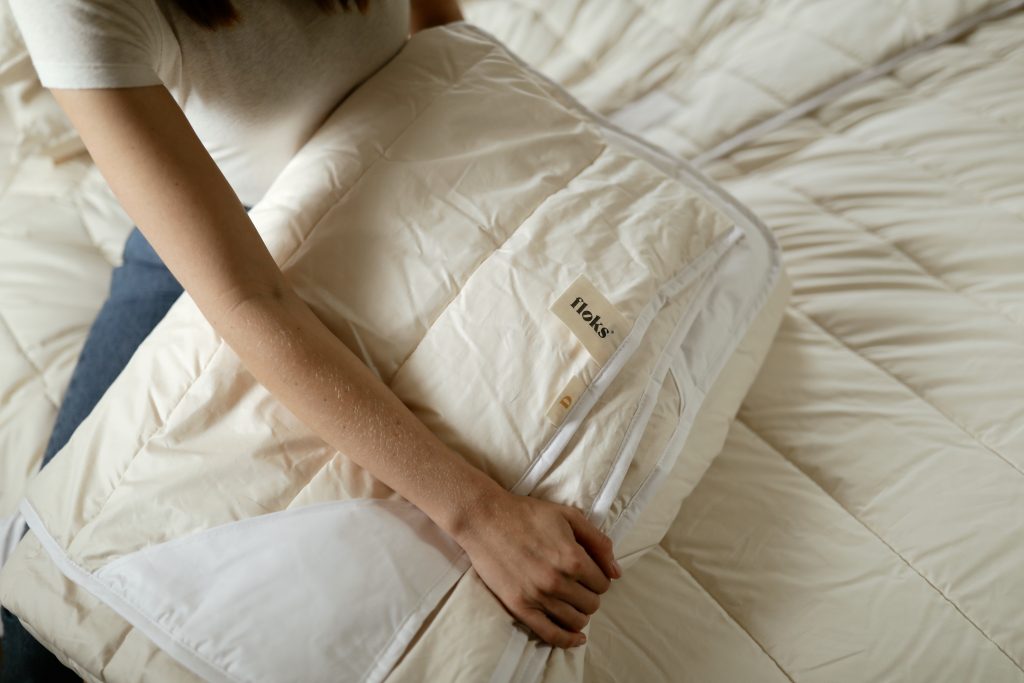 Now, the price tag might raise an eyebrow, but consider it an investment in your sleep quality and comfort. This duvet is designed to last a very long time if properly cared for, making it a cost-effective choice in the long run. Plus, the luxury and sustainability it offers are well worth the price.
In conclusion, Floks' all-season wool duvet is a true gem in the world of bedding. It offers unparalleled comfort, stays in place like a dream, and provides peace of mind with its sustainable, organic, and UK-made credentials. The initial woolly scent is a minor quirk that quickly fades, and the price is an investment in quality and longevity. If you're serious about enhancing your sleep experience, this duvet is a luxurious choice that's hard to beat. Say goodbye to restless nights and hello to the cozy embrace of Floks!
floks.co.uk/products/wool-duvet 
Looking for more ideas on how to sleep better? Check out our top tips here.