If you're a lifelong plant-based pioneer, you'll know that the limits of delicious vegetarian food go beyond your average pack of lentils or tofu.
And, although it's a very uncertain time at the moment, there's never been a better time to experiment in the kitchen by trying something new!
These recipes celebrate the very best of National Vegetarian Week, including a light strawberry and feta tart and a creamy lemon and dill 'tuna' tagliatelle. Tuck in!
Creamy Peanut Butter and Lentil Curry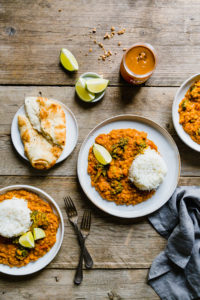 Ingredients
2 tbsp coconut oil
4 garlic cloves, cut in small pieces
Approx. 2.5cm (1 inch) piece of ginger, cut in small pieces
1 cup red lentils or green lentils (as preferred)
2 vegetable stock cubes
1 can crushed tomatoes (400g)
1 can coconut milk (400ml)
2 tbsp of ManiLife Deep Roast Smooth peanut butter
Salt and pepper to taste
1 tsp ground coriander
1 tsp ground cumin
2 tsp curry powder
1 tsp turmeric
Method
In a large pan, heat the oil and add the garlic, ginger and all the spices together.
Cook for about 4mins, until the garlic scents the room.
At this point add in the lentils, the tomatoes and the vegetable stock – mix everything together and let everything simmer for about 20 minutes.
Remember to do this at low heat for the lentils to get soft and avoid anything burning.
Once the lentils are cooked, add in the coconut milk, ManiLife peanut butter and the pepper and salt to taste.
Stir everything together and let simmer for another five to seven minutes.
Voilà – you're done! Serve this soul-warming dish with jasmine rice and Naan bread.
Creamy Lemon, 'Tuna' and Dill Pasta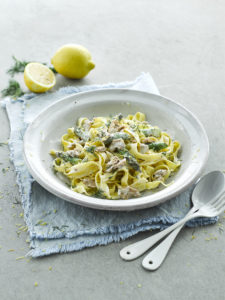 Ingredients
150g vegan tagliatelle pasta
Splash of olive oil
½ clove garlic
150g vegan cream cheese
Zest of 1 lemon
Juice of ½ a lemon
¼ tsp vegan Dijon mustard
1 pack Good Catch Oil & Herbs plant-based tuna
Small bunch of dill, finely chopped
Salt and pepper
Method
Cook the pasta as per the packet instructions, making sure the water is well seasoned with salt. (Tip: the water should be as salty as the sea!) When the pasta is cooked, remember to save a ½ cup of the pasta water before draining.
Heat a splash of oil in a medium sized frying pan over a low heat and fry the garlic for 1-2 minutes until fragrant and soft. Add in the vegan cream cheese and lemon juice, stirring until it has melted into a sauce. Add the pasta water, Good Catch plant-based tuna and Dijon. Stir again to combine.
Remove from the heat and stir though the dill and drained pasta. Season with plenty of freshly milled black pepper and more salt if needed.
Serve and enjoy!
Strawberry and Feta Tart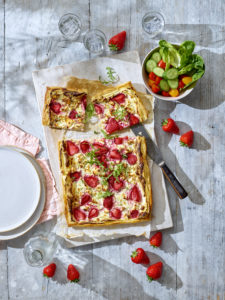 Ingredients
375g sheet puff pastry, defrosted if frozen, at room temperature
200g reduced fat soft cheese
1 tbsp chives, snipped
2 tsp lemon thyme leaves or 1 tsp finely grated lemon zest
125g feta cheese, crumbled
125g strawberries, hulled and sliced
Drizzle of balsamic vinegar (optional)
Rocket leaves to serve
Method
Preheat the oven to 200C/fan 180C/gas mark 6. Unroll the pastry sheet onto a baking tray, keeping it on the paper from the pack. Score a line 2cm from the edge down each side.
Combine the soft cheese, chives, the thyme or lemon zest and some pepper (the feta will add salt) and spread it over the pastry. Scatter over the feta and strawberries and bake for 25-30 minutes until golden and puffed up.
Serve warm drizzled with balsamic or top with rocket leaves and serve with a large salad.
Tip:
You could also make this with goats cheese instead of the feta.
Buddha Bowl
Ingredients
1 packet of Gosh! Beetroot Burgers
For the Quinoa and Kale
250g of quinoa
1 bunch of kale, ribs removed and chopped into very small bite-sized pieces
½ tsp of salt
2 tbsps. of olive oil, plus more to drizzle
Juice of 1 lime
For the Sweet Potato
Olive oil
2 medium sweet potatoes, washed and cut into 5mm strips
2 tsps. of ground cumin
1 tsp of smoked paprika
1½ tsps. of salt
For the Dressing
1 avocado
Juice of 2 limes
Glug of olive oil
1 medium chilli, chopped
A handful of fresh coriander
Extra Bits
Hummus (Beetroot hummus used here)
A handful of sunflower seeds and/or chopped nuts
Method
First, cook the quinoa in a saucepan of water for about 15 minutes, or according to the packet instructions
Warm the Gosh! Beetroot Burgers at 160°C fan for 15 minutes
Meanwhile, warm the olive oil in a large frying pan over a medium heat and add the sweet potato. Stir in the cumin, smoked paprika and salt. Once the pan is sizzling, add 50ml water, cover the pan with a lid and reduce the heat to low. Cook, stirring occasionally, for about 10 minutes until the sweet potato is cooked then set aside to cool
Put the kale in a large bowl. Sprinkle with salt and drizzle with oil. Use your hands to massage the kale for 2–3 minutes. Whisk together the 2 tablespoons of olive oil with the lime juice, drizzle over the kale and toss to coat
For the avocado dressing, blitz the ingredients in a small blender until smooth (or mash the avocado and mix with the other ingredients for a chunkier dressing)
To serve, divide the quinoa and kale between bowls and top with the sweet potato, a Gosh! Beetroot Burger and a good spoonful of the avocado dressing. Sprinkle with nuts and seeds
Veggie Hack:
Add a hard-boiled egg for extra protein!
Recipe: Gemma Ogston of Gem's Wholesome Kitchen in collaboration with Gosh! Food
Wondering how to get a good source of calcium on a plant-based diet? Here's how.