Having trouble sleeping? If you've tried warm baths before bed, drenching your pillow in lavender and banishing digital devices with no success, perhaps it's time to look closer to home. To learn more, we caught up with nutrition expert Jennifer Mo to find out how boosting our brain and body chemistry can provide the ingredients for a sumptuous snooze fest.
Here comes the science bit…
When it comes to sleeping, it really is hormone central. You've probably heard of melatonin, the naturally-occurring hormone that controls sleep patterns. Darkness triggers our bodies to release melatonin to help us fall asleep (or nod off in the cinema!)
At the other end of the scale is the 'flight or fight' hormone cortisol. Fantastic for boosting prehistoric us with the energy to outrun a mammoth. Not so great for when we're stressed out lying in bed.
Then there's the 'happiness hormone' and neurotransmitter serotonin. It reduces rapid eye movement (REM) sleep, helps with producing melatonin and makes us fall into a longer and more regenerative sleep.
But sleep isn't just down to hormones.
Mixing up the chemical cocktail
A good mixologist knows how to make more than a G&T, and your body has more chemical tricks up its sleeve than hormones alone.
Sleep is a major part of our 'rest and digest' response, controlled by the parasympathetic nervous system. The mineral magnesium can activate this as well as regulating melatonin, too.
Cortisol puts the central nervous system on high alert. But the amino acid L-Glycine can calm it down. Paired with its soothing counterpart L-Theanine, it can help make you fall asleep more easily.
Want more hours of a deeper sleep? Then it's time to high five 5-HTP (5-Hydroxytryptophan), which stimulates serotonin levels.
You are what you eat
To help bolster your body's sleep-positive chemicals, put these on your plate:
Boost melatonin with milk, rice, goji berries and oats
Top up serotonin with eggs, cheese, pineapples, tofu, turkey and fish
Increase L-Glycine with seeds, chicken, granola, soybeans, tofu and egg whites
L-Theanine is stimulated with green tea, black tea and porcini mushrooms
5-HTP is produced from the amino acid tryptophan, so eat more turkey, milk, oats, cheese, nuts and seeds
For magnesium, add green leafy vegetables, nuts, seeds and whole grains
Beauty sleep in a mug
As the founder of Pura Collagen, Jennifer has created science-led collagen supplements. Inspired by her love of sleep and hot chocolate, it's luxurious double chocolate and salted caramel Sleep blend was made to promote restful sleep. It contains L-Glycine, L-Theanine, 5-HTP and magnesium plus collagen peptides to enhance the body's own collagen production.
To unwind from your busy day, simply mix two dairy-free scoops into water or the milk of your choice just before bedtime. You can check it out for yourself at the Pura Collagen website, or head to Selfridges.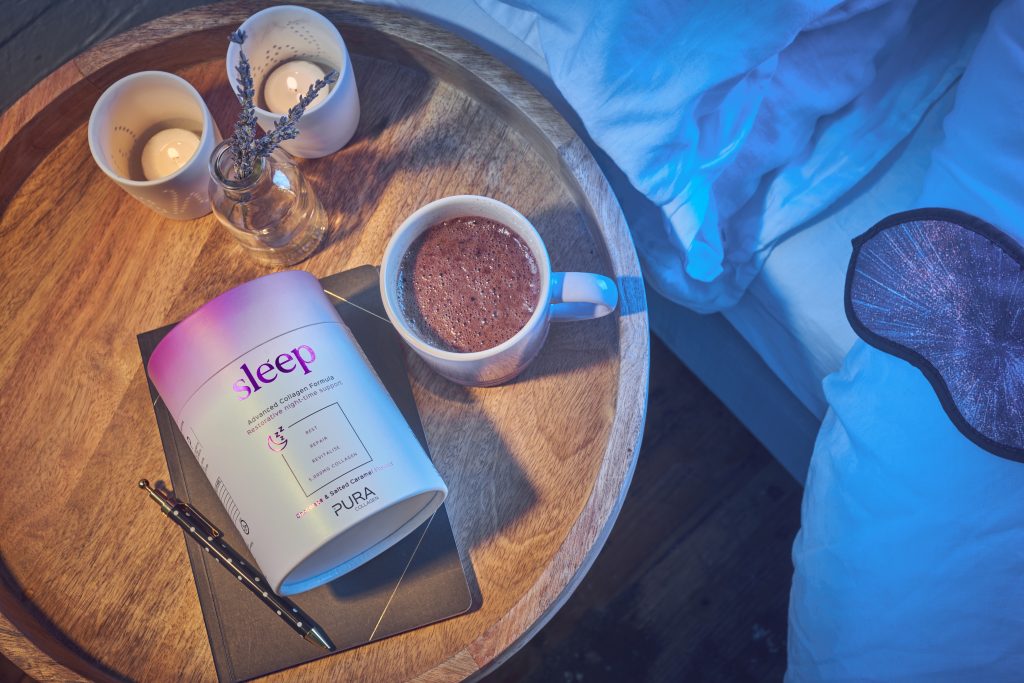 Win a months' supply of Pura Sleep!
For your chance to win, enter the our Instagram giveaway competition now! This competition closes on the 25th August.