If you want to combine your love for carbs and helping those in need, we might suggest you give Italian restaurant, Zizzi a visit.
Following research that found 84 per cent of Brits wished they could give something back to society and over a fifth said they would give more if it were easier, Zizzi has partnered with the Mental Health Foundation that will see diners given the choice of a 25 percent discount on their meal or donating the equivalent value to charity.
The partnership aims to raise £1 million for the charity which specialises in mental health prevention research and action and will also include initiatives for Zizzi teams and customers that put community and building connections at the centre of fundraising.
Ruth Jackson, People Director at Zizzi, said: "The partnership with the Mental Health Foundation enables us to raise money for a fantastic cause and is something we hope our teams and diners will really support. Mental health affects many people in the UK and our aim is to raise £1 million to help support good mental health as well as supporting our staff and diners."
If your Veganuary pledge is in full swing, Zizzi has also launched four limited edition Winter Warmer dishes with something to suit everyone – including those who just want something warm and indulgent.
New for January, the menu additions include:
Mini Arancini
Vegan Pumpkin & Sage Tortelloni
Calzone Venison & Wild Boar
Molten Chocolate Fudge Pudding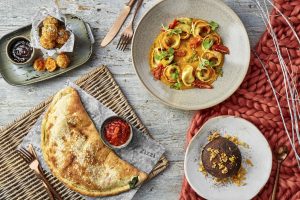 Good mood food!