In a bid to 'make vegetables cool', our final say star, Deliciously Ella shares her favourite recipes from her new plant-based cookbook, Quick & Easy.
10-minute Apple Pancakes
Matt is a pancake obsessive – he would have them every day for breakfast if he could – so these are a staple in our house. They couldn't be easier to throw together and I love the mix of cinnamon, apple and maple – it gives them such great flavour. We normally have them just with lots of almond butter during the week or with these baked apple slices at the weekend.
Makes 6 pancakes
Ingredients
200g plain flour (we use gluten-free) or use self-raising flour to make them extra fluffy
150g porridge oats
1 teaspoon baking powder
1 teaspoon ground cinnamon,
plus extra to serve
300ml almond or oat milk, plus more if needed
5 tablespoons unsweetened apple purée (we like the Biona one)
2 tablespoons maple syrup
1 teaspoon chia seeds
coconut oil, for frying
For the baked apple
1 apple, halved and cored
½ tablespoon coconut oil, melted
1 teaspoon coconut sugar
Ground cinnamon
If you're making the baked apple, preheat the oven to 180°C fan. Cut each apple half into around 5 slices and mix with the coconut oil, coconut sugar and a pinch of cinnamon. Spread
out on a lined baking sheet and bake for 10 minutes until golden.
Place the flour, oats, baking powder and cinnamon in a bowl and slowly pour the almond or oat milk into the mixture, whisking until smooth.
Add the apple purée, maple syrup and chia seeds and stir through then give the mixture a final whisk. It should be a smooth, thick batter – but you can add a little more almond or oat milk if
you need to.
Place a large frying pan over a medium heat and add the coconut oil – we normally start with about half a tablespoon. Once melted, spoon 3 tablespoons of batter into the pan to make a round pancake. Let it cook for 1–2 minutes, until the top is no longer runny, then flip it over and let it cook for a further 2 minutes.
Repeat with the rest of the mixture until all of the pancakes are ready. You can keep them warm in an oven set to 120ºC fan if needed.
Serve the pancakes with the baked apple slices and a pinch of cinnamon.
Creamy Kale and Mushroom Salad
This is probably my favourite-ever salad, having stolen the crown from the tahini tamari kale salad in our first book. We're very generous with the dressing in this one, which is why it's so good, as the dressing is really creamy. Make sure to rub the dressing into the leaves firmly, so that the kale is nice and soft. Once it's soft, we toss in chunks of avocado, sautéed mushrooms, cumin, toasted seeds and garlicky croutons.
Ingredients
Handful of pumpkin seeds (about 25g)
Handful of sunflower seeds (about 25g)
Olive oil
1 teaspoon ground cumin
200g mushrooms, thinly sliced
200g kale
1 tablespoon apple cider vinegar
2 slices of bread (we love sourdough)
1 garlic clove
2 ripe avocados, peeled, stoned and cut into bite-sized pieces
Salt
For the dressing
40g sunflower seeds
60g cashews
100ml almond or oat milk
2 teaspoons Dijon mustard
1 heaped tablespoon nutritional yeast
3 tablespoons olive oil
Squeeze of lemon
Heat the oven to 200ºC fan. Toss the pumpkin and sunflower seeds on to a baking tray with a tablespoon of olive oil, some salt and the cumin. Roast for about 5 minutes, until crunchy.
Place the mushrooms in a large frying pan over a medium heat with a drizzle of olive oil and a generous sprinkling of salt. Let them sauté while you make the salad, stirring them every
now and again until they turn golden brown.
Place the kale in a large mixing bowl, then remove any thick stems and tear the leaves into pieces.
Add 1 tablespoon of olive oil, the apple cider vinegar and a sprinkling of salt and rub them into the leaves using your hands. Massage the kale for a minute or so, being really firm, so that
it softens.
Next, make the dressing. Simply place all the ingredients in a high-speed blender (we use a NutriBullet) and blend until smooth and creamy.
Toast the sourdough then rub it with a raw garlic clove and cut it into bite-sized chunks.
Rub the dressing into the kale, massaging it with your hands and letting it soften even more. Then toss in the toasted seeds, mushroom, avocado and sourdough.
Mushroom & Walnut Ragu
I made this for some girlfriends who have been taste-testing our recipes since day one, and they said it was their favourite dish ever! It's hearty, warming, really rich and just a dream dinner. The leftovers work brilliantly too; I'll often make a double portion and have the second serving with jacket potatoes later in the week or take it to work with some quinoa or salad for an on-the-go option.
Serves 4, with a little left over
Ingredients
20g dried porcini mushrooms
250ml boiling water
100g walnuts
1 onion, finely diced
2 garlic cloves, finely diced
2 celery stalks, finely diced
Olive oil
400g chestnut or button mushrooms, thinly sliced
1 red pepper, deseeded and diced
1 teaspoon dried thyme
1 teaspoon dried oregano
1 teaspoon dried rosemary
1 × 400g tin of chopped tomatoes
1 tablespoon tomato purée
2 tablespoons tamari
1–2 tablespoons nutritional yeast
4 portions of pasta (about 80g per person)
Salt and pepper
Handful of chopped parsley, to serve
Start by soaking the dried mushrooms. Put them into a bowl with the boiling water and leave for 20 minutes. Once soaked, drain well (but keep the liquid), then cut the mushrooms into
small pieces.
While the mushrooms are soaking, chop the walnuts into tiny pieces – they need to look like large breadcrumbs. Place them in a large, deep frying pan over a medium heat and toast for about 5 minutes, until golden, stirring every now and again. Once toasted, remove from the heat and spoon into a bowl. Place the frying pan back on the heat.
Add the onion, garlic and celery to the frying pan, along with a drizzle of olive oil and a pinch of salt. Cook for 5–10 minutes, until soft.
Add the fresh mushrooms and red pepper, with the thyme, oregano and rosemary, and cook for about 5 minutes, until soft.
Stir in the chopped tomatoes, tomato purée, tamari and dried mushrooms with their water. Leave to simmer for 10–15 minutes – you want the ragu to be thick and have lost the excess liquid. Stir in the walnuts and nutritional yeast and leave them to cook in the sauce for a final 5 minutes.
While the ragu is simmering, cook your pasta in a pan of boiling water, following the instructions on the packet. Drain well then stir into the ragu once both are ready. Serve with a sprinkling of chopped parsley.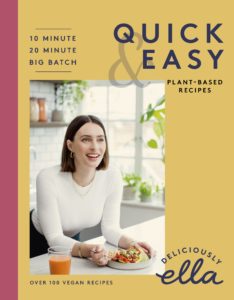 Deliciously Ella Quick & Easy by Ella Mills, is published by Yellow Kite, out now.