Let's face it: healthy ingredients can often be expensive. So, when you're predominantly plant-based and trying to avoid packaged, processed foods, it can be challenging. But the good news is that there are ways you can eat wholesome foods while sticking to a budget. To help you on your way, we've got some brilliant lowcost recipes over the next few pages for you to try…
Simple shakshuka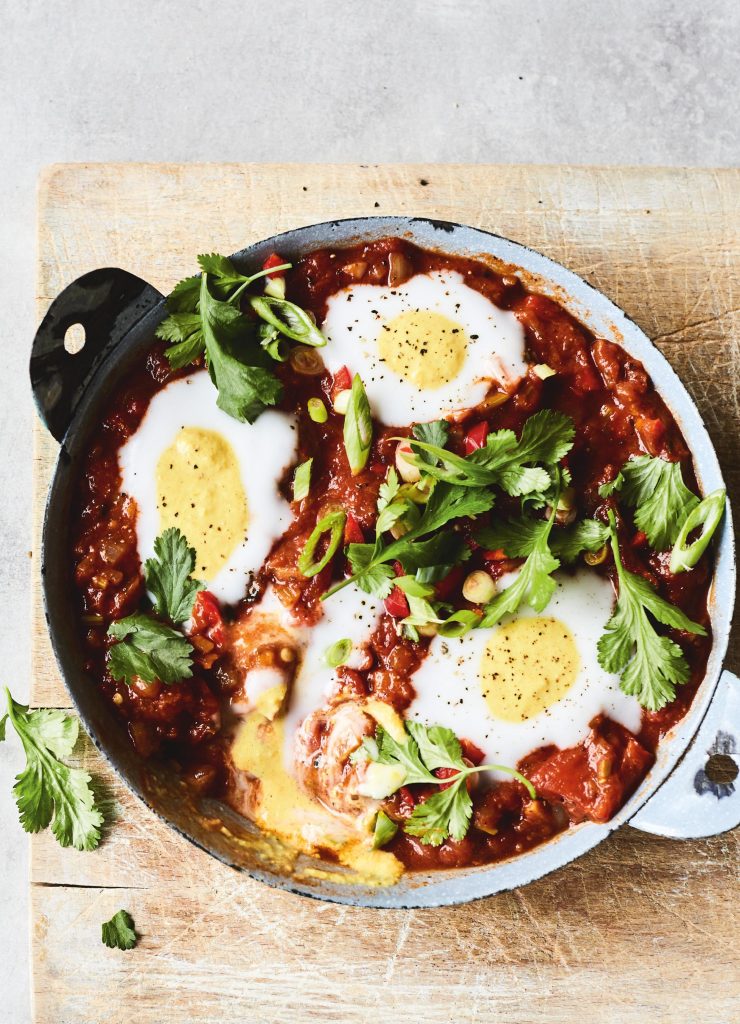 Although usually a brunch recipe, shakshuka makes a wonderful meal at any time. Served with toasted pitta for dunking, this silky red pepper stew feels really warming and generous. And these vegan eggs look awesome and the flavour is fantastic. Super fun and perfect for lnstagram!
Ready in: 50 minutes
Serves: 2
• 1 red pepper • 2 tbsp olive oil • 1 large white onion • 1 fresh red chilli • 3 garlic cloves • handful fresh coriander • 1 tsp dried oregano • 1 tsp ground cumin • 1 tsp smoked sweet paprika • ½ tsp ras el hanout • 1½ tbsp tomato puree • 1 tsp caster sugar • 1 tbsp red wine vinegar • 1 x 40Qg tin chopped tomatoes • 2 bay leaves • 1 cinnamon stick salt

For the 'egg yolks'
• ½ yellow pepper • ½ tbsp plantbased mayo • 1 heaped tsp tahini • ½ lemon salt
For the 'egg whites'
• 4 tbsp dairy-free yoghurt • ½ lemon • salt
To serve
• 1 spring onion • 4 pitta breads
Light your largest gas ring or preheat your grill to high. Put the red and yellow peppers directly on the flame or under the grill for 10-15 minutes, turning them every 5 minutes, until blackened on all sides. Set aside in a bowl to cool and steam with a plate on top.
Now cook the vegetables. Place the frying pan over a medium heat and pour in the olive oil. Peel and finely chop the onion and add it to the pan. Halve the chilli, dice one half and finely slice the other. Peel and grate the garlic cloves. Add the diced chilli and garlic to the pan and stir, cooking for 5 minutes.
Finely chop the coriander stems and add them to the pan, reserving the leaves. Add the oregano and the spices. Stir and cook for another 5 minutes. Add the tomato puree and sugar and stir for 5-10 minutes, until the mixture is getting darker and sticky.
Add the vinegar to the pan and let it bubble away and evaporate. Add the tinned tomatoes, bay leaves and cinnamon and a good splash of water and leave to simmer for 8-10 minutes, until thickened and combined. Lower the heat and keep warm until needed.
Now, going back to the peppers, rub the burned skin from them with your fingers. Seed and roughly chop the peppers. Add the red pepper to the shakshuka. Put the yellow pepper in the blender.
To make the 'egg yolk', add the plant-based mayo and tahini to the blender with the yellow pepper. Squeeze in the juice of the lemon and season with salt. Blend to a paste.
To make the 'egg white', put the yoghurt in a bowl. Squeeze in the juice of the lemon and season with salt. Mix to combine. 8 Remove the bay and cinnamon sticks from the shakshuka pan.
Taste the shakshuka and adjust the seasoning if necessary. If it looks dry, add a splash of water and stir it in. Make sure it's nice and warm. Press the back of a spoon into the mixture to make 4 wells. Spoon a tablespoon of the 'egg white' into each well. Use a teaspoon to add a spoonful of the 'egg yolk' into the centre of each white.
To serve, grill or toast the pittas. Scatter the reserved coriander leaves over the shakshuka. Finely slice the spring onion and scatter it over along with the sliced red chilli. Serve the pittas alongside for dipping.
Jackfruit larb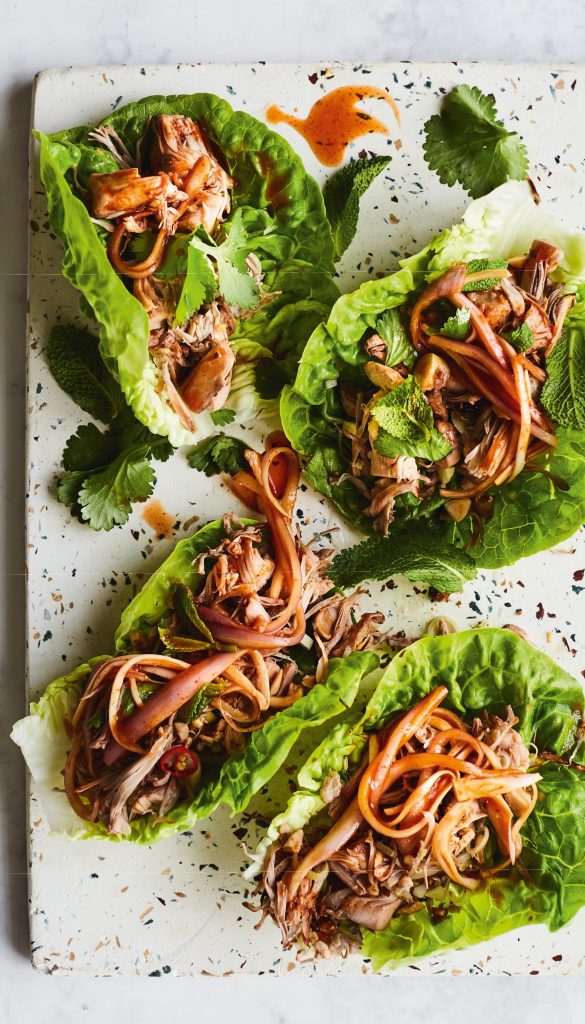 Is it a salad? Is it a wrap? No. It's larb, and it's here to make your lunchtime tastier. This is a brilliant healthy-but-tasty finger-food meal for when you have friends over and want to put something fun and informal in the middle of the table for everyone to dig into. Great texture, great colour and great taste. What's not to love?
Ready in: 25 minutes
Serves: 1
• 2 x 400g tins jackfruit • 1 lemongrass stalk • 1 garlic clove • 2.5cm piece fresh ginger • 2-3 red chillies • 10g fresh coriander • 10g fresh mint • 50g salted peanuts • 2 baby gem lettuces • 1 tbsp groundnut oil
For the dressing
• 2 limes • 1 banana shallot • 1 tbsp light soy sauce • 1 tbsp sweet chilli sauce
Preheat your oven to 200C/400F/Gas 6 and line a baking tray.
Drain and rinse the jackfruit, then pat dry with a clean tea towel. Spread it out on the lined baking tray and roast in the hot oven for 20 minutes. Use two forks to pull apart and shred the jackfruit once cooked.
Meanwhile, prepare the remaining ingredients. Trim the lemongrass stalk, strip the bark and slice finely. Peel and finely grate the garlic and ginger. Finely slice the chillies. Pick the coriander leaves and finely slice the stems. Pick the mint leaves. Break the peanuts up in the pestle and mortar. Cutaway the stems of the lettuce, pull apart the larger leaves and rinse under cold water. Halve the limes for the dressing, peel the shallot, cut it in half and finely slice it lengthways.
Now, cook the larb. Warm the oil in the wok over a medium-high heat. Add the jackfruit and stir for 3-4 minutes. Add the lemongrass, garlic, ginger, two of the chillies and the coriander stems. Stir for 2 minutes. Turn the heat down to very low to keep warm, stirring occasionally to make sure it doesn't catch.
To make the dressing, squeeze the lime juice into a bowl. Add the sliced shallot and squash it slightly to break it down a little. Add the soy sauce and sweet chilli and stir to combine.
To serve, spoon the jackfruit mixture into the lettuce leaves, drizzle over the dressing, garnish with the fresh coriander, mint leaves, broken peanuts and a few slices of chilli if you like it extra kicky!
Halloumi, aubergine & tomato bake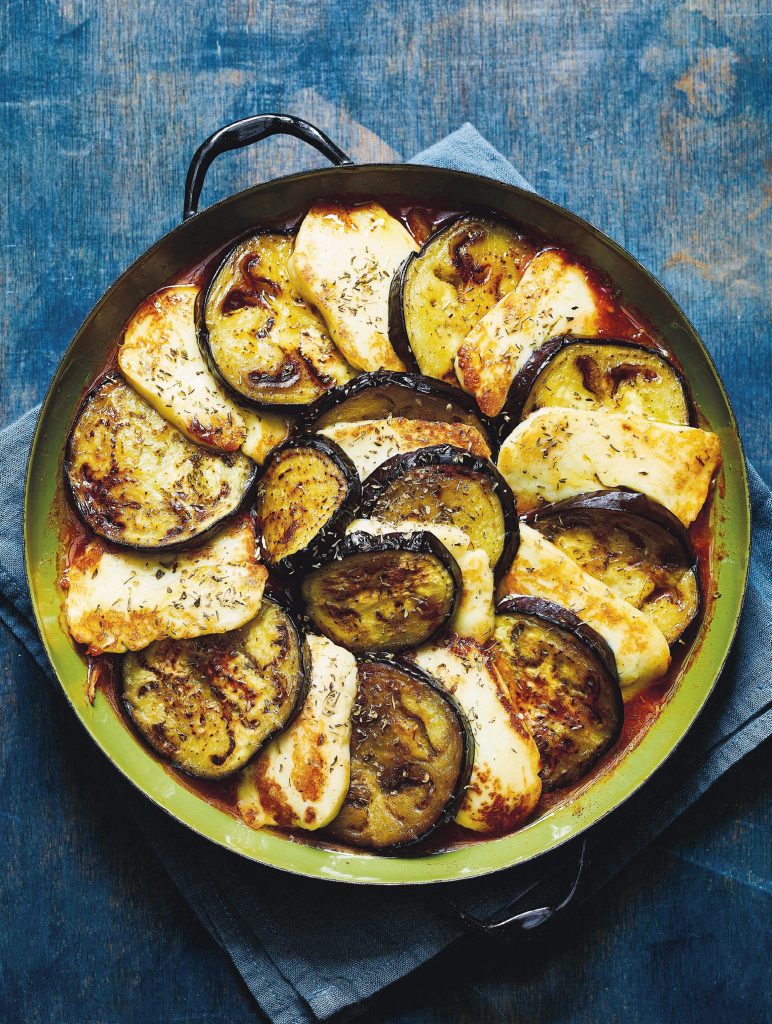 Easy dinners that look tasty with minimum effort are always a winner. Halloumi goes a lovely golden brown in the oven and looks stunning here layered between slices of roasted aubergine. It's much easier than it looks and makes a great centrepiece. V GF
Ready in: 35 minutes
Serves: 4
• 2 onions, sliced • 4 garlic cloves, crushed or grated • 400g tin chopped tomatoes • 1 tsp dried oregano, plus an extra pinch • 2 aubergines, sliced into 1cm thick slices • 2 x 200g blocks of halloumi, sliced into 1cm thick slices • Olive oil • Salt and pepper
Preheat your oven to 180C/350F/ Gas 4.
Grab a casserole dish and use it to fry the onions in a splash of oil over a medium heat for about 5 minutes until nice and soft, adding the crushed garlic for the final minute.
Add the chopped tomatoes and the 1 tsp oregano. Simmer for a few minutes and season to taste.
Arrange slices of aubergine and halloumi on top, alternating between the two, then drizzle with olive oil and sprinkle with an extra pinch of oregano.
Bake in the oven for about 25 minutes until slightly browned on top, then serve.
Simple swaps
• Courgettes and freshly sliced tomatoes also work brilliantly in this dish, so use what you have available.
Veg peel pakoras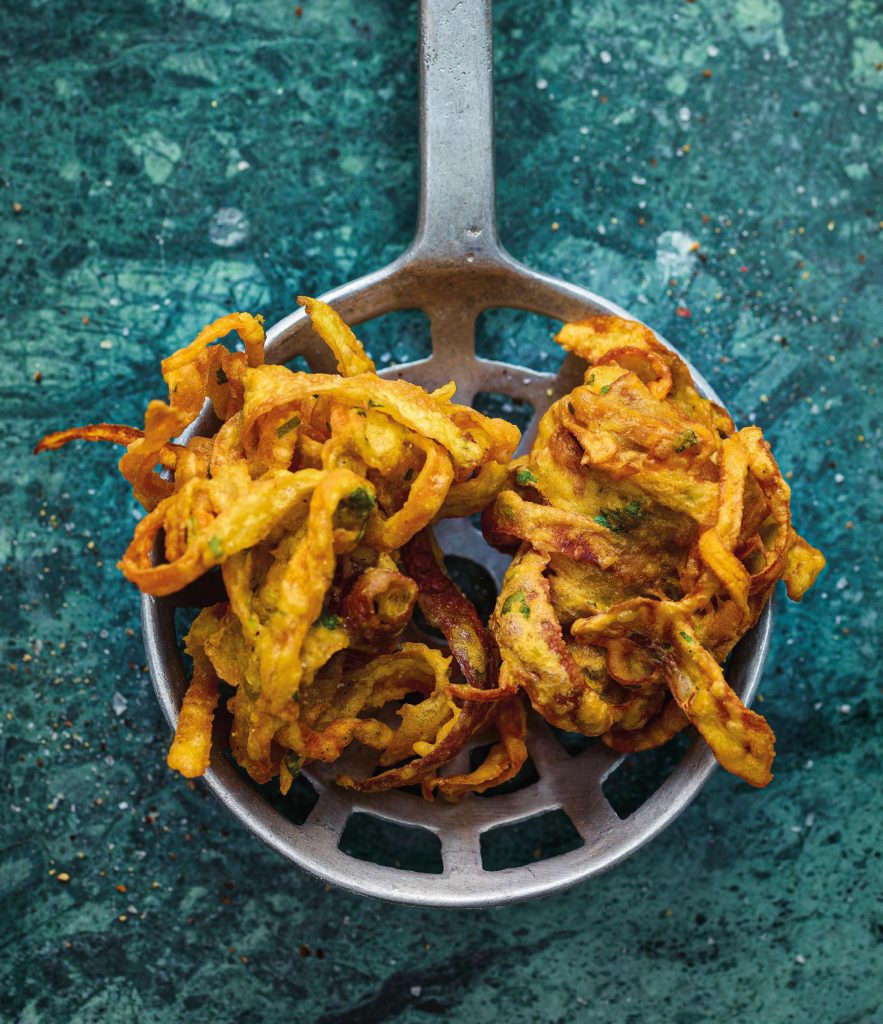 Here's an idea for using up those vegetable peelings. Instead of throwing them away, why not have a go at making these tasty zero-waste pakoras? You can use any veg you like.
Ready in: 10 minutes
Serves: 1
• Handful of vegetable peelings (I used carrot and potato) • Handful of coriander (it doesn't matter if it's past its best) • 3 tbsp chickpea flour • 1 tsp curry powder • Splash of water • Vegetable oil • Salt and pepper
Either heat a few inches of oil in a deep frying pan over a medium heat, or get out your deep-fat fryer and set it to a medium heat (around 170C).
In a bowl, mix together the vegetable peelings, coriander, flour, curry powder and a pinch of salt and pepper.
Add a little water, a splash at a time until you get a batter-like consistency. It should look as if you have coated the veg in a few tablespoons of yoghurt.
Drop the mixture into the hot oil, adding 1 tablespoon at a time, and fry for about 3 minutes until golden brown.
Set aside on a plate lined with paper towels to drain while you cook the remaining pakoras, then serve.
Gnocchi pomodoro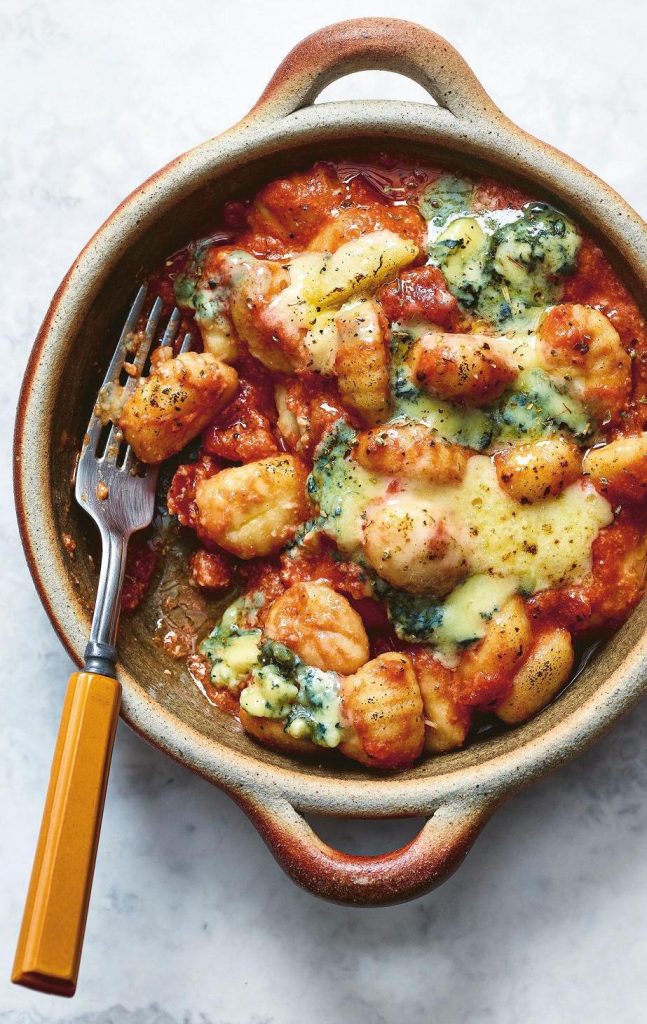 This recipe is all about using up that leftover cheese in the fridge: the more the better, and don't be afraid of mixing. Here Stilton has been added along with a little Cheddar, for a dramatic depth of flavour.
Ready in: 35 minutes
Serves: 1
• 200g chopped tomatoes (from a 400g tin) • Handful of shop-bought gnocchi • Handful of grated Cheddar cheese • A few small chunks of stilton • 1 tsp dried oregano • Olive oil • Salt and pepper
Preheat your oven to 180C/350F/ Gas 4.
Grab an ovenproof dish and add the chopped tomatoes and gnocchi. Add some of the grated cheddar and chunks of Stilton, then season with salt, pepper and oregano.
Give it a little stir, then scatter over the rest of the cheese and drizzle with olive oil.
Bake for about 35 minutes or until the cheese is bubbling and everything is cooked through, and then serve.
Thai pea curry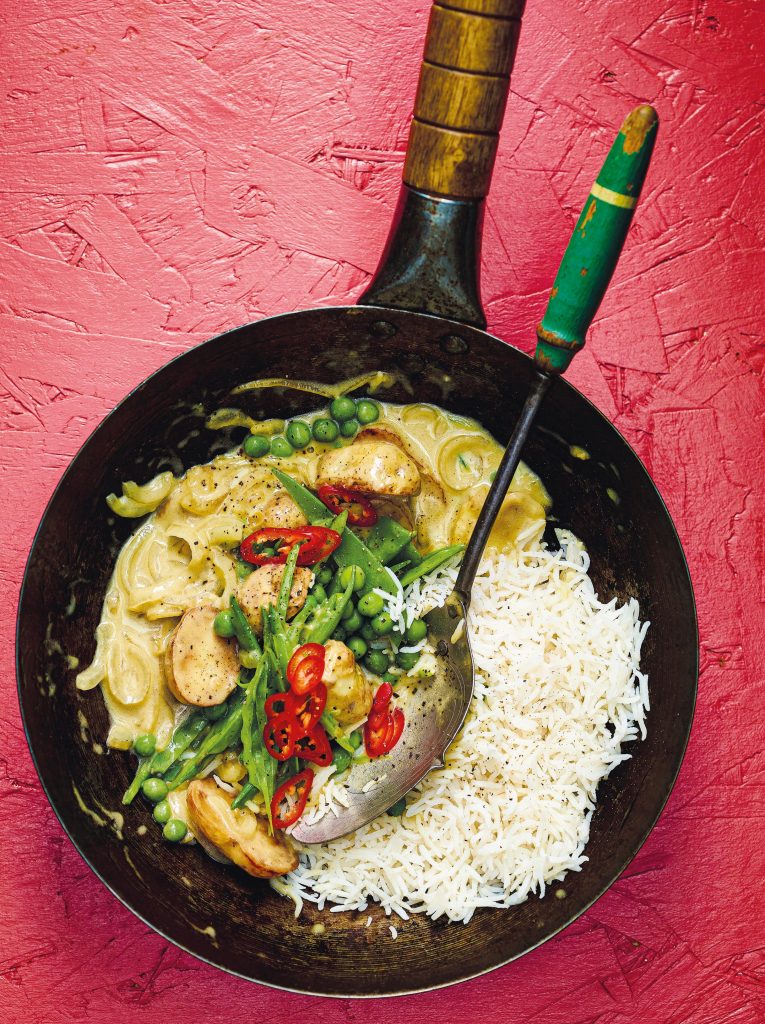 There are loads of curries that feature peas and potatoes, so I thought I'd mix together elements from a couple of different curries to create a new one. This is a quick and easy dinner, but it packs a healthy and tasty punch. You can add in any other veg you've got kicking around in the fridge, like carrots cut into matchsticks, diced peppers or a few broccoli florets.
Ready in: 15-20 minutes
Serves: 1
• ½ mug of rice • 1 mug of water • 1 onion, sliced • A few small potatoes, halved • 1 tbsp Thai green curry paste • 200ml coconut milk (from a 400ml tin) • Handful of frozen peas • Handful of mangetout (optional) • 1 red chilli, sliced, or a pinch of dried chilli flakes • Olive oil • Salt and pepper
Put the rice and the water in a saucepan with a lid and place over a medium heat. After about 7 minutes, when all the water is absorbed and the rice is cooked, turn off the heat and set aside.
Meanwhile, pan-fry the onion and potatoes in a splash of oil over a medium heat for about 10 minutes until they just start to colour.
Add the Thai green curry paste and coconut milk and stir. Simmer for a few minutes, then add the peas and mangetout and simmer for a few minutes more until the vegetables are cooked.
If the potatoes are taking a while and the sauce becomes too thick, just loosen with a splash of water.
Season to taste, then garnish with sliced red chilli or dried chilli flakes and serve with the rice
Top tip
• Some Thai curry pastes contain fish sauce, so remember to check the label if you're vegan or vegetarian.
Oven – baked pasanda curry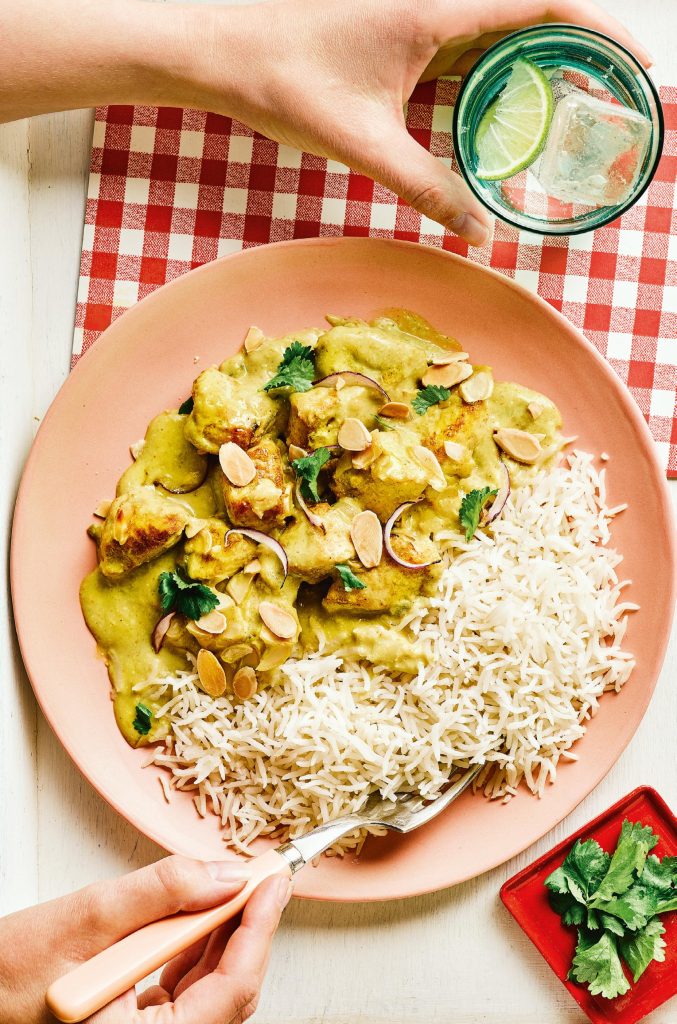 This slimming version of a pasandra curry is a one-pot recipe so you won't need to worry about heaps of washing up! You can use whichever light cream cheese you have on hand for this dish, and serve it with freshly boiled rice and extra veggies for a tasty, fuss-free fakeaway.
Ready in: 50 minutes
Serves: 4
• 500g diced chicken breast • 1 tsp mild curry powder • 1 tsp ground coriander • ½ tsp ground cumin • ½ tsp granulated sweetener • 2 tbsp ground almonds • 120g red onion, peeled and thinly sliced • 250ml chicken stock (1 chicken stock pot dissolved in 250ml boiling water) • 2 tbsp low-fat cream cheese • 1 tbsp flaked almonds
Preheat the oven to 200C/400F/ Gas 6.
Put the chicken, spices, sweetener and ground almonds in an ovenproof dish and mix to ensure the chicken is coated evenly in the spices and almonds. Scatter over the sliced onion, pour over the stock and bake in the preheated oven for 40 minutes.
Remove from the oven and carefully stir in the cream cheese. Sprinkle the flaked almonds over the top and pop back in the oven for another 5 minutes, until the almonds have started to become golden.
Remove from the oven and leave to stand for 5 minutes. Serve with your choice of accompaniment.
Sweet potato chilli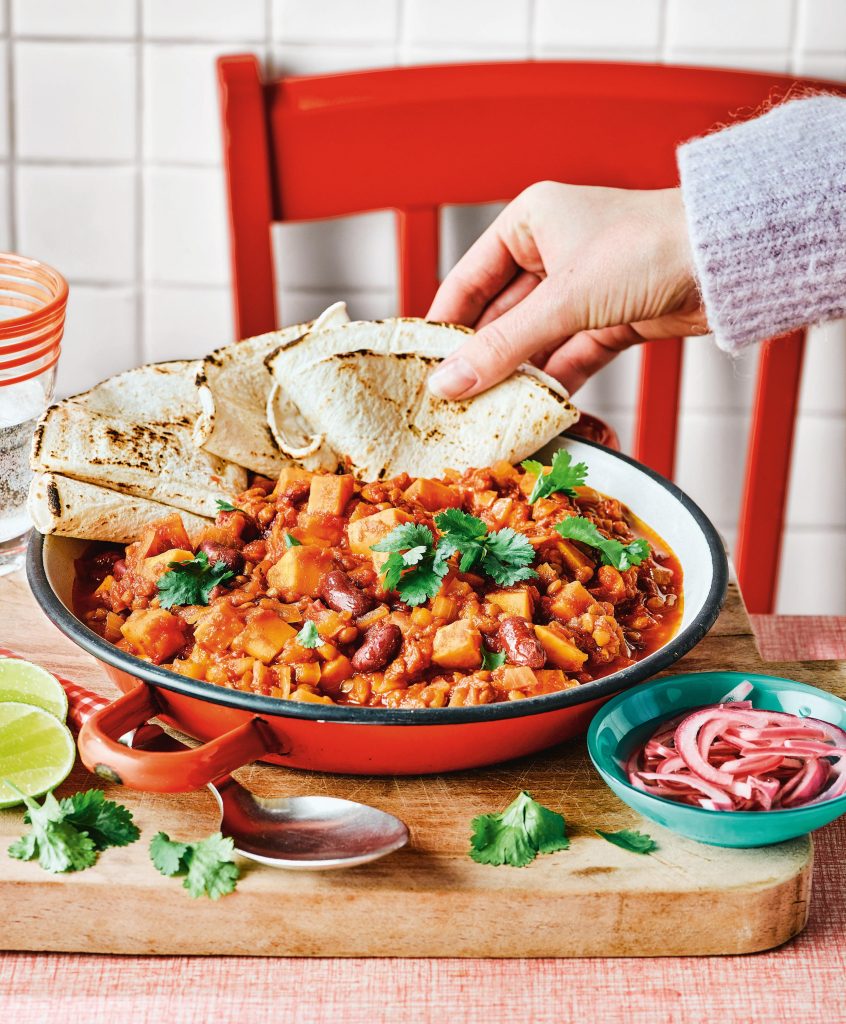 This sweet potato chilli has all of the delicious flavours you'd expect from a classic chilli, but without the meat. It has a really subtle kick, but you can easily modify how spicy it is by adjusting the chilli powder.
Ready in: 50 minutes
Serves: 4
• low-calorie cooking spray • 2 onions, peeled and diced • 1 pepper (any colour), deseeded and diced • 4 garlic cloves, minced • 450g sweet potato, peeled and cut into 1cm (½in) chunks • 300ml vegetable stock (1 vegetable stock cube dissolved in 300ml boiling water) • 3 tbsp balsamic vinegar • 2 tsp Henderson's relish or Worcestershire sauce • 2 tsp smoked paprika • 2 tsp chilli powder, or to taste 2 tsp ground coriander • 2 x 400g tins chopped tomatoes • 1 x 400g tin kidney beans, drained and rinsed • 1 x 400g tin green lentils, drained and rinsed • sea salt and freshly ground black pepper • fresh coriander and red onion, to serve
To accompany (optional)
• 50g uncooked basmati rice per portion, cooked according to packet instructions or 4 low-calorie tortilla wraps (gluten-free if needed)
Spray a saucepan with low-calorie cooking spray and place over a medium heat.
Add the onions, pepper and garlic and fry for 5 minutes until the onions start to soften, then add the sweet potato, 300ml stock, vinegar, relish, paprika, chilli powder and ground coriander. Stir and cook for a further 5 minutes.
Add the tomatoes, beans and lentils and stir well. Once it's bubbling, reduce the heat and cover. Cook for 30 minutes, stirring occasionally, until the sweet potato is tender and the sauce is rich and thick. Loosen it with a splash of water if it seems too thick.
Season and serve with rice or wraps, coriander and red onion.