Allergy season is upon us, but there are steps you can take to make your home a safe haven…
Here's a silver lining for everyone whose spring is regularly derailed by pesky pollen: while we've all become infatuated with the seemingly-unstoppable Covid-19 virus, airborne grains that can inflame the mucous membranes inside your nose are a much less daunting opponent. Just ask Dr Beverley Adams- Groom, chief palynologist and pollen forecaster at the University of Worcester's National Pollen and Aerobiology Unit. "Physical barriers really can work," says Beverley, herself a hay fever sufferer. "Pollens can be excluded to a large extent." Ready to make your home a safe space from allergic rhinitis this spring? Here are our five steps…
Create physical barriers
"The obvious advice is to keep doors and windows closed," says Beverly. "Then, pollen can only come in if people bring it in on their clothes and in their hair. In that case the thing to do is ask them to change their clothes as soon as they get in. It's a pain, but that's what I ask my husband to do. He works outside a lot so he's my main source of pollen in the home. If he's not around, I'm not having a problem."
Containing pollen around entrance ways requires the common sense approach we take to muddy boots or wet umbrellas: make space for outer garments and outdoor shoes near the entrance to your home, and clean this areas more regularly in pollen season, just as you might on wet days. "Pollen is relatively heavy," says Beverley. "It settles out really quickly. There will be some accumulation in dust, but as long as you wipe surfaces often and vacuum regularly you will keep it at bay."
The grain sizes of pollen mean a HEPA-filter shouldn't be necessary to catch these allergens.
Embrace the air drier
Got a perfect drying day? Oh dear. "It takes a little breeze – about 3mph to 5mph – to lift pollen off the flowers on the tree or the grass," explains Beverley. "The pollen is then blown in gusts away from the plant but drops really quickly. In more breezy weather some of the pollen will be lifted into the air in significant accumulations, so people further away will breathe it in and get hay fever. That's why sunny and breezy day are the worst days for hay fever sufferers. We also have to contend with the small amount of pollen that, on nice days, gets caught up in air currents and taken up into the upper atmosphere. Later, when the weather calms down, the pollen can filter down to nose level. That's why we often get raised levels in the evening when the weather has settled down." Even if your garden or balcony doesn't appear close to allergenic trees or grasses, pollen carried on the breeze or falling from the atmosphere can accumulate on washing, making outdoor drying a no-no while allergenic species are flowering.
Tackle pet-borne pollens
Got pets? They could be sabotaging your attempts at a pollen-free home. "If they're outside for any period of time, pollen can accumulate in their fur," says Beverley. "A wipe with a damp cloth can help." But don't worry them unless the conditions are right for pollen to drift. "On humid, damp days the pollen struggles to get airborne and the trees often don't release their pollen anyway," says Beverley. Even when conditions are right, short stints outside won't cause pets to accumulate enough pollen grains to trigger an attack of symptoms. "With birch pollen, which is the main one people are concerned with in spring, we have to have around 40 grains per cubic metre before people will start to have a reaction," says Beverley. "That's quite a lot of grains to get into your home; it's very much an outdoor amount." Unless your pets are loitering under birch trees they may not bring significant amounts into your home.
Consider an air purifier
"If you live in a rural setting with lots of pets coming and going you could consider getting an air purifier to draw the pollen out of the atmosphere," suggests Beverley. "That would help." The units, designed to suck in and trap airborne allergens, are widely available from big retailers such as John Lewis and Argos, but you'll find a broader range, plus expert advice, from Country Durham specialists Breathing Space (breathingspace.co.uk). Air purifiers are designed to tackle a host of irritants from pollution and pet allergens to smoke and even viruses, so ask questions to find a unit with costs and operating noise worth the improvement in air quality.
Get treatment
It's natural to want to reduce your reliance on meds, but saving treatments for last-resort use could impede their calming effect on your nasal passages. The advice from Allergy UK is clear. "People living with hay fever should aim to start using preventative or treatment nasal sprays two weeks before symptoms usually begin, and take medication regularly for it to be effective," is the organisation's advice to Health & Wellbeing readers. "Take medication to block the allergic reaction (antihistamines in the form of tablet, liquid or nasal spray) and note that some cause drowsiness. Also take medication to reduce inflammation from the reaction (for example nasal steroid sprays, preferably prescribed by a doctor) in the case of moderate to severe hay fever."
Home helpers
Duchy Organic Pure Set Honey, £3.49, Waitrose'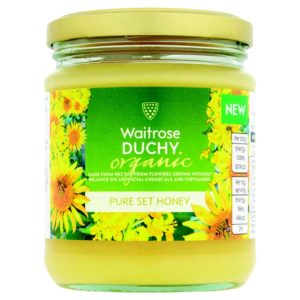 "There are no significant studies to prove honey helps hay fever, but anecdotally people say it does," says Beverley. "Exactly why is a mystery; the pollens we find in honey aren't those that trigger allergies, but there may be some other mechanism at work we don't yet understand."
A. Vogel Pollen Forecaster
Stay up-to-date with the latest pollen information by finding your local pollen forecast, thanks to A. Vogel. It features a daily pollen count, as well as a five-day forecast for over 30,000 locations across the UK, meaning you can plan ahead. Visit avogel.co.uk/health/ hayfever/pollen-forecast/
Blue Pure 211 Air Purifier, £349, breathingspace.co.uk
Using as little energy as a light bulb while on its recommended eco setting, this sleek unit can consistently remove pollen grains from a room up to 57m².