Move over tofu, there's a new form of plant-based protein in town.
Designed to mimic the taste and texture of seafood, Good Catch has released three flavours of plant-based tuna that contain over 18g of protein in each serving.
Inspired to create a product that meant seafood without sacrifice, the founders felt passionate about caring for our oceans and sea creatures, while aiming to make plant-based living accessible for everyone.
Here are three delicious recipes that not only look amazing, but taste incredible, too.
Creamy lemon and dill 'tuna' pasta
Ingredients
150g vegan tagliatelle pasta
Splash of olive oil
½ clove garlic
150g vegan cream cheese
Zest of 1 lemon
Juice of ½ a lemon
¼ tsp vegan Dijon mustard
1 pack Good Catch Oil & Herbs plant-based tuna
Small bunch of dill, finely chopped
Salt and pepper
Method
1. Cook the pasta as per the packet instructions, making sure the water is well seasoned with salt. (Tip: the water should be as salty as the sea!) When the pasta is cooked, remember to save a ½ cup of the pasta water before draining.
2. Heat a splash of oil in a medium sized frying pan over a low heat and fry the garlic for 1-2 minutes until fragrant and soft. Add in the vegan cream cheese and lemon juice, stirring until it has melted into a sauce. Add the pasta water, Good Catch plant-based tuna and Dijon. Stir again to combine.
3. Remove from the heat and stir though the dill and drained pasta. Season with plenty of freshly milled black pepper and more salt if needed.
4. Serve and enjoy!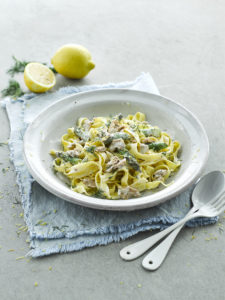 Vegan poke bowl
Ingredients
100g red cabbage finely shredded
¼ tsp salt
Juice of ½ a lime
150g sushi rice
1 tbsp. rice vinegar
1 avocado – peeled and sliced
A handful of toasted cashew nuts
1 pack Good Catch Naked in Water plant-based tuna
150g pineapple, peeled and cut into cubes
A handful of micro herbs or cress
1 carrot, finely shredded
80g cucumber- peeled and deseeded, cut into half-moon shapes
1 tsp togarashi spice
For the dressing:
20ml soya sauce
10ml sesame oil
¼ tsp ginger paste
¼ tsp maple syrup
1 tsp lime juice
Vegan mayonnaise to serve
Method
1. Add the red cabbage to a bowl and sprinkle over the salt and lime juice. Give the cabbage a squeeze with your hands and set aside whilst preparing the rest of the poke bowl.
2. Cook the rice as per the packet instructions. When the rice is cooked tip out onto a plate and sprinkle over the rice vinegar. Leave to cool.
3. Whisk together the dressing ingredients until combined.
4. Spoon the cooled rice into the base of 2 bowls, arranging the cabbage and remaining prepared toppings on top.
5. Sprinkle the poke bowls with the togarashi. Drizzle over the dressing and add a dollop of vegan mayonnaise to serve.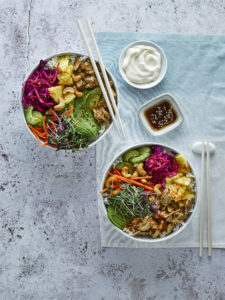 Mediterranean black bean and 'tuna' tacos
Ingredients
½ red onion, sliced thinly
1 lime
1 tsp cumin seeds
2 tsp coriander seeds
1x 400g tin of black beans drained
1 tsp olive oil
Salt and black pepper
6 small flour tortillas
1 small tub of shop bought guacamole
1x 400g tin of black beans drained
2 packs Good Catch Mediterranean plant-based tuna
2 tbsp. fresh or pickled jalapenos
seeds from ½ a pomegranate
small bunch of fresh coriander leaves picked
Method
1. Place the red onion in a small bowl and pour over just enough hot water to cover. Leave for 10 minutes before draining and squeezing out the excess water. Season the onions with a generous pinch of salt and squeeze over the juice of half a lime. Set aside whilst preparing the remaining elements.
2. Lightly toast the cumin and coriander seeds in a small frying pan until fragrant. Place in a pestle and mortar and bash to a course powder. Mix the seeds through the black beans, squeezing in the juice of the remaining lime. Add in the olive oil and season generously with salt and black pepper.
3. Heat a griddle pan until searing hot and cook the tacos until strong lines appear and they are slightly charred around the edges. Keep them warm under a clean tea towel as you go.
4. Spread the tacos with the guacamole, top with the beans, pickled red onion, Good Catch plant-based tuna, jalapenos, pomegranate seeds and coriander leaves to serve.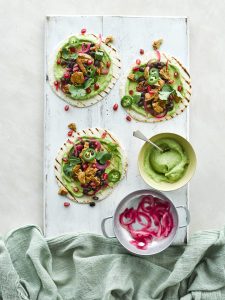 Continuing with Veganuary? Here's how a plant-based diet impacts different age groups.