Eggs, milk, honey – the ingredients and toppings for pancakes don't exactly cover everyone's dietary choices, so when a vegan recipe comes along we love to see it.
Whether you're short on time or craving something tasty for breakfast, Sweet Freedom has you covered with three recipes even non-vegans will approve of.
Quick and easy pancakes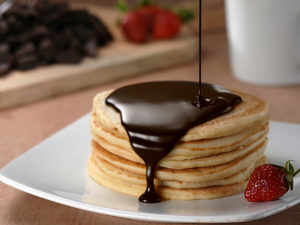 Serves: 4
Ready in: 20 minutes
Ingredients
200g your choice flour*
2 tsp baking powder
230ml plant based milk or water
2 tbsp Sweet Freedom Fruit Syrup
1 tbsp coconut oil, melted and cooled
Extra coconut oil for frying
Sweet Freedom Choc Shot for drizzling and berries
Method
Blend all pancake ingredients together and pulse until smooth.
Heat the coconut oil in your frying pan, then drop the batter into the hot pan, spread if needed as the batter is quite thick.
Flip or turn when bubbles appear.
Repeat with all batter and keep pancakes warm in a stack in a low oven.
Serve warm topped with fresh berries and a drizzle of Sweet Freedom Choc Shot liquid chocolate.
*depending on flour you may need to use a more or less liquid, for example, coconut flour absorbs more liquid than say almond flour.
Light, fluffy and delicious pancakes
Serves: 1-2 (makes a stack of 5)
Ready in: 20 minutes
Ingredients
3/4 cup self raising flour
1 tsp baking powder
1 tsp cinnamon
1/2 cup plant based milk
Coconut oil for frying
Sweet Freedom Fruit Syrup or Caramel Syrup for topping
Fresh or frozen berries
Method
Whisk pancake ingredients together until smooth using a blender or by hand.
Add the coconut oil to your frying pan and place over a medium heat, once hot add 3 tbsp of the batter.
Flip pancakes when bubbles form and repeat until all batter used.
If using frozen berries, warm them through in a pan with a generous squeeze of Fruit Syrup, then spoon over your pancake stack.
Mini pancakes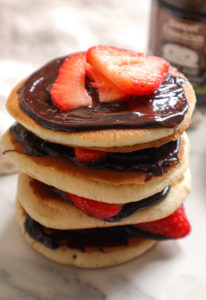 Serves: 1
Ready in: 15 minutes
Ingredients
2 ripe bananas
90g oat flour (plain and gluten free flour also work)
150ml plant based milk
1 tsp baking powder
⁠2 tbsp Sweet Freedom Fruit Syrup
Oil for frying
Sweet Freedom Choc Pot chocolate spread and strawberries for layering
Method
Whizz all pancake ingredients in a blender. ⁠
Heat oil in a frying pan over a low to medium heat⁠.⁠
Pour a palm sized puddle of batter into your pan and cook until golden brown on both sides⁠.⁠
Repeat with the remaining batter. ⁠
Spread a layer of Choc Pot and strawberries on each pancake.
You can find Sweet Freedom's syrups, choc shots and pots from Asda, Tesco, Morrisons, Sainsbury's, Waitrose and Ocado.