Research suggests that a Mediterranean diet including tree nuts, primarily walnuts, is associated with a 30 percent lower risk of cardiovascular events, such as heart attack, stroke, or death and specifically a 46 percent lower risk of stroke, when compared with a low-fat diet1.
Looking for some Mediterranean diet inspiration? Dip your toe in the world of this healthy eating plan with these delicious recipes from our brand of the month, made just for you!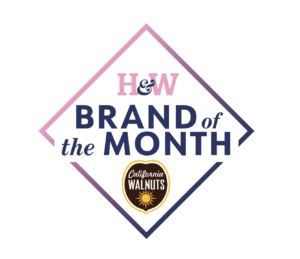 Orzo with roasted squash, California Walnuts and sundried tomatoes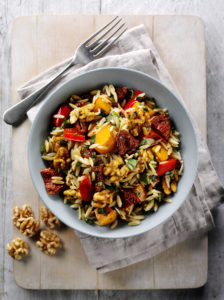 Preparation time: 15 minutes
Cooking time: 25 minutes
Serves: 4
Ingredients
800g butternut squash, peeled and diced
1 red pepper, diced
75g California Walnut halves
150g sundried tomatoes, halved (plus 2 tbsp olive oil from the jar)
1 tsp honey
1½ tsp smoked paprika
200g orzo pasta
25g pack basil, shredded
Method
Preheat the oven to 200°C/gas mark 6.
Place the squash, pepper and walnuts in a large roasting tin and toss in 1 tbsp sundried tomato oil, honey and paprika, season and bake for 25 minutes or until tender.
Meanwhile, cook the orzo pasta in boiling water for 9-10 minutes until tender, drain well.
Stir the pasta into the vegetables with the sundried tomatoes, remaining 1 tbsp sundried tomato oil and the basil. Season to taste.
Cook's tip
For added meat, roasted chorizo is great with the squash. You could also try using cooked brown rice or wholewheat macaroni instead of orzo pasta.
Mixed bean, California Walnut and watercress salad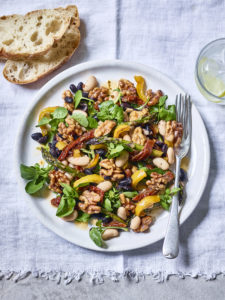 Preparation time: 10 minutes
Serves: 4
Ingredients
1 yellow pepper, sliced
100g California Walnuts
100g pack asparagus tips, halved
50g sundried tomatoes, sliced (plus 3 tbsp oil from the jar)
400g can cannellini beans, drained and rinsed
400g can black beans, drained and rinsed
100g bag watercress, thick stalks removed
2 tbsp white wine vinegar
Method
Preheat the oven to 200°C/gas mark 6.
Place the pepper, asparagus and walnuts on a baking tray and toss in 1 tbsp oil from the tomatoes, roast for 15-20 minutes.
Meanwhile, toss together the beans, sundried tomatoes and watercress, toss in the pepper mixture.
Whisk the remaining 2 tbsp tomato oil with the vinegar, season and toss into the salad.
Cook's tip
Try using 2 cans of mixed beans or butter beans. Rocket works well with this dish too.
Aubergine and California Walnut parmigiana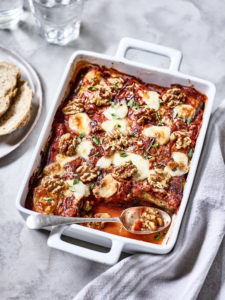 Preparation time: 20 minutes
Cooking time: 30 minutes
Serves: 4
Ingredients
2 aubergines, thinly sliced lengthways
2 tbsp olive oil
1 red pepper, finely diced
100g broccoli florets, finely chopped
2 tomatoes, chopped
50g California Walnuts finely chopped plus 15 whole Walnuts
125g pack reduced fat mozzarella, thinly sliced
400g passata
1 tbsp Parmesan, finely grated
Method
Preheat the oven to 200°C/gas mark 6.
Brush the aubergine slices with a little oil and griddle or fry for 1-2 minutes each side.
Add the remaining oil to a large frying pan and fry the pepper, broccoli, tomatoes and chopped walnuts for 4-5 minutes until softened, season well.
Select the 12 largest aubergine slices and place half a slice of mozzarella in the centre, divide the filling between the slices and roll up, placing them seal side down in a greased ovenproof serving dish. Finely chop any remaining aubergine slices and stir into the passata, pour this over the aubergine rolls and scatter over the remaining mozzarella, torn and the whole walnuts.
Sprinkle with Parmesan and bake for 30 minutes until golden and tender.
Cook's tip
Great served with a salad and crusty bread. You can make this dish in advance and simply cook when needed.
1. Estruch R, Ros E, Salas-Savaldó J et al. Primary prevention of cardiovascular disease with a Mediterranean diet supplemented with extra virgin olive oil or nuts. N Engl J Med. 2018 Jun 21;378(25):e34. doi: 10.1056/NEJMoa1800389. Epub 2018 Jun 13.