High protein recipes are a nutritious and healthy option, even if you're not heavily into fitness.
They'll help to keep you satiated and build and repair muscle, so if you've been feeling slightly sluggish recently, you may want to take a look at your plate to boost your performance and reach your goals.
This is where Rhiannon Lambert's new e-book comes in. Part handbook, part cookbook, A Simple Way To Fuel Fitness contains all the evidence-based advice from the registered nutritionist, plus 40 recipes to help you on your way.
Oat Pancakes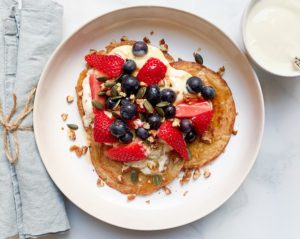 "There's a reason pancakes are such a popular breakfast dish.
"Not only are they delicious with any topping, but they can also be super nutritious, like these ones made with oats so they are high in fibre.
Add your favourite protein powder and dollop with yoghurt and these are perfect post workout fuel. Make a large batch and freeze some for later so you can enjoy these even when short on time!"
Serves 2-3
Cooking And Preparation Time: 20 minutes
Ingredients
Olive oil
120g rolled oats
1 tsp baking powder
40g protein powder
2 eggs
1 banana, mashed
160ml milk
Pinch salt
Toppings: Yoghurt, Berries, Maple syrup, Crushed nuts and seeds
Method
Process the oats in a blender to form a chunky flour.
In a mixing bowl, use a hand blender (or food processor) to combine the mashed banana, eggs and milk. Add the oat flour to the mixture, along with the baking powder and protein powder. Blend until it forms a smooth batter, about 3-4 minutes.
Drizzle some oil onto a non-stick frying pan over a medium heat, and gently ladle the batter into the pan. It generally works well making 4 at a time, but it depends on the size of your pan, and how big you like the pancakes.
Fry for around 3 minutes on each side before flipping them with a spatula.
These are delicious served with yoghurt, berries, maple syrup, crushed nuts and seeds. They can be stored in the fridge in an airtight container for up to 3 days, or frozen for later.
Chickpea Curry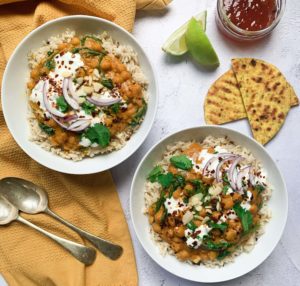 "A super simple plant-based curry that is ready in under 15 minutes! A speedy way to refuel and recover after a workout, with a great balance of protein, fibre, vitamins, and spices!"
Preparation and Cooking Time: 15 minutes
Ingredients
2 garlic cloves, crushed
1 red onion, diced
20g fresh ginger, peeled and finely grated
1 tsp ground cumin
1 tsp cayenne pepper
1 tsp turmeric
1/2 tsp chilli flakes
2 tbsp tomato puree
2 cans chickpeas (800g)
1 tin (400g) chopped tomatoes
200ml vegetable stock
1 can coconut milk
50g ground almonds
200g bag spinach
Olive oil
For serving: coriander, yoghurt, lime, chutney, rice and naan / chapatti
Method
Put a heavy bottomed pan on a medium heat, drizzled with olive oil. Add the crushed garlic, grated ginger, and the diced red onion. Fry for 4-5 minutes, before adding the spices and tomato puree. Stir well to avoid it sticking to the pan.
Gradually tip in the chickpeas, coconut milk, tinned tomatoes, vegetable stock and ground almonds, stirring well. Continue to cook for 8-10 minutes, allowing the sauce to reduce.
Remove from the heat, and stir through the spinach, allowing it to wilt. Serve with rice and naan/chapatti, and sprinkle with coriander. Drizzle with yoghurt, if desired.
Apple & Blackberry Crumble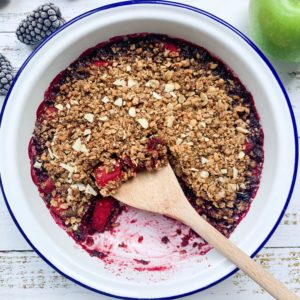 "A classic fruity pud with a nutty oat crumble topping, this apple and blackberry crumble is sure to be the warming hug you need after a tough outdoors training session!"
Serves 4
Preparation and Cooking Time: 45 minutes
Ingredients
For the fruit filling:
2 cooking apples, peeled and cored
200g frozen blackberries
Juice from ½ lemon
2 tbsp (30g) soft light brown sugar
1 tsp cinnamon
For the crumble topping:
60g almonds
40g walnuts
100g jumbo rolled oats
1 tsp cinnamon
1/2 tsp nutmeg
1/2 tsp ginger
2 tbsp (30g) butter / spread
3 tbsp honey / maple syrup
Method
Preheat the oven to 180°C.
To make the filling, place the blackberries in a saucepan with 2 tbsp water and juice from half a lemon. Add the apples, chopped into very small cubes and sprinkled with cinnamon. Add the sugar, stir, and warm through for around 8-10 minutes on a low heat, until the fruit is soft and the sauce bubbling. Add more water, if needed.
To make the topping, blitz the almonds, walnuts and half of the oats in the food processor. Pour into a mixing bowl along with the rest of the oats and the spices, and toss together.
Rub the butter into the mixture to form a crumb. Then pour in the honey or maple syrup, mixing until it becomes slightly sticky.
Pour the fruit mixture into the bottom of a 20cm pie dish, and gently scatter the crumble mix on top. Bake in the oven for 25-30 minutes, until the crumble is lightly golden brown and crispy, and the sauce beginning to bubble.
Best served warm with vanilla ice cream or yoghurt!