Discover otherworldly landscapes, adventure off the beaten track and soak up serenity on a nature-filled holiday in Queensland, Australia
The past two years or so have taken its toll on us both mentally and physically, which is why carving out time out in 2022 will be more important than ever before. So, what better way to switch off and reconnect with our surrounds and ourselves than on an unforgettable adventure like no other? We know just the place. From the kaleidoscopic underwater world of the Great Barrier Reef and the verdant tangle of ancient rainforests to the rich red sands of the Outback, the diverse landscapes of Queensland, Australia are waiting to be explored…
Roam the rainforest
Take a breath and imagine the mist on your skin, the scent of woodland in the air and a soundtrack of birdsong and babbling brooks as you deep dive into the beauty of Queensland's rich, verdant green rainforests. Across the state, there are over 1,000 national parks, forests and other protected areas giving you ample opportunity to get some serene green time. In the Tropical North of the state is the Wet Tropics – home to the oldest tropical rainforests in the world including the Daintree Rainforest. Further south you can explore the rainforests of the world's largest sand island, K'Gari (Fraser Island), wander through Eungella National Park in Mackay, or discover the World-Heritage listed Gondwana Rainforests in Southern Queensland Country.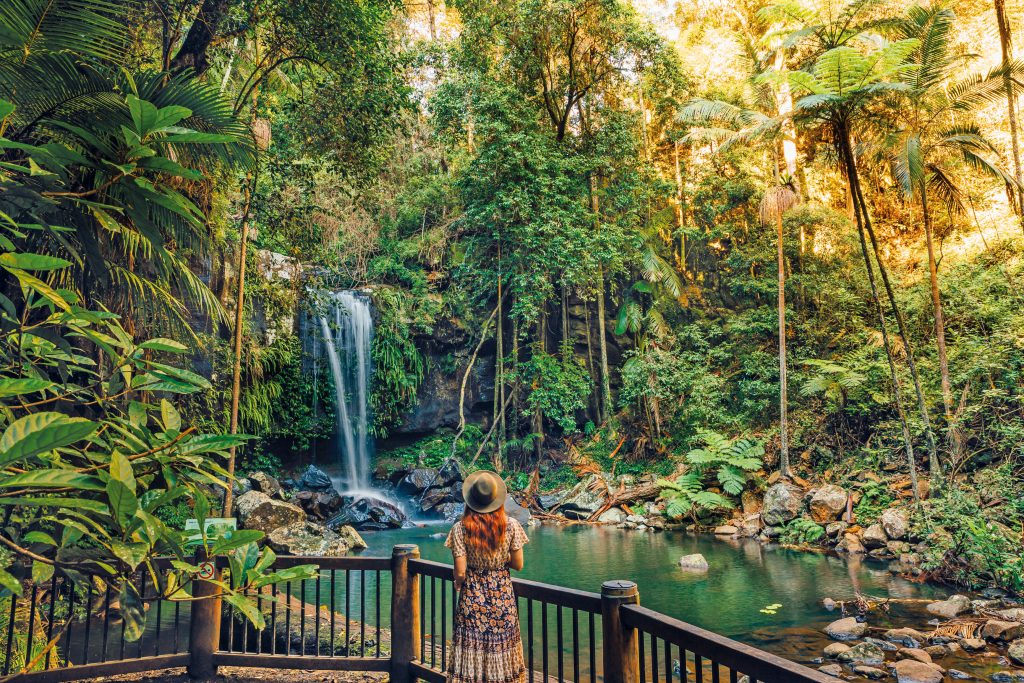 And, while there are plenty of ways to explore these ancient natural wonders, it's the journey by foot that will allow for a deeper connection with the surrounding landscape. Just over an hour outside of Queensland's capital city Brisbane, you can embark on the Spicers Scenic Rim Trail two or three-day walks. Experienced guides will lead you through the breath-taking landscapes of the Gondwana Rainforests before overnighting at luxury properties along the way.
Home to 40 percent of Australia's bird species, along with butterflies, marsupials and reptiles, the Daintree Rainforest is an experience not to be missed. Walk with an Aboriginal traditional guide and learn how this incredible ecosystem has been used as a source of food and bush medicine for thousands of years. Extend your rainforest stay with an overnight at the luxurious Silky Oaks Lodge which is set to reopen in December following a considerable refurbishment. From morning yoga to swimming in the crystal-clear waters of Mossman Gorge, unforgettable nature encounters are at the very heart of the Silky Oaks offering.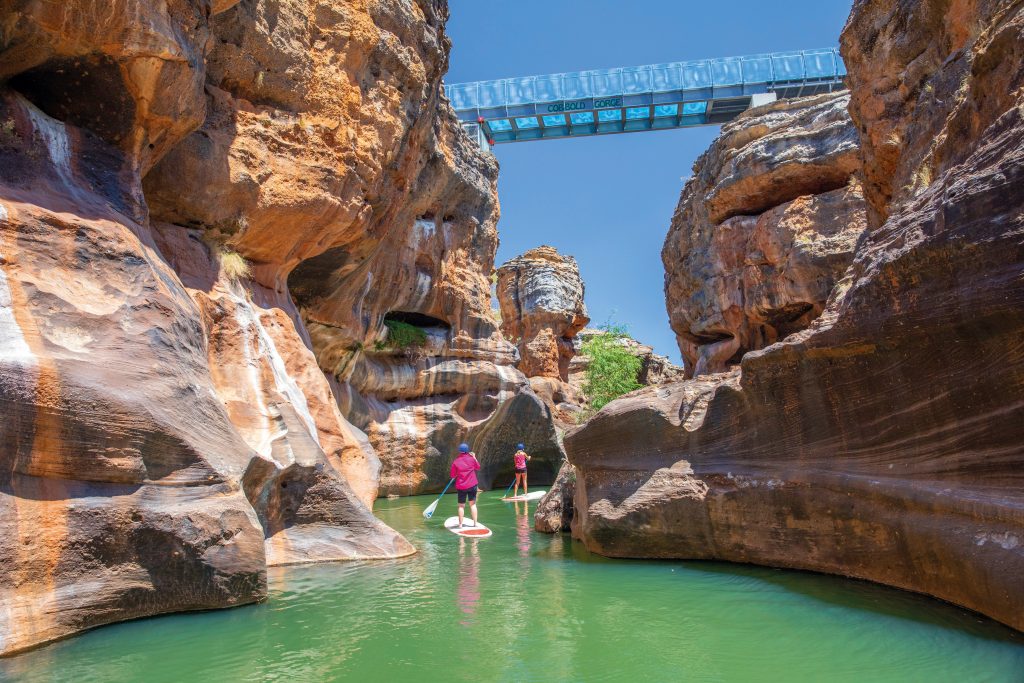 Soak up the sun
Did you know Queensland boasts more than 900 islands off its 4,333-mile coastline? From idyllic coral cays to pristine beaches, there's ample opportunity to revel in rest and relaxation, connecting with nature in unique and unforgettable ways. Animal lovers will jump at the chance to witness turtle nesting and hatching between November and March every year, and Lady Elliot Island and Heron Island in the Southern Great Barrier Reef Region are two magical places to witness new life begin. Further north at Cape Hillsborough National Park in Mackay, just an hour's flight from Brisbane, you can have breakfast with kangaroos and wallabies on the beach.
Or to simply switch off in idyllic surrounds, the iconic Whitsundays offers ample beachside bliss. Hideaway at Elysian Retreat, the first 100 percent solar-powered retreat on the Great Barrier Reef, or opt for Hamilton Island to find a slice of paradise to suit every taste.
Dive in
One of the world's most remarkable natural wonders, the Great Barrier Reef, lies just off Queensland's coastline stretching 1,429 miles in length. The Great Barrier Reef is the largest and most extensive coral reef system in the world and owing to its impressive size, it's the only living structure that can be seen from space. There are so many ways to connect with the Great Barrier Reef – snorkel or scuba dive to come eye to eye with Queensland's 'Great 8' – a checklist of the Reef's most awe-inspiring underwater wildlife which includes turtles, Maori Wrasse and whales.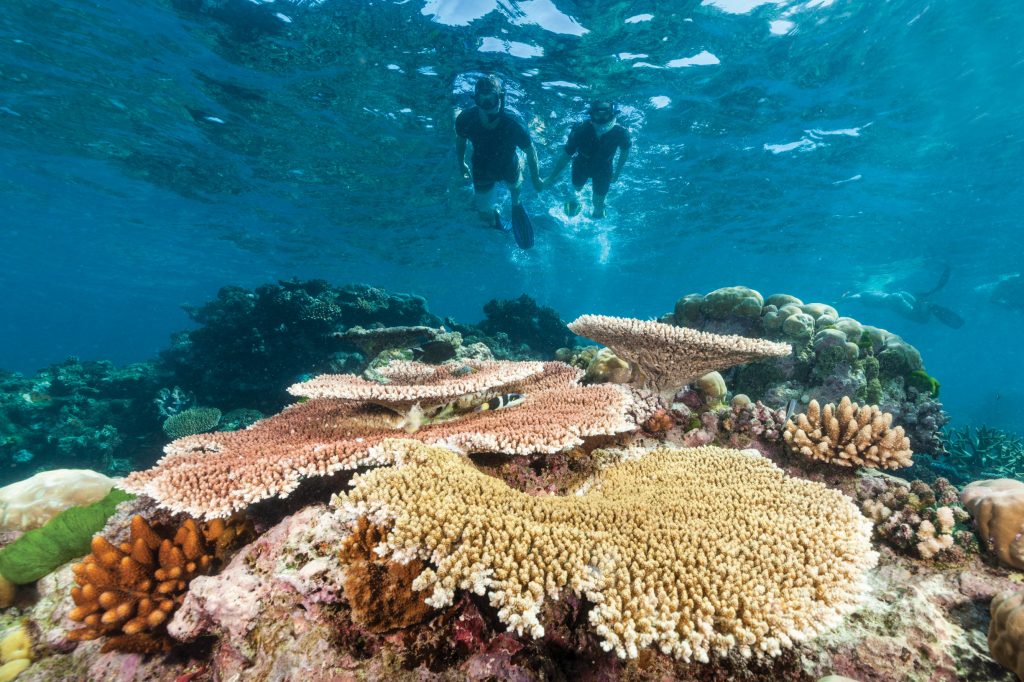 Take a scenic flight over the Reef and touch down at Heart Island on an incredible new experience 'Journey to the Heart' in the Whitsundays, sleep underwater with Reefsuites or dip below the waves and discover this national treasure through an Indigenous lens on a Dreamtime Dive and Snorkel tour in Tropical North Queensland.
Go off grid
There are many square miles of wilderness to explore across Queensland's expansive, red outback. What's more, the journey is all part of the adventure. Hit the vast road on a multi-day drive along the Savannah Way, connecting the beach with Queensland's bush and enjoy taking in the sights from the driver's seat. For a luxurious, nature-filled stay along the way, discover Mount Mulligan Lodge, located two hours west of Cairns on a private 28,000-hectare heritage site.
Offering boutique accommodation in a captivating landscape, here you can practice daily yoga or meditation, kayak around the surrounding waters, soak in your own private bathtub looking out over the escarpment, or experience curated outback adventures. For an authentic Aboriginal cultural experience like no other, a Jarramali Rock Art Tour is your chance to learn all about Australia's Indigenous history. Journey with a Kuku-Yalanji Traditional Owner on a 4WD from Cairns to Laura and discover their connection to country before arriving at a 20,000-year-old rock art site.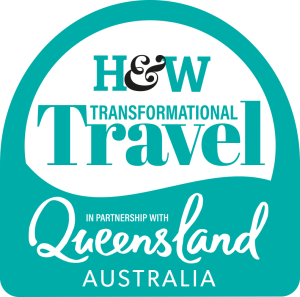 For more information, visit Queensland.com.