For a greater sense of place and self and a deeper connection with your surrounds, discover these enriching, Indigenous experiences in Queensland, Australia.
While travel is about switching off and soaking up stunning scenery, it's also about discovering new cultures, helping to enrich our minds and souls. Surviving over 50,000 years, Australia's Indigenous culture is actually the oldest living culture in the world. From hunting and gathering amongst the mangroves to discovering ancient rock art in the most remote corners, who better to introduce you to Queensland's vast and diverse landscape and peel back its pulsing urban centres than those who know 50,000 years' worth of the country's backstory? Not
only do these experiences prove to be educational and entertaining, but they also develop an understanding of Aboriginal culture allowing you to arrive as you are, but leave a little different, enriched by your experience and the knowledge gained.
See The Great Barrier Reef from a new perspective
A visit to Queensland isn't complete without exploring the world's largest reef system,
the Great Barrier Reef, and Dreamtime Dive & Snorkel (dreamtimedive.com) lets you experience it through Indigenous eyes. From Cairns in Tropical North Queensland, you can venture out to sea with Indigenous rangers who recount the Dreamtime stories of the Gimuy Walubara Yidinji, Gunggandji, Mandingalbay and Yirrganydji people to help you gain a deeper cultural understanding of this diverse ecosystem. Spend the day snorkelling or diving through stunning colourful corals gardens where anemones, sea whips, clams and plate coral are home to a wide variety of marine life including clown fish, angel fish and bat fish.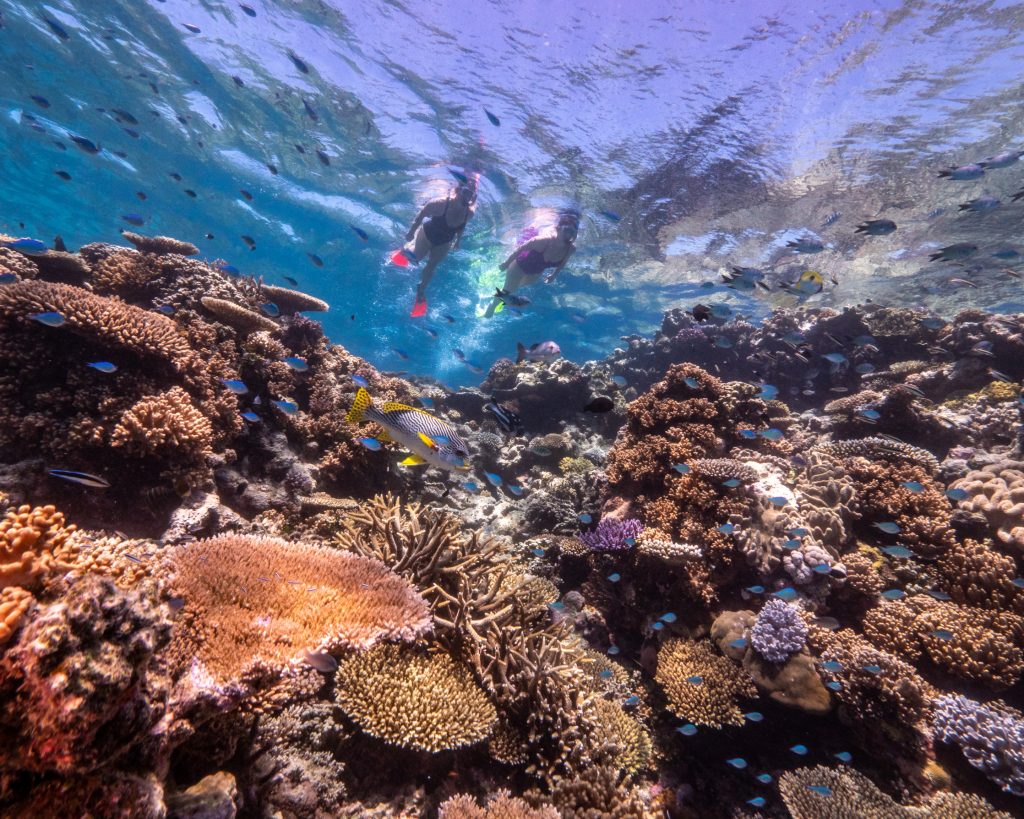 For a new perspective on the iconic Whitsundays and its surrounding Reef, immerse yourself in a unique experience with your own Ngaro Indigenous Guide – learn about the history of these ancient island sea people, their customs and how they hunted and sourced 'bush tucker'. On this day trip, you explore two islands, visit a cave featuring Aboriginal rock paintings, enjoy a stroll through the rainforest, learn how to throw a traditional fishing spear and have the opportunity to learn about the diverse native flora and fauna of the region.
Explore The Daintree Rainforest through an ancient lens
Queensland is home to a number of expansive rainforests, but one of the most iconic is the Daintree Rainforest in Tropical North Queensland, the oldest tropical rainforest in the world. Watch your surrounds transform from a verdant green paradise to
a supermarket and medicine cabinet on a Dreamtime Walk (mossmangorge.com) with a local Indigenous guide. Journey through the rainforest visiting culturally significant sites, past traditional bark shelters and over-flowing, cool rainforest streams.
With Walkabout Cultural Tours (walkaboutadventures.com), you can explore Kuku Yalanji country, the only place where two world heritage-listed sites meet, the world heritage listed Daintree Rainforest and the Great Barrier Reef, and share the cultural connection the people have with their land. Sample some seasonal bush tucker while appreciating the history, culture and traditions of their Australian Aboriginal people for the ultimate memorable travelling experience.
Discover a remote Outback history
For a remote adventure through vast landscapes, Queensland's Outback guarantees an unforgettable experience. Jaw-dropping scenery and breath-taking surrounds awaits on one of Yagurli Tours (yagurlitours.com), an Indigenous-owned business located in Burketown, north-west of Brisbane. Yagurli Tours offer Fishing Charters on the Albert River, 4-Wheel Drive Cultural Tours, Stargazing, Indigenous storytelling and sunset river cruises. The Gangalidda People are recognised as the traditional landowners in the Burketown region, and are part of Australia's rich cultural heritage that dates back more than 70,000 years.
Enjoy Queensland's ancient culture at your own pace with an intimate Aboriginal cultural experience from Culture Connect (cultureconnect.com). Journey to Normanby Station, located an hour from Cooktown
in Tropical North Queensland which is the homeland of the Balngarrawarra people. Join Indigenous traditional owners as they reconnect with their land and ancestors on an exclusive rock art walk, where you'll marvel at rock art rarely been seen by outsiders. Discover traditional food and medicine and learn about the colourful history of Normanby Station. Enjoy morning tea and gain an understanding of how the Balngarrawarra continue their connection with their homelands.
Cultural connections in the city
Indigenous experiences aren't only found outside of the cities. Get a rare insight and gain a deeper understanding of Meanjin (Brisbane City)'s Aboriginal history through Blackcard Cultural Tours. Explore South Brisbane's Cultural Precinct and discover one of the largest collections of Aboriginal public artwoks, or immerse yourself in the ancient history of the city and learn the ancient art of weaving.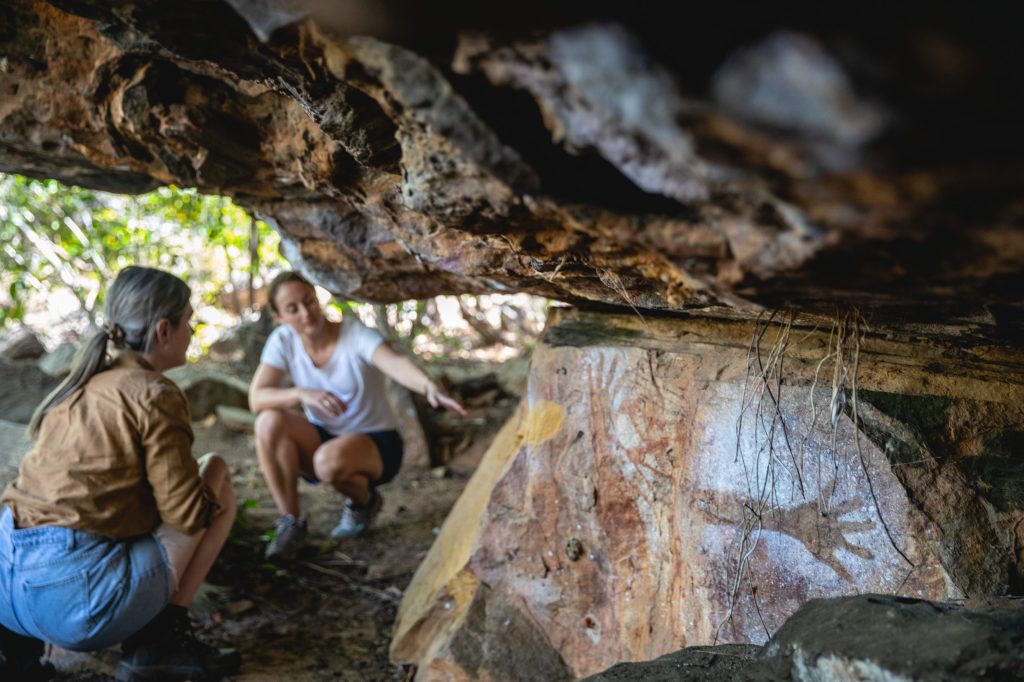 Your trip to Brisbane wouldn't be complete without an educational visit to the multi-faceted cultural hub that is the Birrunga Gallery (birrunga.com). Principal artist and founder of the gallery, Birrunga Wiradyuri, uses his paintings to deliver unique art tours that include truth telling in a way that is entertaining, interactive, inclusive and educational. It's Brisbane's only Indigenous-owned art gallery, offering Indigenous art exhibitions, tours, classes and sales as well as fine dining and consistently amazing coffee, featuring First Nations inspired menus in the licensed cafe. Come and make yourself at home with them – the gallery is accessible for everyone to enjoy.
Did you know?
In celebration and recognition of Queensland's Aboriginal culture, late last year the world's oldest tropical rainforest, the Daintree Rainforest, was handed back to its traditional Indigenous owners, the Kuku Yalanji people. This monumental move helps broaden the engagement visitors can have with Queensland's traditional culture. Meanwhile, further south, the World Heritage-listed island Fraser Island on the Queensland coast was renamed K'Gari (Fraser Island) which in local Butchulla language fittingly means 'paradise'. Exploring Queensland with a Traditional Custodian is a humbling and transformative experience that every traveller should experience at least once. Now, more than ever, the learnings are invaluable.