As we get into the stride of 2022, many of us will be planning holidays and mapping out where we'd like to go in a bid to make up for lost time and take a break from what has been a tough two years. But travel isn't just about a change of scene and a rest, it also has the potential to expand your horizons, help you step outside of your comfort zone and maybe even change you for the better. Over the past few years, transformational travel has become a new trend, but what does it mean exactly? The Transformational Travel Council defines it as "intentionally traveling to stretch, learn, and grow, ultimately leading to new ways of being and engaging with the world."
Essentially, transformational travel is more than just ticking off different cities and creating double-tap-worthy content for Instagram, it also has the potential to inspire an inner journey and lead to life changes when you return. So if you're searching for a getaway in 2022 that allows you to grow and change, first establish your motivation and what you hope to achieve from your holiday. Once you have these objectives clear, it's time to get planning! Whether you're looking to give back, connect with ancient culture, or be humbled by dramatic landscapes, Queensland, has an abundance of transformational travel experiences on its doorstep. 
Help Protect The Environment
In Tropical North Queensland, you can discover the majesty of the Great Barrier Reef, which sits side by side with the world's oldest tropical rainforest, the Daintree Rainforest. Not only will you be inspired to explore the natural beauty of this region, but you can also help protect it too. Certified divers can join conservationists n assessing the health of the Reef thanks o a new project launched by Passions of Paradise based in Cairns. On this day trip, you can visit two exclusive locations and even plant new coral, or you can help to gather and share information about the Great Barrier Reef through research and education at Reef Teach.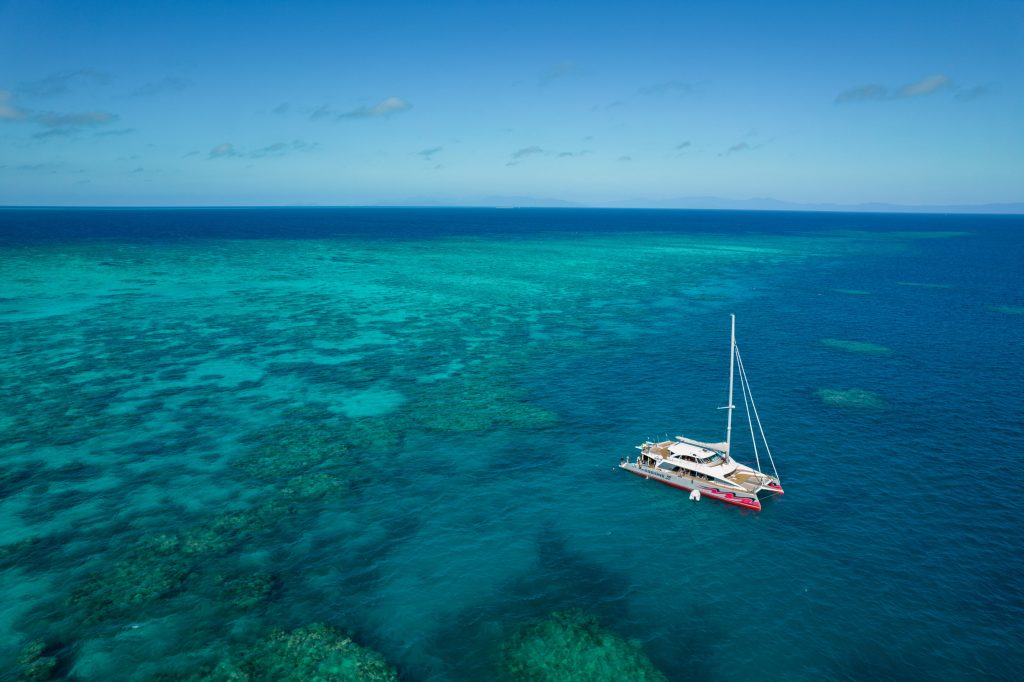 The one- and two-day educational Reef Naturalist programmes help to contribute to the long-term conservation efforts of the Reef. Further south, immerse yourself in environmental advocacy on Lady Elliot Island. Sustainability is at the core of this eco-certified resort in the Southern Great Barrier Reef: sign up for the Reef Ranger programme, join an educational reef walk or talk, take a guided snorkel and watch the sunset over this coral cay that's achieved 100 percent renewable energy status. 
Connect With The World's Oldest Surviving Culture
For a deeper connection with your surrounds – and yourself – while on holiday, experience Queensland's varied landscape through the lens of an Indigenous traditional owner and come away enriched by the experience. In the Whitsundays, The Ngaro Indigenous Cultural Tour is a unique experience delivered by a traditional Ngaro Indigenous guide.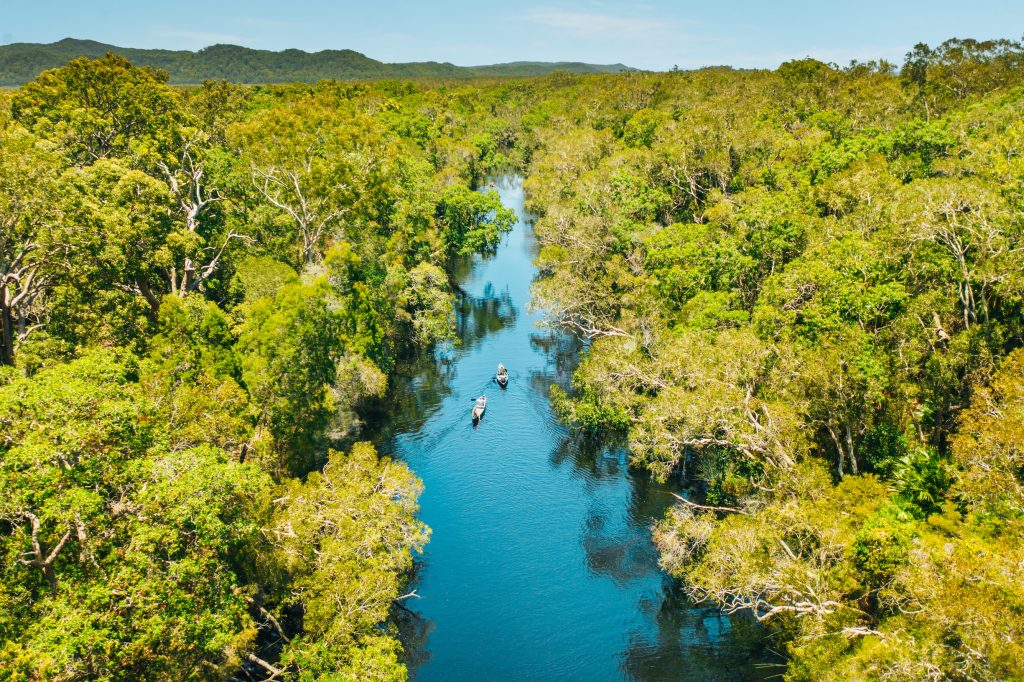 The Ngaro people – a seafaring tribe – have walked The Whitsundays for over 9,000 years and were known for their exceptional craftmanship of winta (three-piece canoes) made from ironbark. If you're keen to discover more about their rich history, take a day tour on foot that not only allows you to see the Nara Inlet artwork with an expert, but you'll also get to try your hand at spear fishing and visit a second island, learning about the Ngaro way of life. Staying in Brisbane? BlackCard Cultural Tours offers a rare opportunity to explore the Indigenous history of Brisbane with local tour guides.
Reset Your Mind, Body and Soul
Taking time out from our daily routine is so important to not only stop and unwind, but also to reconnect with our surrounds and the world around us. Queensland offers an abundance of wellness retreats that allow you to re-centre and rediscover what's truly important in life. Gwinganna Lifestyle Retreat located in the Gold Coast hinterland is the destination to soothe your soul and truly get away from it all. The award-winning retreat offers a variety of experiences, from its relaxing spa and health-focused activities, to its delectable cuisine and wellness education complex.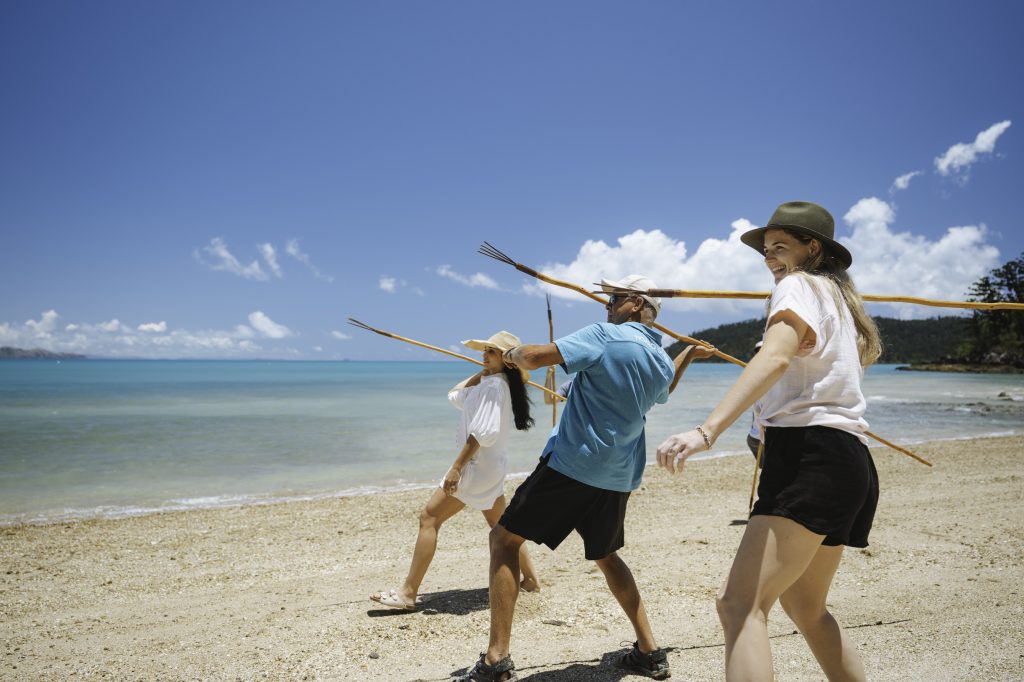 For the ultimate glamping experience, Nightfall Camp should be first on your list. Situated beside the mesmerising headwaters of Christmas Creek and Queensland's ancient Lamington National Park rainforests, you'll reside in a hand-built safari tent, allowing you to truly switch off and be at one with nature.
Step Outside Your Comfort Zone
Travel has the ability to change us for the better, allowing us to learn new things, pick up new skills and grow as a person. Queensland is the perfect place to broaden your horizons and step outside of your comfort zone. The best way to do that? By learning something new. Surfers Paradise on the Gold Coast is an iconic place to start. With over 70km of golden beaches, Go Ride A Wave has all the gear to get you started on your surfing journey by either hiring a board or taking a lesson with one of their experts.
Or for travellers who want to take it one step further and dip below the waves, a scuba dive course with Pro Dive in Cairns, Tropical North Queensland boasts the deepest scuba dive training pool in the region. The five-day course gives students a very realistic idea of what diving really feels like with all the equipment and once you've finished, your efforts will be rewarded with an Open Water Certification (PADI). Now that's a great parting gift to take home!
Immerse Yourself In Mother Nature
Nature encourages us to slow down and soak up our surrounds, and Queensland abounds with natural wonders. Discover awe-inspiring landscapes at Boodjamulla (Lawn Hill) National Park in Queensland's Outback. The emerald waters and lush vegetation of Lawn Hill Gorge form a beautiful oasis and here you can embark on incredible walks, a cruise or canoe to Middle or Upper Gorge or discover ancient fossilised remains at Riversleigh World Heritage Site. If you're an early riser, walk the short but strenuous Island Stack to catch a glimpse of the sunrise over the gorge or hike the Constance Range track for sunset views.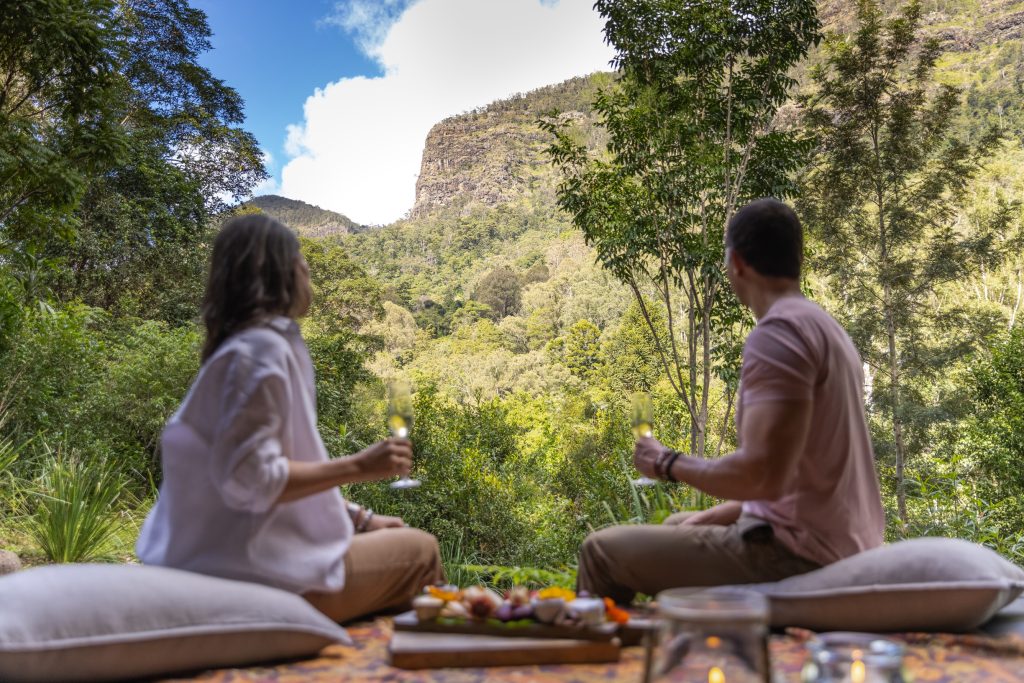 Get a full wild camping experience by staying in Lawn Hill Gorge camping area and make the most of the peace and quiet. If you feel your best self by the water, head to the Noosa Everglades, which are one of only two Everglades in the world. For the ultimate in serene tranquillity, the area is best explored on an eco-cruise or, if you're feeling energetic, in a kayak. Marvel at the reflections of the flora on the banks of the water that appear like a mirage or spot some of the 44 percent of Australian bird species that visit or live in the area.
Set Personal Achievements
Transformational travel can help us thrive both personally and professionally but only when it is done with intention. Setting goals or challenges for ourselves can not only produce a sense of achievement, but they can help us stretch beyond our day-to-day comfort zone. Hiking new distances or meeting new people on a group activity
can provide a much deeper connection with our surrounds. Embark on the Spicers Scenic Rim Trail which is located just an hour outside of Brisbane. Opt for a two-day, or up to seven-day walk along the Great Dividing Range through World Heritage-listed Gondwana Rainforest, before overnighting in complete luxury.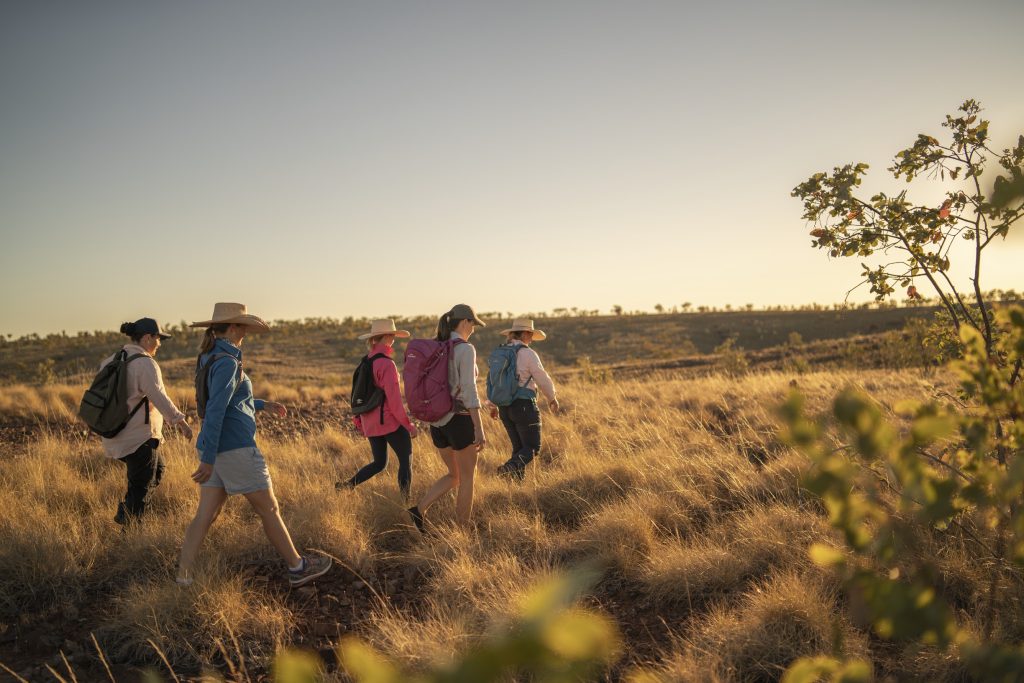 Or for something a little further off the beaten track, head into the Outback with Trek West. Run by a small team of passionate hikers, they have created an opportunity for like-minded people to explore Queensland's hidden landscapes on foot. These personalised hiking experiences become life-long memories to treasure forever – a truly transformational experience in the Sunshine State.
To get planning your 2022 transformational travel, visit queensland.com