Burnout pros and chase-your-tail types, it's time to take mental notes…
Mindfulness. It's a buzzword that's been around in the wellness sphere for some time now. The idea of learning how to be fully engaged and present in the moment seemed a bit left field when it first came on the scene, but since then, you've probably had numerous encounters with it, whether it's a quick five-minute breathwork session or an after-work yoga class.
And while you may be aware of both the physical and mental health benefits of mindfulness in your everyday experiences (stress- relief, improved sleep, lowered blood pressure to name a few), it also can have considerable positive impacts on your travel experiences too. Mindful travel allows you to be present, slow down and truly enjoy the enriching experiences along the way. Here's how to set your wanderlust wheels in slow motion and savour your surrounds the next time you're away.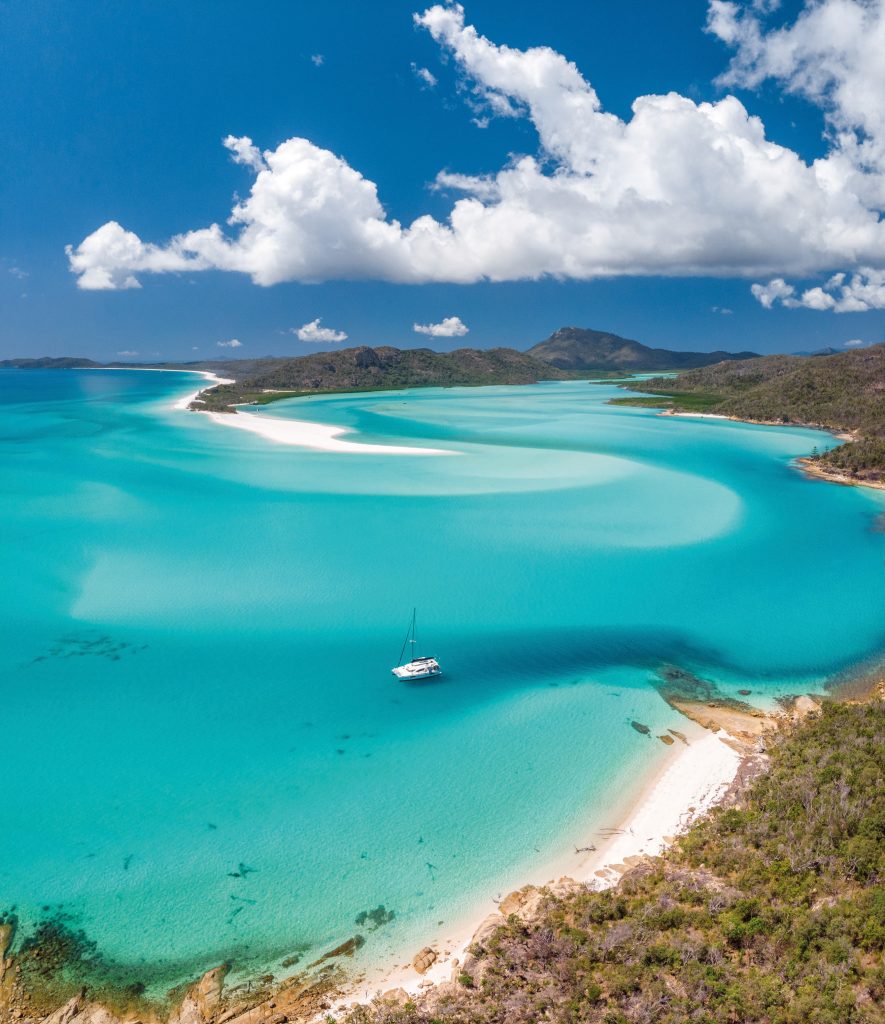 Disconnect to reconnect
While documenting or sharing your holiday and taking lots of snaps makes for great Instagram stories, it's important to remember to live in the moment and savour it. A digital detox is quite an unrealistic expectation for many, so instead of discarding your phone completely, some level of disconnection from your work or regular life is good to break the routine. Try switching your phone to flight mode, or better yet, pick a location that offers a natural break from devices, such Lizard Island, which is a short 60-minute scenic flight from Cairns over the Great Barrier Reef in Tropical North Queensland. A quick Google search of 'Lizard island qld' will make you want to book your flight to paradise ASAP.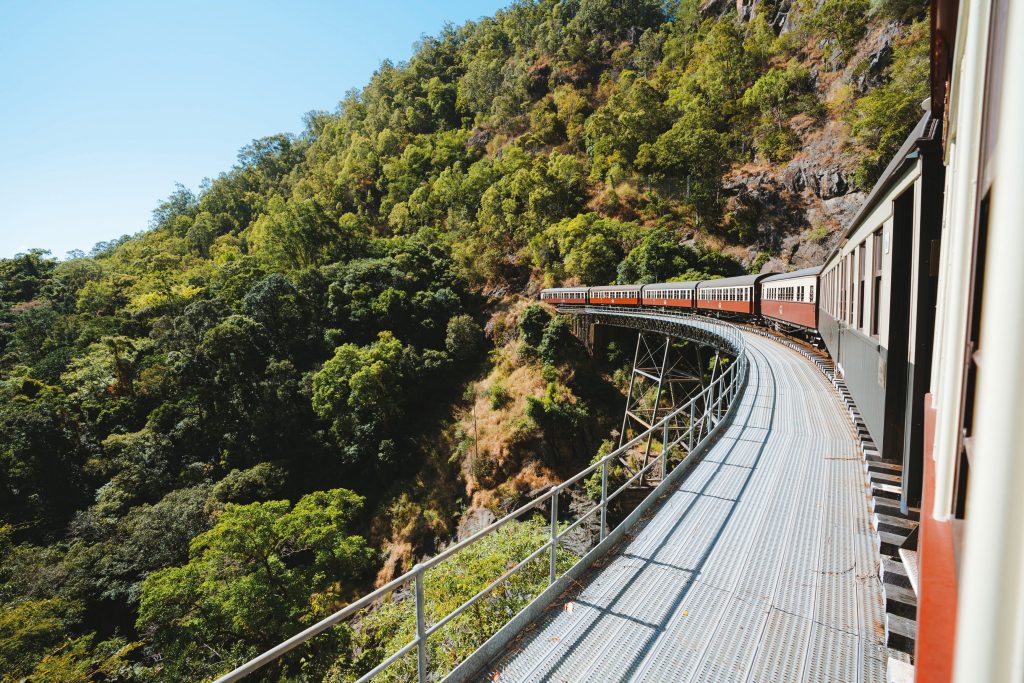 Featuring 24 private beaches, and with only 40 suites and villas, this is a secluded hideaway that provides ample opportunity to switch off in every sense. Put your breathwork into practice and snorkel the inner and outer reefs, take a hike to the top of Cook's Look for stunning views, try stand-up paddle boarding or spend the day on an empty beach. The lodge will even pack you a gourmet picnic for lunch. If you truly want to get away from it all, this is the place for you. Feel like doing nothing? There's a beautiful spa just for that.
Slow it down
We all have that one friend or family member who plans things down to a T, even when they're on holiday ("did everyone receive the itinerary?"), and while having a plan is helpful when you're visiting a new location, it can mean you're a chained to a schedule and end up being carted around from activity to activity. Relish in the change of pace
by taking a seat on the Kuranda Scenic Railway – a truly mindful travel experience that allows you to slow travel from Cairns in Tropical North Queensland, over the Great Dividing Range to the picturesque village of Kuranda in the Atherton Tablelands. If you're drawn to the deep blue, set sail in The Whitsundays. The 74 idyllic and iconic islands can be explored at your leisure on a tour. Or if you're feeling adventurous, bareboating offers the ultimate escape: the chance to skipper your own yacht. The Whitsundays is one of the few destinations in the world where you can try your hand at it. And because no license is required, even sailing beginners can get in on the action. Offering flexibility, your own space and amenities, and plenty of uninterrupted time to slow travel your way through this stunning region, this is mindful travel like no other.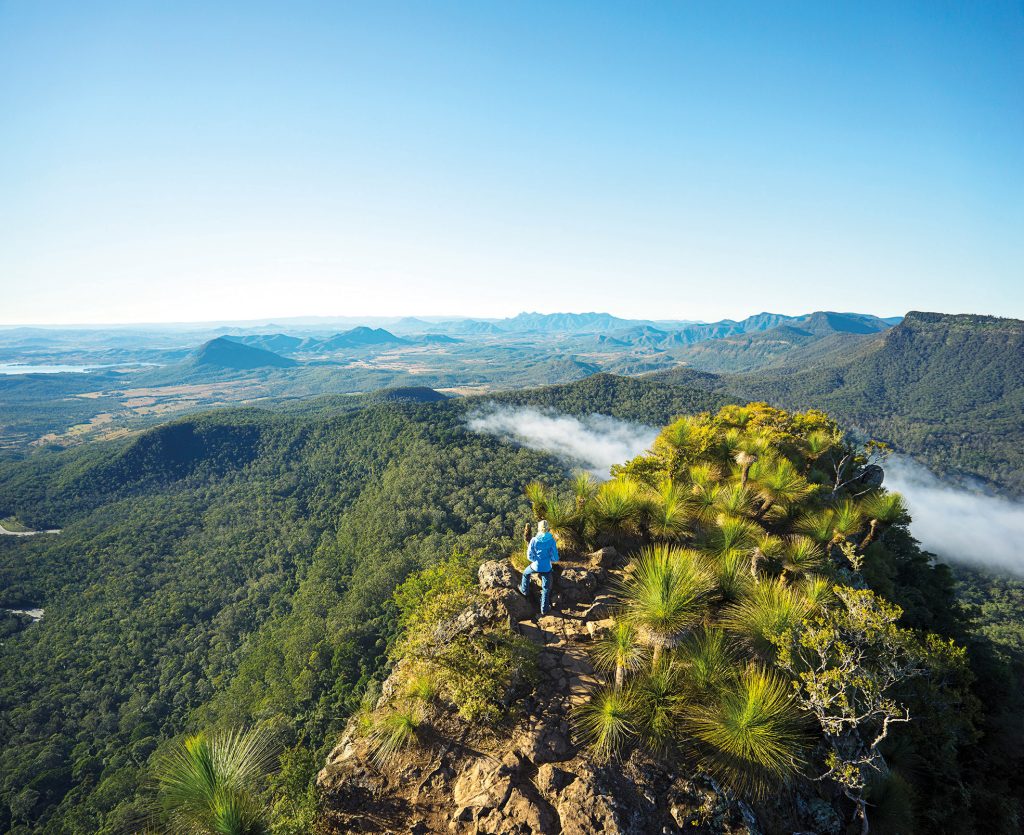 "At Wander we want to encourage a shift back to basics; enabling travellers to embrace the great outdoors and a slower way of life so they can come away from their stay enriched. The next time you're travelling, take time to stop, soak up your surrounds, and support local communities where you can for a more mindful experience"

Cassandra Sasso, CEO, Wander
Live in the moment
When travelling, it's important to find time to ground yourself in the present moment and soak up your surrounds – you'll experience peace and tranquility and come away feeling incredibly refreshed. A great way to practice this is by engrossing yourself in a task or learning a new skill. The mind will stay there with you in the moment, focusing on what you're doing rather than drifting off to your personal to-do list. The Janbal Gallery, located in Mossman, Tropical North Queensland is a special place where visitors from all over the world come to learn about the ancient Indigenous Kuku Yalanji culture. It's the perfect cultural visit if you're looking for aboriginal art galleries in Sydney, where creative types can flex their painting skills through private Aboriginal art classes and workshops, or if you'd prefer to observe instead, all of the art work for sale at Janbal Gallery are originals and hand-painted, so you can take a piece of Queensland back home with you.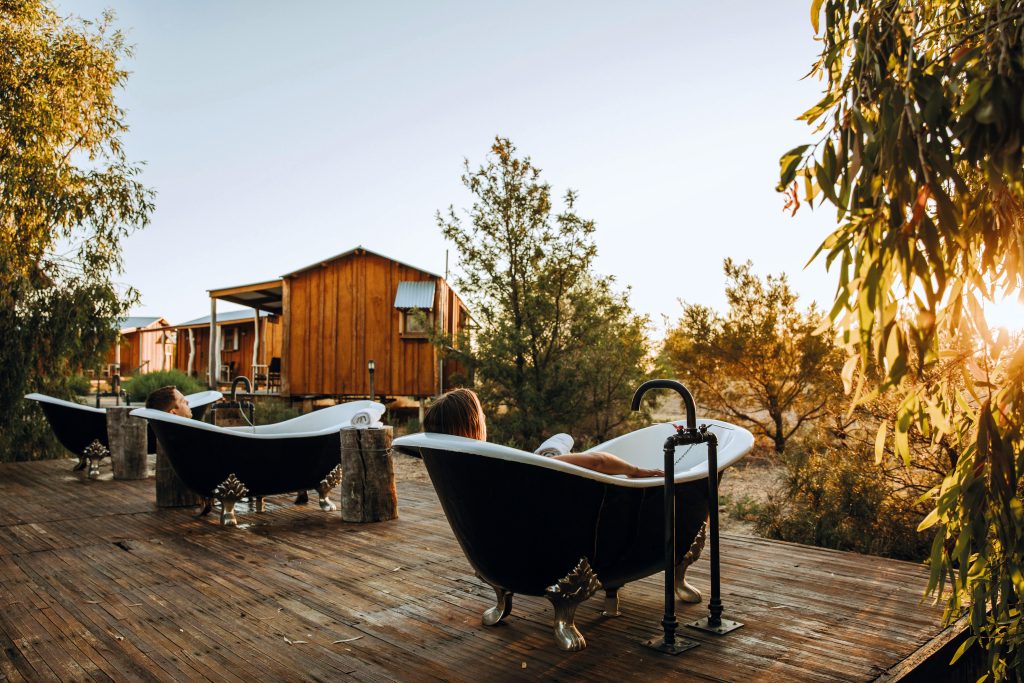 Bring the outside inside
Complete immersion in our surrounds is key when it comes to mindful travel, but it doesn't have to end once you've finished your day's excursions. For an overnight that allows you to be closer to nature without compromising on creature comforts, opt for the latest trend of tiny homes. Wander at The Overflow 1895, a vineyard in Queensland's Scenic Rim Region, just an hour outside of Brisbane, provides design-led, eco-accommodation that connects guests with nature. With floor to ceiling windows, you can enjoy stunning views looking out over Lake Wyaralong.
For a taste of the Outback that stays with you once you've dusted off the day's adventures, Saltbush Retreat, located withing walking distance of Longreach in the heart of Queensland offers rustic but beautiful accommodation. Reflecting the unique textures and tones of Outback Queensland, they've got everything from huts and cabins to homestead stables, not to mention their exclusive outdoor bath terrace that provides ample opportunity to switch off and soak up nature.
Get planning your 2022 mindful holiday to Queensland here.